by TERI MADDOX Belleville News-Democrat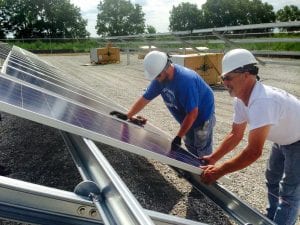 Contractors install solar panels at the Shelby Solar Farm on the east side of Shelbyville along Illinois 16 in this 2016 file photo. A small town in St. Clair County is hoping that solar could serve as an economic engine to replace coal.
PROVIDED PHOTO
You'd be hard-pressed to find a town more closely identified with coal mining than Marissa, Illinois.
More than a dozen coal mines operated within a 3-mile radius of the St. Clair County village during its first 100 years. Its annual homecoming is known as the Marissa Coal Festival. A massive miners monument stands in the park, and a "Coal Country" exhibit greets visitors at the entrance of the history museum.
"Coal is what this town was built on," said Kay Jetton, 79, president of Marissa Historical and Genealogical Society. "That and farming. But coal was the major industry."
Local reliance on — and loyalty to — coal wasn't a problem until the late 1900s, when federal air-pollution standards and other factors led to a succession of Southern Illinois mine closures. Residents lost their jobs and stores went out of business, dealing a blow to the village tax base.
Today, Marissa's once-booming downtown remains neat and clean, but many of its historic storefronts are empty.
"We have to go someplace else (to shop)," Jetton said. "You either have to go to Sparta or Fairview Heights. We do have a grocery store and a dollar store, but not much else."
Enter Chad Easton, Marissa's new 37-year-old mayor. He has found himself in the unlikely position of promoting solar energy as a way to help the former coal community cope with high power costs.
Plans call for construction of two solar farms, one 5 acres and one 11 acres, on village property on the west edge of town. Officials expect them to eventually provide all the electricity for the wastewater-treatment plant and most of it for other village buildings, saving thousands of dollars a year.
"That's a big change," said Easton, who got interested in solar while serving as a village trustee, before he was appointed to replace retiring mayor Jerry Cross last month.
Officials also hope residents of Marissa's 818 homes will consider buying electricity generated by the solar farms, becoming part of a solar boom in Illinois and possibly saving money on utility bills. It's still unknown how the influx of solar energy will affect prices statewide in the long run.
Instead of corn or soybeans, solar farms have rows of photovoltaic solar panels that convert radiant sunlight into electricity. The idea is attractive to some farmers who can lease land to help make ends meet, but some neighbors worry about aesthetics and environmental impacts.
"I'm sure there's a lot of people for it, and I'm sure there's a lot of people against it," said Carol Laumbattus, 63, Marissa's village clerk for nearly 30 years. "We know it's going to save us money."
The two village projects are separate from a 26-acre solar farm proposed by Colorado-based Microgrid Energy on private property on the east edge of town. Its purpose would be adding electricity to the Illinois power grid through the state's new community solar program.
Microgrid has applied for a special-use permit from the village. Easton isn't taking a position until neighbors can ask questions and voice opinions at a zoning board meeting in September. Some aren't keen on the idea of having 16,000 solar panels — each measuring 4½ by 6 feet — in their backyard.
"I think the landowners adjacent to the property have legitimate concerns," Easton said last month, when the meeting was postponed so the village could adopt a solar-farm ordinance first.
"They're wondering how a solar farm would benefit the village of Marissa and what are the long-term consequences of solar panels. What happens when they're no longer usable? And, just aesthetically, what do 26 acres of solar panels actually look like in practice?"
Long relationship with coal
Easton is a Radom native and Nashville High School graduate. After Army service, he moved to Marissa, where his father's family lived and his wife, Jessica, grew up. She's director of nursing at Cedarhurst Senior Living in Sparta. He works as a train conductor on the midnight shift with Alton & Southern Railway. They have two sons, Alec, 17, and Isaiah, 12.
Easton is the first Marissa mayor in decades without a coal-mining background. He's known for his energy and accessibility, jetting around town in a bright-blue Kawasaki 4X4 and seeming to never sleep. He donated his first month's village salary of $546 to local charities.
"I just want to do what I can to help the community," he said.
But Easton's power of persuasion may be tested in Marissa when it comes to getting residents to jump on the solar bandwagon. They go way back with coal.
The village is actually a consolidation of two communities, once known as Old Marissa and New Marissa. The former was founded in 1867. The latter took off three years later, when trains chugged in on newly laid railroad tracks, providing a huge boost to the local coal-mining industry.
The village was still prospering in the 1950s, when Jetton moved to town.
"You had cabinet-makers and photographers, clothing stores, shoe stores, barbershops, building and loans, banks, a dime store, a drug store — just about everything you needed you could get in Marissa," she said.
The closing of many Illinois coal mines is largely attributed to the federal Clean Air Act, particularly its 1990 amendments, which expanded the Environmental Protection Agency's role in regulating air pollution. Their high-sulfur coal could no longer be burned in power plants without scrubbers to remove sulfur-dioxide emissions.
"(Plants) figured it was cheaper to bring in Western coal than to try to build scrubbers," said Marissa retiree Steve Hodges, 63, a historical society board member. "They found out that wasn't the case, but it was too late."
Hodges worked 20 years at Baldwin Mine before it shut down in 1994.
Two new coal mines have opened near Marissa in recent years, although Gateway North is really a continuation of the old Zeigler 11 Mine, said Tom Benner, director of the Illinois Department of National Resources' Office of Mines and Minerals. The other one is part of Prairie State Energy Campus, which began operating in 2012.
"It was the first new coal-fired power plant to be built in Illinois in a decade," Benner said. "They have their own reserve of coal that feeds the plant, but they're scrubbing out sulfur and all the other constituents regulated by the Clean Air Act."
The decline of coal hit Marissa hard. Its population has dropped from a peak of 2,568 in 1980 to an estimated 1,836 in 2016. Decreases in sales, income and property tax revenue have forced village officials to tighten their budgetary belt, Clerk Laumbattus said.
Last year, Mayor Cross asked Easton — then a new trustee and chairman of the utilities committee — to look into possible ways to save on electricity. Power bills were running $7,000 to $10,000 a month at the wastewater-treatment plant alone. The board negotiated with a new supplier, lowering its rate from 5.2 to 4.2 cents per kilowatt hour.
"That actually saved 16.6 percent on all of our electric capacity, which is about $10,000 a year," Easton said.
Making friends with solar
Marissa's solar story dates loosely back to 2011, when the village started replacing water and sewer lines, a project that helped but didn't solve stormwater problems. Landfill owner Waste Management donated more than 20 acres of farmland next to the wastewater-treatment plant, allowing construction of a 4-acre retention pond.
Officials considered turning the remaining 16-acre plot into a subdivision, then they heard about an interesting solar project in another recovering coal community.
Last fall, Pinckneyville (population 5,404) arranged for the St. Louis company StraightUp Solar and Texas-based SHINE Partners to build a solar farm on 4 acres of city property. Today, it provides 95 percent of electricity for its wastewater-treatment plant.
"We absolutely love it," said City Clerk Larry West, noting the city may buy the solar panels and other equipment in seven years at a quarter of the companies' original $1 million investment.
StraightUp and SHINE plan to start construction on the 5-acre solar farm on Marissa village property this year. By next spring, officials expect it to be generating 40 percent of electricity for the wastewater-treatment plant at a cost of 4 cents per kilowatt hour, a rate locked in for 25 years.
The adjacent 11-acre solar farm is expected provide the plant's remaining 60 percent and most of the electricity for other village buildings. Power also would be available for purchase by any Ameren customer at a rate not yet determined, said Mike Hornitschek, StraightUp's director of strategic development.
"In (the village's) perfect vision, it would be all locally produced and all locally used," he said. "It would truly be a community effort."
But timing on construction of the 11-acre solar farm is unclear. Developers plan to apply for state incentives under the Illinois community solar program this fall. If applications are submitted for more than 75 projects — each producing 2 kilowatts of electricity — during the initial phase, participants will be picked by lottery.
If Marissa's project doesn't make the first cut, developers plan to keep trying.
Opponents include several homeowners who live across the street from the village property where the solar farms would be built. One is retired Air Force meteorologist Ron Haynes, 78, who believes the industrial look and feel will lower property values.
"Solar panels are OK, but they don't need to be right next to your house," he said. "There's all kinds of land (in the country) that could be used."
Haynes and his family moved into their 1912 two-story home on Spring Street 32 years ago, when he was stationed at Scott Air Force Base. The view from their front porch has always been a farm field.
Haynes found an ally in Paul Sinn, 82, the only one of Marissa's six village trustees to vote against the solar-farm agreements last year. The retired laboratory administrator worries that federal and state incentives may go away someday.
"(The companies) would file for bankruptcy, and we'd have to tear it down," he said.
On a recent weekday at Marissa Museum, Jetton, Hodges and other volunteers voiced support for the concept of solar farms and other projects that could help the village prosper and pay its bills.
Historical society secretary Louise Bluff, 73, said she would like to put solar panels on her roof at home, but she can't afford installation costs.
"I think it's a good idea," she said. "It's modern. It's a new direction."
Hodges admits feeling a little odd embracing solar. Not only did he work as a coal miner, but so did his father and both his grandfathers. One of his great-grandfathers was an original member of the United Mine Workers of America local in the area.
But a little of the shine has worn off coal companies for Hodges, who's concerned that bankruptcies and other legal maneuvers will allow them to back out of paying pensions and health benefits for former miners who worked hard and often faced dangerous conditions.
As for wind and solar, Hodges believes in being pragmatic.
"It's there; use it," he said. "It's just like coal was here, and we used it. But it's obsolete now. A lot of my friends don't believe it. They think coal is going to be king again, but I just don't see it."
published at heraldreview.com