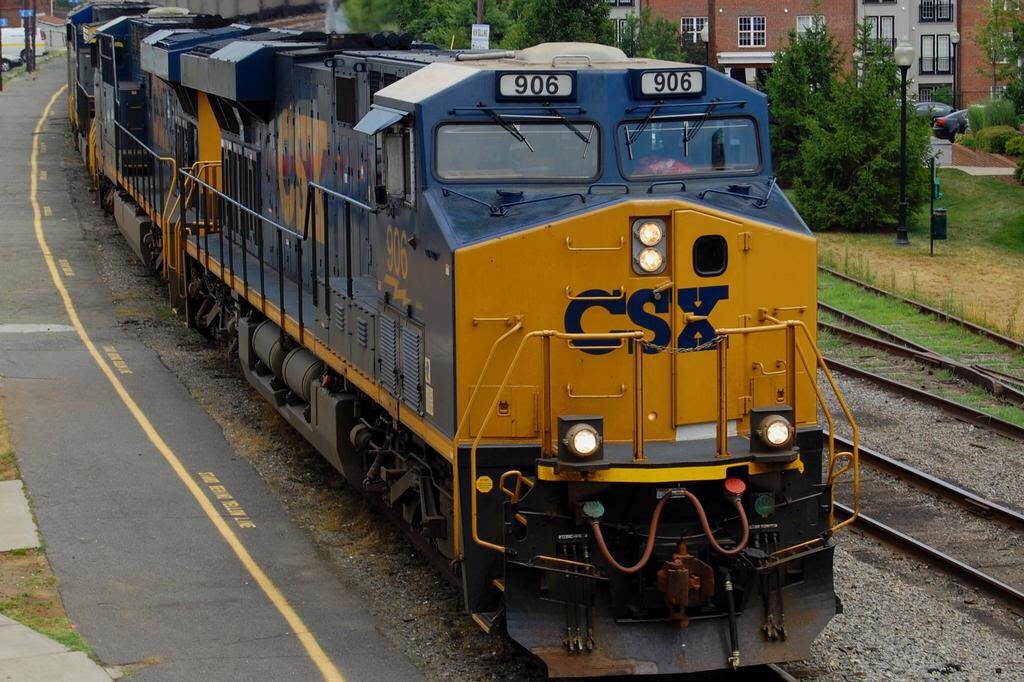 CSX Corp. (Nasdaq: CSX) is again struggling to staff during holidays and weekends, according to an internal system notice sent to the Jacksonville Business Journal.
"CSX continues to experience disruptions to its operations on holidays and weekends due to crew unavailability," the notice reads.
An accompanying letter sent by Executive Vice President Ed Harris to CSX general chairmen puts the blame on certain employees he says are "trying to sharpshoot the system" or are "abusing any category of leave."
"A review of our employee's availability over the past few months is concerning," Harris wrote. "All CSX employees are full time employees and as such are expected to protect the work of their craft. By not doing so they are letting down their company and are not fulfilling the commitment they made to their coworkers."
Despite the referenced disruptions on holidays and weekends, a CSX spokesperson told the Business Journal by email that "CSX is adequately staffed to handle freight volumes."
The Jacksonville-based railroad previously struggled with absences over winter holidays. An internal CSX notice posted Dec. 28 reported that 845 train and engine employees took time off under the Family and Medical Leave Act over the holidays, about 9 percent of its active train and engine workforce.
In response, CSX suspended a number of employees it suspected of misusing FMLA, pending the railroad's investigation. Many of those investigated were later fired. Litigants have called this process a "kangaroo court" and have sued for wrongful termination and violation of FMLA, a federal provision that gives a set amount of time off to qualified employees without risk of termination.
The most recent notice, posted May 9 by Harris, states that "although the company recognizes that many employees take legitimate leaves of absence," others "continue to abuse" collective bargaining agreements, company policy and FMLA.
The notice warned ahead of Mother's Day and Memorial Day, "If the company believes that an employee's mark off or unavailability was improper, the employee will be immediately charged and disciplined, up to and including termination."
Forty-six former employees sued CSX in February after the railroad fired them without evidence of FMLA misuse, they claim.
"It's one of the most obscene processes I've ever heard of as far as being slanted towards the company and against the employee," Jeff Dingwall, one of the attorneys representing the fired employees, said in February.
He noted that about 95 percent of disciplinary investigations by Class I railroads find in favor of the railroads.
Four suits filed in March similarly claim CSX violated workers' FMLA rights. One suit, filed in Maryland, claimed CSX's purpose in disciplining FMLA use was to create a chilling effect on its use, whether legitimate or not.
"Having received CSX's message loud and clear, CSX's employees now go to all possible lengths to avoid taking FMLA leave," the suit reads.
Employees – including conductors and engineers – have told the Business Journal they continued to work while experiencing diarrhea and symptoms of the flu, rather than risk disciplinary action.
Despite these suits, CSX has not changed the way it will investigate alleged FMLA misuse, a spokesperson said.
"CSX has made no changes to policies regarding paid time off work, and we are committed to complying with our obligation under collective bargaining agreements and federal laws," the spokesperson said by email.
CSX is still in the process of trimming its workforce after it laid off more than 4,000 employees and contractors last year and 23 percent of its employees in the last five years. Several employees have told the Business Journal that morale is at an all-time low as they have been asked to do more with less time off and have struggled to get time off for weddings, births or illnesses.
The cuts come as CSX is transitioning its operating model to a focus on efficiency, a transition that has yielded improvements in train velocities, dwell times, operating ratio and earnings. However, the transition continued a five-year trend of increasing rates of accidents and derailments, even as rates for the industry are decreasing.
Charles Culver, railroad operations consultant at Charles Culver & Associates and a certified locomotive engineer and conductor with 25 years experience, previously told the Business Journal that the rise in accidents and derailments was likely a sign of worker fatigue.
"If you see a drop in employees, you're going to see a drop in safety," he said. "They're expecting more work out of these guys than they are able to perform safely."
Article by Will Robinson for bizjournals.com