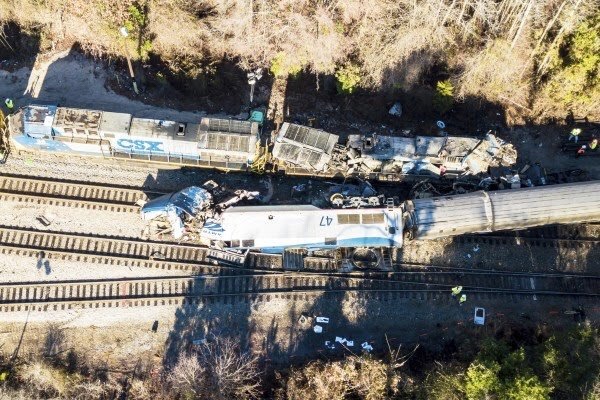 Jeff Blake/AP
In 2008, Congress first instructed railroads to install positive train control with a deadline of full implementation by Dec. 31, 2015. As the deadline approached, lawmakers pushed it back to Dec. 31, 2018, with the possibility of an extension to Dec. 31, 2020, if the railroad in question meets certain requirements.
Democratic lawmakers are cautioning the Federal Railroad Administration against doling out exemptions to railroads so they can bypass installing technology that must be in place by December.
The technology, known as positive train control, automatically reduces speeds of trains that are over the speed limit and can stop them in some hazardous scenarios. It could have prevented several recent fatal crashes such as ones in Washington and South Carolina, according to the National Transportation Safety Board.
The warning from lawmakers comes after the FRA issued a permanent exemption to the Nashville Regional Transit Authority and the Nashville & Eastern Railroad Corporation for a commuter railroad called the Music City Star, a 32-mile stretch of rail from Nashville to Lebanon, Tenn., due to the relatively limited scope of their operations.
"Rail companies have had a decade to budget and implement PTC, and I'm worried about the precedent a permanent exemption would set," Jim Cooper, D-Tenn., said in a statement to the Washington Examiner.
In a June letter, Reps. Peter DeFazio, D-Ore., Michael Capuano, D-Mass., Steve Cohen, D-Tenn, and Cooper pressed FRA Administrator Ron Batory to revise regulations concerning positive train control exemptions. Exemptions can be issued for limited operations, such as when railroads have no more than 12 trains running in signaled territory each day.
"We strongly urge FRA to revise its regulations to tighten PTC exemptions and focus on ways to help railroads comply with the law rather than circumvent it through regulatory carve outs," the lawmakers wrote.
In 2008, Congress first instructed railroads to install positive train control with a deadline of full implementation by Dec. 31, 2015. As the deadline approached, lawmakers pushed it back to Dec. 31, 2018, with the possibility of an extension to Dec. 31, 2020, if the railroad in question meets certain requirements.
Although Congress did not authorize exemptions for the mandate, exemptions were included in the FRA's implementing regulations.
"We continue to believe the exemptions provided in the regulations are overly broad — enabling intercity passenger, commuter, and freight railroads to avoid PTC implementation simply by reducing service, as the [Regional Transit Authority] and [Nashville & Eastern Railroad Corporation] did," the lawmakers wrote. "This end-run around the law is contrary to congressional intent in mandating implementation of PTC, the requirements of the 2008 Act, and repeated NTSB recommendations, as they could lead to serious safety consequences for the traveling public."
The lawmakers pointed out that the Nashville Regional Transit Authority applied for funding to implement positive train control several times, but requests were rejected.
"If there is a funding issue, Congress needs to act," Cooper said.
"Quite simply, the FRA should not continue to grant permanent exemptions in lieu of financing," Cooper added. "People will get hurt, or worse."
As a result, the lawmakers called for the FRA to provide a list of railroads that requested grants or loans for positive train control, and to detail which applications were accepted and which were rejected. They also urged the FRA to inform Congress of future requests for exemptions prior to authorization.
The Department of Transportation has issued more than $2 billion to railroads to help install the technology, and a majority of the railroads that are required to make the changes received federal "financial support" by the end of fiscal 2017, according to a DOT Inspector General report released in March. But of the 37 recipients of funding, only four had fully used it.
The report noted that some railroads are worried about the costs to maintain the equipment, and it remains uncertain if federal funding will be provided once the technology has been installed. A 2016 report from the American Public Transportation Association predicted that positive train control would require $100 million each year from commuter railroads for operational and maintenance costs.
The offices of Capuano and Cohen did not respond to a request for comment.
An FRA spokesperson said the FRA will submit a direct response to the delegation, but added it was "premature" to issue a public comment.
The pressure from lawmakers comes amid uncertainty of when all railroads will have positive train control fully implemented. The FRA said in February that "few, if any" of all the 41 railroads will have fully implemented positive train control by the end of 2018. The FRA claimed various challenges included a limited number of suppliers and vendors, and technical issues that are difficult to diagnose.
It's uncertain how the FRA will handle delinquent railroads after December, but fines could be issued.
Randal O'Toole, the transportation policy center director at the Independence Institute and a senior fellow at the Cato Institute, pushed back on Congress' mandate and said he doesn't believe positive train control will affect safety, noting that the Bureau of Transportation Statistics shows highway-rail grade crossings and trespassers account for hundreds more fatalities than train accidents that could be prevented by positive train control.
He also said he does not expect any exemption modifications under a Republican administration, nor while Republicans have control of Congress.
"If Democrats lead Congress or take over the White House at some point, then policies may change," O'Toole said.
But even if Democrats can reduce exemptions, he anticipates that positive train control implementation extensions will continue after the December 2018 deadline.
"I expect that this deadline will be extended and I expect that there will be more exemptions," O'Toole said. "If Democrats take over, they might cut down on the exemptions, but I don't think they're going to be able to stop the extensions of the deadlines because it's really expensive and really difficult to install."
However, DeFazio said both parties aren't interested in more extensions.
"There's no appetite in Congress for another extension, and neither Republicans nor Democrats plan on giving another extension to delinquent railroads that have ignored the mandate to implement this life-saving technology," DeFazio said in a statement to the Washington Examiner. "The Federal Railroad Administration should hold the railroads that have failed to meet the basic requirements accountable with fines and penalties."
Article published at washingtonexaminer.com