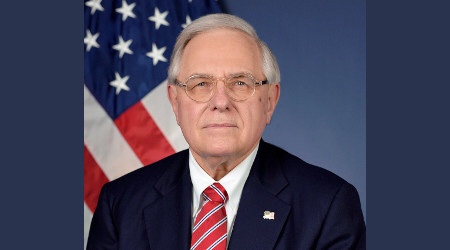 FRA Administrator Ron Batory
Photo – FRA
The Federal Railroad Administration (FRA) has scheduled three symposiums on topics related to positive train control (PTC), with the first to be held June 15 in Washington, D.C.
The June 15 symposium aims to bring together the FRA's PTC experts and all 41 railroads that are federally mandated to implement PTC systems. Discussions will focus on the statutory requirements for the Dec. 31 deadline and answers to industry questions.
"The PTC symposium is [our] latest effort to ensure that each and every railroad is aware of their obligations and is equipped to meet the congressionally mandated deadline," said FRA Administrator Ron Batory in a press release.
On July 16, the FRA will host a symposium to review best practices for PTC system field testing and interoperability testing. The third symposium, to be held Aug. 20, will cover lessons learned and best practices for PTC safety plans, which are necessary for host railroads to obtain PTC system certification from the FRA — and to achieve full system implementation under the mandate.
Full implementation means an FRA-certified and interoperable PTC system — including all hardware, software and other components — has been fully installed and sufficiently tested. The system needs to be in operation on all route miles required to have operations governed by a PTC system under the mandate, FRA officials said.
To view the public version of each railroad's Quarterly PTC Progress Report, visit each railroad's PTC docket on https://www.regulations.gov/. Railroads' PTC docket numbers are available at https://www.fra.dot.gov/Page/P0628.
Article published at progressiverailroading.com