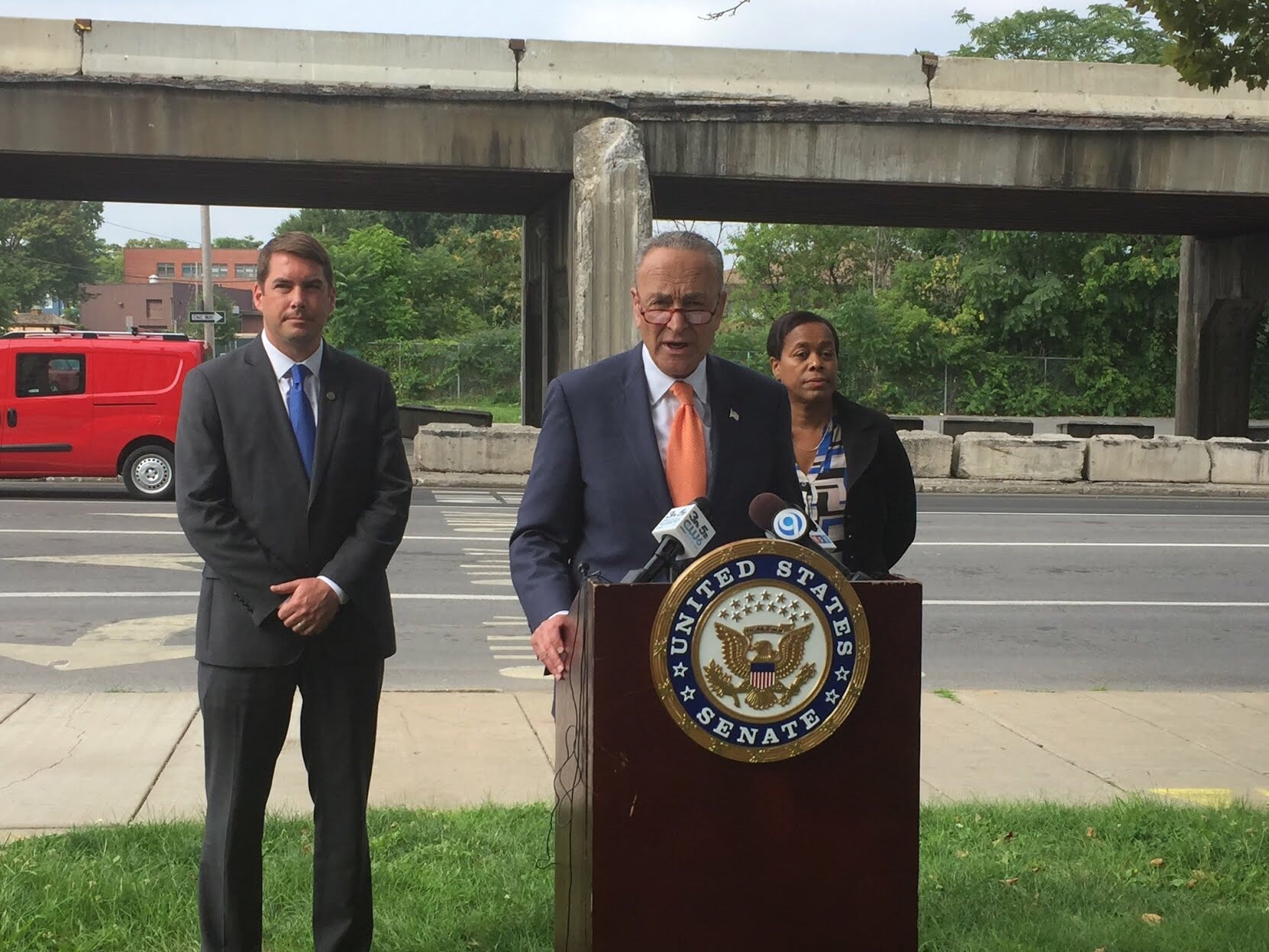 U.S. Sen. Charles Schumer speaks in front of a railroad bridge that runs through downtown Syracuse. He's joined by Syracuse Mayor Ben Walsh and Deputy Mayor Sharon Owens, Monday, Aug. 27, 2018.
(Chris Baker | cbaker@syracuse.com)
SYRACUSE, N.Y. — Federal authorities audit just 1 percent of the private railroad bridge inspections done in the United States every year, according to Sen. Charles Schumer.
Speaking in Syracuse Monday, Schumer demanded the Federal Railroad Administration hire more personnel to oversee bridge inspections and prevent collapses like the one in Syracuse last month.
On July 5, two 30-ton pieces of sidewall fell from a railroad bridge running through downtown Syracuse. No one was injured.
The collapse, however, pointed to flaws in the inspection process for rail bridges. The private owners of bridges are tasked with inspecting them, then submitting those inspections to the FRA.
"You wouldn't have a meat inspector solely judge whether his meat was safe," Schumer said. "You want some kind of federal oversight."
New York, Susquehanna & Western, which owns the bridge here, deemed the bridge safe and described it in "fair to good condition" just a year before the collapse.
Schumer said the partial collapse should have been eye-opening for the Federal Railroad Administration. He urged them to hire more people to audit the privately conducted bridge inspections.
There are between 70,000 and 100,000 privately owned rail bridges throughout the country. Schumer said the FRA has six specialists nationwide tasked with auditing all railroad bridge inspections. There are three specialists who oversee 3,000 rail bridges in New York and a dozen other states in the northeast, Schumer said.
"These bridges hardly get inspected at all," Schumer said. "That is the problem."
A spokesman for the FRA said there is one bridge specialist assigned to audit New York railroad bridge inspections. He said the FRA and New York Department of Transportation sent specialists to inspect the Syracuse bridge before rail traffic resumed on it earlier this month.
Schumer said the partial collapse in Syracuse is part of a larger problem.
Last month, a bridge in Ridgefield Park, N.J. partially collapsed while a train was on it. No one was hurt but one railcar was damaged, according to local news reports. That bridge was owned by New York, Susquehanna and Western, the same company that owns the rail line in Syracuse.
Standing with Schumer Monday, Syracuse Mayor Ben Walsh said people living and traveling near the bridges deserve to feel safe.
He said the city sent New York, Susquehanna & Western an invoice for about $50,000 to cover the cost of road repairs and other expenses incurred from the collapse.
Article by Chris Baker for syracuse.com