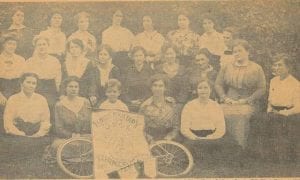 In 1913, the Ladies Auxiliary to the Order of Railway Conductors posed for a picture taken by Mrs. Clara Jackson Lewis. This was long before another group of Katy wives shut the Katy Railroad down for a while. (courtesy photo)
By Donna Hunt, For the Herald Democrat
Working on last week's column about "Railroad in My Blood" sent me off toward a railroad destination, especially after answering questions as well as I could during the Doc Holiday Saints and Sinners Celebration in downtown a week ago on Saturday. I get some of my best column ideas just talking to people around town.
While my friend and I were sitting in front of Mary Karam's Photo Gallery all day Saturday we talked to a lot of people. Some had questions about one thing or another, some just wanted to look at our books, or maybe get one they had bought elsewhere signed or just chat. Many were old friends and others were new friends.
But one gentleman who said he had a question to ask me about a railroad incident sent me on a mission when I got home to find an answer. I searched several thick railroad files, the internet and asked questions to a couple of people, but I found nothing to help me answer Curtice Corcoran's question.
Then one night this week, we had dinner with a retired Katy, then UP Railroad, engineer, and I happened to think about the question. Curtice wanted to know if I had any information about a Katy train being stopped near Red River by a group of railroad workers' wives who shut down the railroad because of the lodging arrangements provided for their husbands. This was sometime in the 1970s.
I had never heard anything, nor did I remember ever seeing it in the newspaper. My friend Jim Sears, who reads everything he finds about Denison, might be able to add to the story.
Anyway, Jerry Bob Hayes, our neighbor and good friend, when questioned, said "Sure, I was an engineer at the time, but not on that particular train." He recalled that the women stopped the train by standing on the track on Highway 75-A just past the former Gavrin Press Building. A pretty good size group of women were standing on the track holding signs that wanted something done about where their husbands had to sleep when they were on the northbound line.
JB said he thought word got out to the yard office that they were going to be there and for their safety "torpedoes" were placed on the track to alert the engineer to stop ahead. Incidentally, if you are like me, you may be wondering what a torpedo is on the railroad. He explained that they were placed on the track to make a loud pop when the train ran over them.
Curtice was correct about the incident except for two points that he had heard. First, it was on Highway 75-A, not on the Red River bridge, and second they didn't chain themselves to the tracks, they just held signs and stood in the way of the train so it had to stop.
The train was stopped for several hours, he understood, while bosses were rounded up to go out and talk to the wives. He recalled that up until then the railroad paid for the men's lodging and it was pretty bad. He said sometimes you crawled into a bed that was still warm from someone else sleeping there. Or maybe the place was infested with rats or other critters.
Sometimes, he said, the railroad crew slept on desks or chair cushions in the railroad office, not only up north in McAlester and Muskogee, but conditions south through Wichita Falls to Dallas and Fort Worth were not any better.
One place in particular that he remembered was a two story hotel called the Jefferson Hotel in Wichita Falls where sleeping accommodations were in a building similar to an Army barracks.
There were no doors on the rooms, just curtains at the opening. One good thing about staying there, however, was that the lady in charge of the hotel was named Lottie and she would cook breakfast of biscuits and eggs for the crew for $2 each.
After that incident, however, sleeping conditions got better than those that the railroaders paid $1 to $2 for a night's lodging. The railroad provided much better places for the crews to get a little sleep before heading back toward Denison.
I couldn't find a picture of the wives stopping the train service, but I did find a picture of the wives of conductors posing for the photographer in 1913. Thought you might like to see some of the early wives of a group of Katy employees. Pictured are, front row left to right, Mrs. Nellie V. Harvey, Mrs. W.E. Buchannan, Laurence, Mrs. W.T. Luesley and Mrs. Hansen; Second row; Mrs. Glenn, Mrs. Annie Jackson, Mrs. J.L. Treadway, Mrs. George Sorley, Mrs. Clara Jackson, Mrs. Tom Grace, Mrs. Dill, Mrs. John Sale and Mrs. Quinn; and back row; Mrs. Patt Miller Ames, Mrs. W.L. Beamer, Mrs. Mae Frame, Mrs. Lockheart, Mrs. Malone, Mrs. Kate Cullan, Mrs. Guss Wright and Mrs. Carlat.
I looked for something else interesting to put in this column and found a column written some time ago that talked about the end of passenger service on July 1, 1965, when the Texas Special left Denison for the last time ending 93 years with the Katy.
Claud Easterly, long-time editor of the Denison Herald, said it was a sad day for railroad enthusiasts, including veteran railroaders for whom the train's whistle had become a part of their everyday life. The last train held out as long as possible he said and was over two hours late pulling out of the Denison station as if the train didn't want to make that historic trip.
Bill McCune, a long time Katy employee, said, "If some of the real old timers had of been here, you'd have seen some real tears of anguish." Sanford Goforth, veteran Katy clerk, said he shook his head in disbelief as he looked at the last train. "It is going to be hard to believe that there won't be another passenger link."
When the passenger train service ended in 1965, the bustling depot slowed to a snail's crawl as Katy offices began operating in every nook and cranny there. What once was a busy train station with people standing around watching trains and people coming and going, became a parking place for Katy employees. Then the Katy pulled up stakes and moved to Parsons, Kansas, for its headquarters and soon after merged with the Union Pacific Railroad.
Today it has gone even farther. There is the Red River Railroad Museum, a restaurant-bar and a couple of businesses in what was the depot and it is a great spot for weddings, reunions and other events. The entrance to the depot no longer is a parking place for Katy employees and it is a place of beauty for Denisonians and visitors to see. Weddings often take place beside the fountain and the flowers are something for everyone to see as they stroll around the garden.
The Katy has chugged out of town, but its history remains a part of the town that it built. Denison still is Katy proud.
Article by Donna Hunt for the heralddemocrat.com