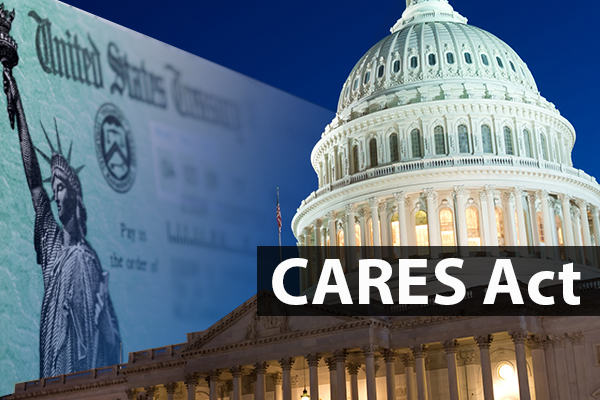 Last week, Congress passed and the President signed the Coronavirus Aid, Relief, and Economic Security (CARES) Act, H.R. 748. This $2 trillion bill is meant to help stimulate the American economy, and weather the ongoing COVID-19 pandemic.
With millions filing for unemployment, this couldn't have come at a better time. TCU's Legislative Department has been on the front lines in defending our members' interests, including getting our employers much-needed funds to continue operations, as well as protect our members who may get furloughed as a result of this pandemic.
The following is a summary of the legislation's impacts on our members.
Key highlights:
Stimulus Checks
All U.S. residents with adjusted gross income up to $75,000 ($150,000 married), who are not a dependent of another taxpayer and have a work eligible social security number, are eligible for the full $1,200 ($2,400 married) rebate. These checks will gradually decrease to $0 for those with incomes above $99,000 ($198,000 married). These checks will also apply to those with non-taxable income, such as retirees relying on Social Security or Railroad Retirement.
See tables below for reference:

In addition, $500 will be added per child (16 or under) claimed as a dependents, but these will also phase out for those with higher incomes.
NOTE: The Internal Revenue Service (IRS) will base your rebate on your last tax return. This means that if you have not filed your 2019 tax return, they will base it off of your 2018 return. Keep that in mind when deciding whether to file your taxes in the coming weeks.
The U.S. Treasury Secretary has stated that these checks will go out within three weeks, and that people will receive checks the same way they received their last refund. So, if you received your last refund via direct deposit, your money will be direct deposited. Otherwise you'll receive a check in the mail.
Keep in mind that your check will go to the last address the IRS has on file. So, if your latest return was in 2018 and you've moved in the past year, your check may be mailed to your previous address. You will need to file a Change of Address form with the IRS.
Further Reading:
CNBC: This calculator tells you exactly how big your coronavirus stimulus check could be
Passenger Rail
$1.018 billion for Amtrak funding
$492 million for Northeast Corridor (NEC) + $526 million for National Network = $1.018 billion.
All funds are subject to Amtrak's existing labor protections
Amtrak must report all furloughs to Congress every 7 days
Job Protections: Once Amtrak service returns to March 1, 2020 levels, Amtrak must offer all employees the opportunity to be recalled to their previously held positions as of March 1, 2020.
This provision was hard-won by our Legislative team, and we thank Minority Leader Schumer for mandating its inclusion.
$25 billion for transit agencies
These funds will flow through existing formulas for Federal Transit Administration grant programs.
We expect billions to flow through to our commuter rail employers for them to continue operations – including keeping our members employed.
State Unemployment Insurance
For non-railroad employees, Unemployment Insurance (UI) benefits are administered by your State governments. Please check your State's unemployment website for information about how to apply, as well as benefit levels. Click HERE to find your State's Unemployment Agency.
Generally, most States provide up to 26 weeks of benefits, however there are some exceptions. Click HERE for a map showing standard weeks of UI benefits by State.


NOTE: Due to the massive surge in UI applications State agencies are having a difficult time processing claims. We strongly encourage those applying for UI benefits to do so immediately so as to avoid delays in receiving benefits.This new legislation extends and expands UI programs for every State (see table above). In addition, the standard 7-day waiting period (from when your employment stops to when you can file for benefits) has been waived.
Railroad Unemployment Insurance (RUI)
The majority of our members working for railroads – or other qualifying employers – will file for Railroad Unemployment Insurance (RUI) benefits through the Railroad Retirement Board (RRB), regardless of what State you live in.
Due to the hard work of TCU's Legislative Department, who took the lead on lobbying to include railroaders in this legislation, railroad workers will receive the same or similar benefits as regular UI recipients (I'd like to note that this was not a foregone conclusion, considering the RRB was forgotten about in the prior COVID-19 stimulus package).
Our Legislative Department also secured $5 million in additional funding for the RRB to use in processing RUI claims, which will be badly needed if the States are any indicator of things to come.
The following table shows benefit levels and weeks for RUI beneficiaries:

Please note that while State UI is provided weekly, RUI is provided on a biweekly basis.
In addition, the standard 7-day waiting period (from when your employment stops to when you can file for benefits) has been waived.
Members can file for railroad uemployment benefits online by registering on the RRB online portal https://rrb.gov/Benefits/myRRB. Immediate website access is available after responding to some personal questions.
Please keep in mind that this is the third COVID-19 related stimulus package, but will not be the last. Our Legislative Department expects fourth and fifth packages to be negotiated in the coming weeks, and we will keep you all apprised of any further developments as necessary.
We hope you and your loved ones continue to be safe and secure during these difficult times. Please know that your union is fighting for you, every step of the way. If you have any questions pertaining to this legislation – or any other matter – please don't hesitate to reach out to the Grand Lodge.
We are here for you, and we will keep fighting to defend your lives and careers.
God bless and stay safe,
Robert A. Scardelletti
National President