Fewer riders, fewer tickets bought and scaled-back schedules were just a few of the COVID-induced hurdles facing Amtrak during the past year and a half. All of those obstacles caused the railroad industry to lose millions, and threatened the livelihoods of thousands of Amtrak employees.
Workers often only discover how legislation impacts their lives when they see immediate results. The American Rescue Plan did just that. The massive relief legislation was negotiated and signed into law by President Biden and Congressional Democrats, and provided direct immediate relief to American workers to help rescue the economy during the COVID-19 pandemic.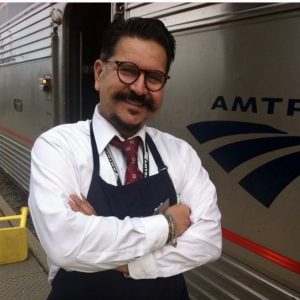 Part of that relief helped hard-hit public transit agencies and Amtrak to major avoid layoffs and service reductions which, in turn, kept thousands of TCU/IAM members from being furloughed or recalled them from furlough. Together, the IAM and TCU/IAM fought hard to pass the American Rescue Plan, which brought much-needed relief to working families.
Art Gonzales is an Amtrak Service Attendant/Train Attendant (SATA) and President of TCU/IAM Local 2508 in Los Angeles. With nearly 10 years under his belt, Gonzales was furloughed for about nine months beginning last November, but was brought back to work in May thanks to the American Rescue Plan.
"We do have this legislation and these people fighting for us, so that's a safety net. Having TCU behind us was our safety net," said Gonzales.
The Transportation Communications Unionlobbied heavily on Capitol Hill for that safety net – to save jobs that keep America and Americans moving, to increase unemployment benefits, not to mention ongoing efforts to bolster railroad retirement benefits.
"TCU members are working hard all across this country," said TCU/IAM President Artie Maratea. "This pandemic has shown us how much we need to support each other. A strong, vibrant labor movement — one that gets in front of change, supports its members and stands in solidarity with everyone is the only way to create the kind of future we all want and deserve."
The funding brought back hundreds of Amtrak workers like Gonzales, and he is forever grateful. "I believe it's strong legislation, it's needed," said Gonzales. "I try to find the best things from everything."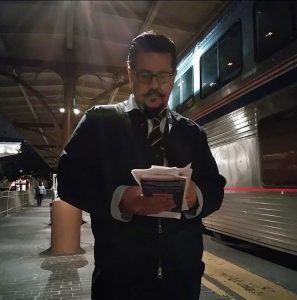 Gonzales works on California's Pacific Surfliner. His day starts at 6 a.m. and often ends at 10 p.m., as he travels 351 miles between Los Angeles, San Diego, Santa Barbara and San Luis Obispo.
"When I'm at work, I give 100%.," said Gonzales. "It makes me proud to be able to work for a union that works as hard as me – that will fight for me and my family."
His message to other furloughed workers is to stay grounded and look above your current situation and know that hopefully, your company is giving you the resources you need. But regardless, "the union is always there for you, no matter what," said Gonzales.
He's also thankful for being able to continue his work as an instructor with the Los Angeles Job Corps, which trains young adults. Gonzales preps them to be train attendants and helps them get ready for interviews. The program has a high success rate, with many of the trainees getting hired at Amtrak or other employers.