Severe weather, staff shortages are culprits
By Bob Johnston for trains.com
WASHINGTON — Although airlines cancelled thousands of flights, resulting in horror stories for stranded travelers, Amtrak was mostly able to keep its trains running during the Christmas-New Year holiday period.
There were some cancellations, though. While booked passengers were asked via email or text to choose a different train or travel another day and no advisories were issued, an Amtrak employee advisory obtained by Trains News Wire attributed annulments to "staffing shortages caused by the pandemic."
Cancelled trains included:
— Overnight Boston-Newport News, Va., Northeast Regional trains 65-66-67 from Dec. 31 through Jan. 6.
— Washington-Springfield, Mass., Northeast Regional trains 136-143-146-157, Dec. 31-Jan. 2.
— Silver Meteor from New York and Miami on Dec. 31.
— City of New Orleans from Chicago and New Orleans on Dec. 31.
— Empire Builder from Seattle/Portland, Ore., and Chicago on Dec. 31.
— California Zephyr from Emeryville, Cal., and Chicago on Dec. 31.
— Crescent from New York on Jan. 1 and 4; from New Orleans on Jan. 1, and from Atlanta on Jan. 4. The Crescent is not running Mondays through Thursdays south of the Georgia capital Jan. 3-Feb. 17 during Norfolk Southern's annual maintenance blitz.
Some one-day cancellations were likely caused by cascading delays that continued to worsen under harsh operating conditions, forcing multi-day trains to miss scheduled equipment turnarounds at endpoints.
The saga of the Empire Builder is an example. Week-long subzero temperatures, heavy snows, and howling winds from St. Paul to Seattle played havoc with the train, which was periodically held en route for safety reasons or stuck behind disabled BNSF Railway freight trains on several occasions.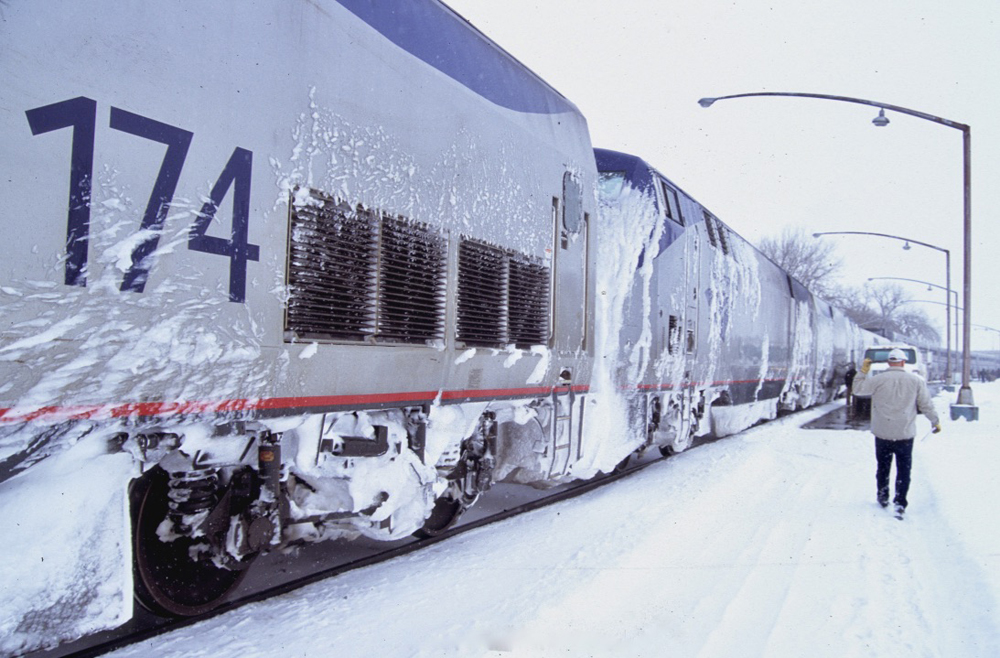 The eastbound Builder that was supposed to arrive in Chicago on Christmas Eve limped through Milwaukee on Christmas Day some 23 hours, 25 minutes behind schedule —having lost more than eight hours early in the trip because of a disabled freight train and steadily falling further behind. Westbound delays, mostly in Montana or Washington state, caused the Builder to leave its western terminals late beginning Christmas Day for six consecutive days, culminating in an 8-hour-late departure at 12:42 a.m. on December 30.
Former Rugby, N.D., Mayor Dale Niewoehner tells Trains News Wire the temperature in his community climbed from minus-27 Fahrenheit on Dec. 31 to minus-26 New Yeas Day. By then, the tardy eastbound was more than 14 hours late, departing Rugby at 1:09 p.m. It arrived in Chicago at 7:22 a.m. on Sunday, Jan. 2, 15 hours, 27 minutes late.
The California Zephyr was also affected when heavy Sierra Nevada snows after Christmas caused extensive interruptions that lasted until the Dec. 31 cancellation. While Union Pacific crews worked to clear Donner Pass, the eastbound Zephyr was held 9 hours at Truckee, Calif., on Dec. 26 and cancelled the following day, when its westbound counterpart was also halted at Reno, Nev. The westbound CZ that left Chicago on Dec. 24 arrived into Emeryville nearly 13 hours late after being held at Reno for 6 hours and losing another 7 hours over the pass.
In the east, a highway grade crossing accident caused minor Auto Train delays to get much worse on Dec. 22, when the trains arrived at their Lorton, Va., and Sanford, Fla., terminals in the afternoon rather than at 9 a.m. By Dec. 23, the northbound train arrived at 10:35 p.m., pushing the sold-out southbound's departure from Lorton to 3:28 a.m. It arrived at Sanford Christmas Eve at 10:20 p.m. By then, both Dec, 24 trains had been cancelled, which allowed a "reset" for on-time Christmas Day departures. Auto Train has been running mostly early or on time ever since.