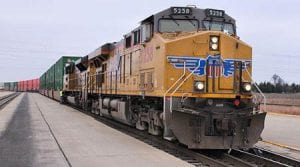 BASF Corp. recognized Union Pacific Railroad as a "Supplier of the Year" for performance in sustainability in North America.
UP was the only railroad that the chemical company honored with the award, which is given to suppliers that exhibit a "strong commitment supporting BASF's dedication toward environmental, social and economic success," UP officials said in a press release.
Nine companies received honors in logistics, raw materials and technical goods and services categories.
UP and BASF teamed up to move super-absorbent polymers (SAPs) for the first time via rail, eliminating more than 100 trucks from the road and reducing greenhouse gas emissions, according to the Class I. SAPs absorb and retain large amounts of liquid commonly found in products such as diapers.
The project delivered a sustainable, consistent alternative supply chain for BASF's customer by expanding transportation modes and supporting on-site inventory, UP officials said.
Published at progressiverailroading.com