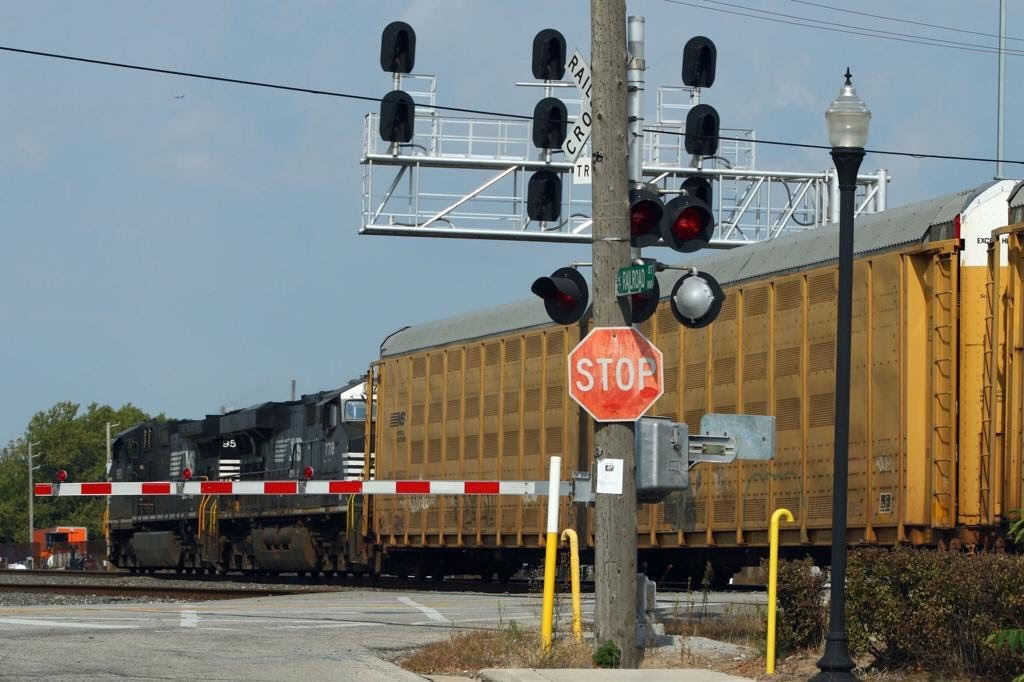 Photo from Kale Wilk, The Times
INDIANAPOLIS — Likely every Northwest Indiana motorist has been stuck in traffic or forced to find a detour due to a stopped train blocking a rail crossing for longer than 10 minutes.
Under Indiana law, railroads are subject to fines of between $250 and $500 every time that happens. Over the years, police in many Region communities have ticketed trains for blocking their streets.
But now Norfolk Southern Railway Co. is challenging the validity of that law after racking up 23 Allen County citations for violating Indiana's Blocked Crossing Statute.
Its attorney, Raymond Atkins, argued Thursday to the Indiana Supreme Court that the infractions should be thrown out, and the law no longer enforced. He said federal laws prohibit states from enacting statutes that attempt to "manage or govern rail transportation," or otherwise impede the safe operation of trains.
Atkins said if rail companies are required to comply with Indiana's blocked-crossing law, they either will have to run shorter trains more frequently, increase train speed or separate train cars as needed to open intersections — all of which, he said, are dangerous, costly and comprise impermissible state interference with train operations.
"This area of law Congress chose to place in a single federal agency (the Surface Transportation Board)," Atkins said.
"The reason for that, your honor, is to avoid a patchwork of states and localities imposing their own requirements on rail transportation, seeking to manage it."
Atkins noted that federal and state courts across the country, including in Illinois, Michigan and Ohio, already have found similar blocked-crossing statutes to be pre-empted by federal law and therefore unenforceable.
He warned that Indiana risks becoming an outlier in the national transportation network — and rail companies might seek ways to bypass the state — if the high court upholds the validity of the state's blocked-crossing law.
Indiana Solicitor General Thomas Fisher, a Jasper County native, disputed that claim in his defense of the law on behalf of the state.
"The sky isn't going to fall if the state of Indiana is permitted to ticket trains for blocking crossings in rural communities, or anywhere else in the state, in excess of 10 minutes," Fisher said.
He explained that neither the Interstate Commerce Commission Termination Act or the Federal Railroad Safety Act specifically pre-empt the state's blocked-crossing law.
Moreover, he said, Indiana has a public safety interest in ensuring that its roads are open, at the least, to emergency personnel.
"There isn't a clear and manifest purpose of Congress to displace the state of Indiana's anti-blocking statute," Fisher said, also pointing out that without the statute a railroad potentially could block a street crossing for any length of time.
"We don't want to permit that. That's indifference to the community, that's an obstruction to public safety, that's a hazard to all kinds of people, and I think there needs to be a way to deal with that."
Fisher said the railroad's suggested remedy of seeking relief through the Surface Transportation Board is inadequate, because it compels Hoosier communities to rely on a slow federal bureaucracy to address the immediate public safety risks posed by long-stopped trains.
It wasn't clear from the questions posed by the five justices which way they might be leaning as they work toward reaching a ruling, likely before the end of the year.
Justice Steven David observed: "I really, really, really like the arguments on both sides. This is a uniquely intriguing case."
Article published by Dan Carden for nwitimes.com