Railroads deploy specially equipped trains to battle fires
By Joanna Marsh for freightwaves.com
Although BNSF's (NYSE: BRK) rail operations haven't encountered major disruptions from the wildfires in the Pacific Northwest, the railroad is doing its part to help fight fires.
"Thankfully the impacts to our network in California thus far have been minimal. We do continue to monitor the fires throughout the Pacific Northwest, including in Washington state and Oregon," BNSF spokesperson Amy Casas said.
In Washington, BNSF has deployed its fire trains, based in Wishram and Pasco, to help support first responders' efforts. The trains can take firefighters to hard-to-reach spots, and they can carry 30,000 gallons of water. They also have hoses that can shoot water up to 30 feet.
The train from Pasco includes two tank cars, a "fire" car and a caboose that serves as a command center and has an onboard generator to power the train's emergency equipment, according to Casas. The tank cars can hold thousands of gallons of water, while the fire car can carry aqueous firefighting foam.
The train from Wishram has a mission to protect the south-central portion of the state. The train has generators, pipes and pump systems under three tank cars, and it has a caboose equipped with a spray bar and water cannon. The caboose acts as the command center for the train.
Since the wildfires began, BNSF has deployed a fire train to fight fires in the Yakima River Canyon, and it sent a fire train to help first responders along BNSF's Fallbridge Subdivision, which runs along the Columbia River.
Meanwhile, BNSF's competitor, Union Pacific (NYSE: UNP), has also been seeking to prevent the spread of wildfires in recent weeks. In a Sept. 3 article on Union Pacific's (UP) website, UP said it deployed a water train to ensure that UP's infrastructure — its tracks, tunnels and bridges — don't get damaged by the Northern California wildfires.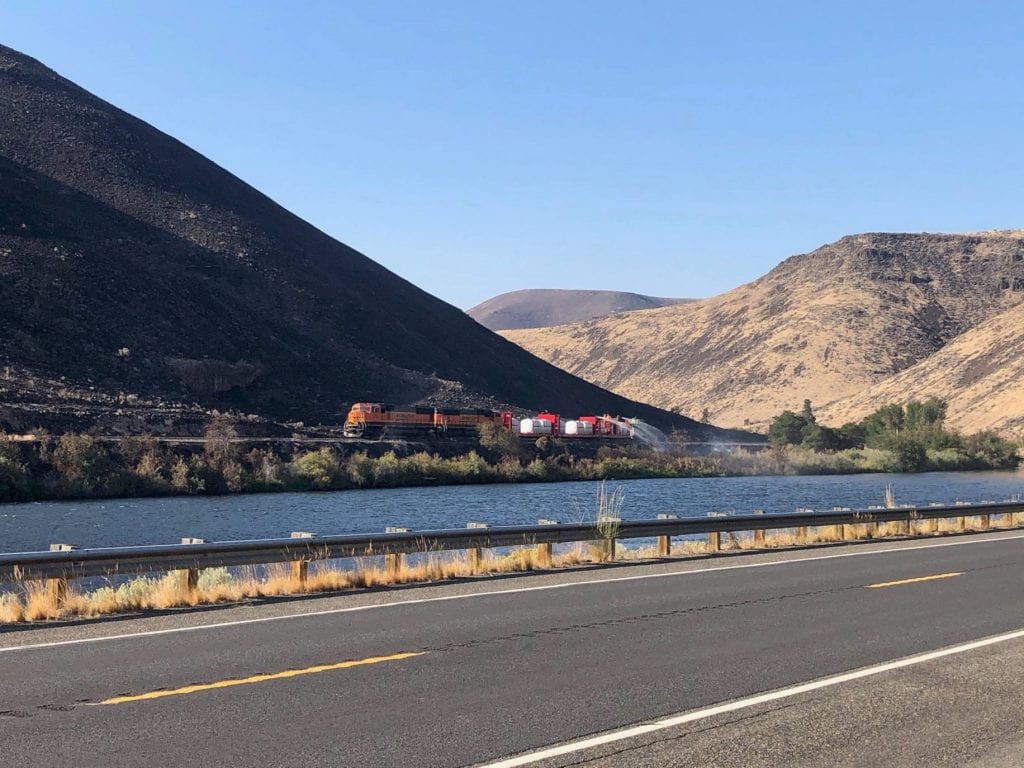 "We've had more than 16 fires so far this year in the Valley, Winnemucca and Canyon subdivisions, and the Reno, Nevada, industrial leads," UP quoted Jerry Rhea, UP's manager for bridge maintenance and engineering, as saying.
UP also said on its website that Canyon Subdivision service had been impacted by the fires.
UP's water train consists of two rail cars, each holding 12,500 gallons of water and a pumper.
Wildfires have ravaged the Pacific Northwest and Northern California in recent weeks, according to media reports, turning the sky orange in some areas because of the smoke.