Surface Transportation Board also watching for potential impacts
By Joanna Marsh for freightwaves.com
The Class I railroads with a presence in the U.S. Gulf Coast are monitoring how Hurricane Zeta will affect rail operations.
Service disruptions could occur as a result of the storm, they said in service advisories Tuesday and Wednesday, and the railroads will assess their networks for post-storm damage.
Zeta made landfall Wednesday as a Category 2 hurricane with sustained winds of around 110 mph, FreightWaves reported early Thursday. It was the strongest hurricane to hit the continental U.S. this late in the season since 1899. The Atlantic hurricane season runs from June 1 through Nov. 30.
Zeta has since weakened to a tropical storm and continues to move quickly inland. As of 8 a.m. EDT Thursday, sustained winds had decreased to 60 mph, and the eye of the storm was 50 miles west of Asheville, North Carolina.
"As flood protections are implemented throughout New Orleans, there will be some impact to interchange traffic traveling through New Orleans and local service in New Orleans and Mobile. Customers with shipments destined to these areas can expect delays of 12-24 hours," said Norfolk Southern (NYSE: NSC) in a Wednesday service advisory. The railroad said it would provide updates as conditions changed.
Union Pacific (NYSE: UNP) said in a Wednesday update that as the storm passed through the New Orleans area, rail interchange with Eastern carriers would be curtailed. The railroad said it would also perform track inspections to assess post-storm damage.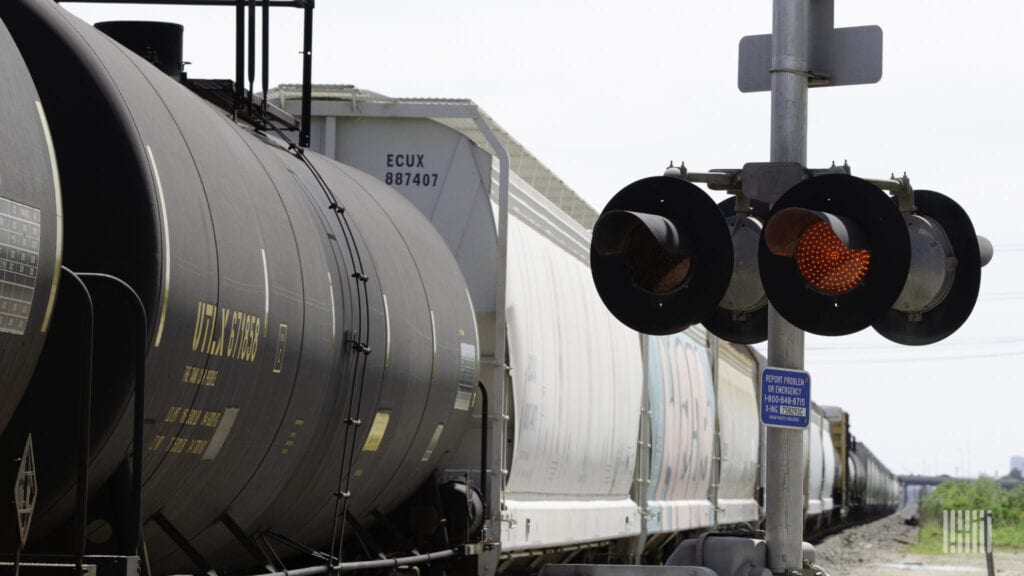 BNSF (NYSE: BRK) also said that interchanges with Eastern carriers would be affected as floodgates closed in New Orleans. The company said Wednesday that it suspended all rail operations east of Lafayette, Louisiana, as well as westbound from the New Orleans area at 2 p.m. CDT.
Meanwhile, in a Tuesday weather update, Kansas City Southern (NYSE:KSU) said, "We are monitoring the storm closely and will notify you of any changes to our network or service. As always, the safety of our employees, customers' shipments and the communities we serve remains the priority."
It's not only the railroads and other freight transportation companies keeping an eye on the storm. The Surface Transportation Board (STB) said Wednesday it would declare emergency services should conditions warrant. The board expressed similar comments for past Gulf Coast hurricanes this season.
The STB "is actively monitoring any rail service disruptions caused by Hurricane Zeta," the board said Wednesday. "The board is prepared to utilize its emergency service authorities pursuant to 49 U.S.C § 11123 if a 'failure of traffic movement exists which creates an emergency situation of such magnitude as to have substantial adverse effects on shippers, or on rail service in a region of the United States.'"
The board continued, "Rail carriers, shippers and other stakeholders experiencing rail service disruptions that create an emergency situation are asked to contact the board's rail customer and public assistance office."
The Coast Guard continues to restrict vessel movement at the ports of Baton Rouge, New Orleans, Plaquemines, South Louisiana, St. Bernard and the Venice Port Complex in Louisiana; Biloxi, Gulfport, Mobile and Pascagoula, Mississippi; as well as Pensacola, Florida. Portions of these ports may be closed, FreightWaves' Senior Meteorologist Nick Austin reported Thursday.
Nick Austin, FreightWaves Director of Weather Analytics and Senior Meteorologist contributed to this report.