The views expressed here are solely those of the author and do not necessarily represent the views of FreightWaves or its affiliates.
We have witnessed global recessions before. But nothing quite like this 2020 version with a one-two biological and oil price war punch.
Let's examine the second quarter outlook for railroad-hauled tank car commodities.
There are three broad railroad tank car markets – chemicals, crude oil and selected agricultural commodities. Across North America, the number of tank cars in the fleet increased from ~300,000 in 2009 to ~432,000 in 2019.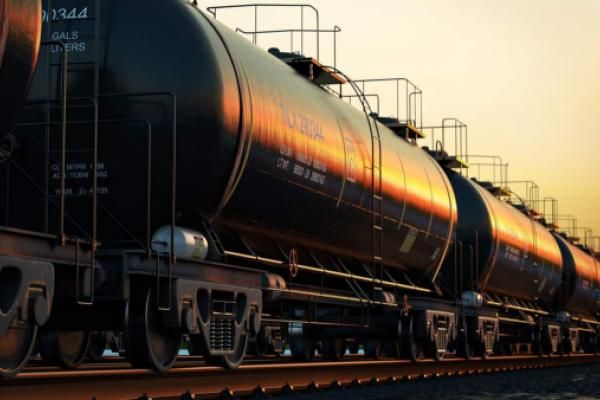 The chemical tank car market
The chemical market constitutes about 13% of all the carloads of rail traffic moved during 2019. If petrol and crude oil are added, the market size is just under 20% of all rail carloads.
Some of the chemical business moves in covered hopper cars rather than tank cars – but overwhelmingly the tank is the railcar used.
A 25,500-gallon DOT-117 compliant tank car manufactured by National Steel Car (Photo credit: National Steel Car)
Based upon the first two months of 2020 there was a clear upside. A 3% to 5% year-over-year increase for all of 2020 looked promising in early March. Yet, there was an uneasiness.
Now, the second quarter might see a 5% or greater chemical carload movement drop versus last year's volume.
Crude oil carload market
Crude oil moving in tank cars had been growing this year with February a +7.2% carload increase in petroleum products moved. Crude oil was about 29% of this overall commodity category. Shipments of heavy crude oil into the United States from Canada was the largest crude oil market segment of this approximately 54,000 monthly carload total.
That monthly volume compares to 132,000 of chemical carloads moved.
Crude oil was considered a high growth market back in the period 2009 to about 2013.
At its peak in 2014, crude oil accounted for 1.6% of total originated Class I carloads. In 2019, crude oil's share was 0.8% for all Class 1 originated carloads.
Now during April 2020, oil production that depends upon rail movement is dropping. The year-over-year decline is noticed in the oil rigs counts.
North American Oil Rig Count – mid-March 2020 estimate
Based on the drop in the number of rigs, the U.S. energy forecast for 2021 will be much lower.
Posted at finance.yahoo.com