Written by Marybeth Luczak, Executive Editor for railwayage.com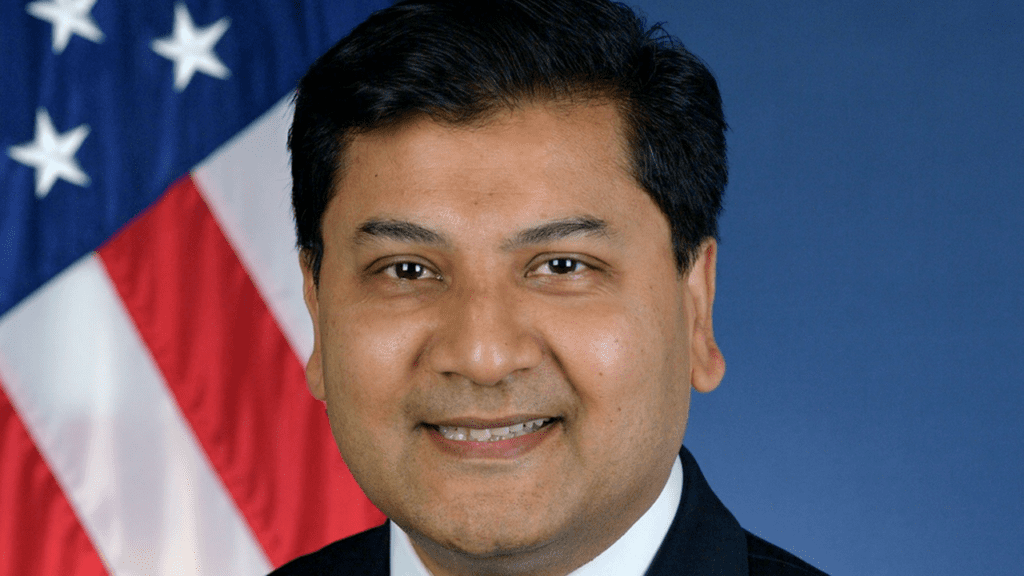 Amit Bose on Jan. 12 was confirmed as the 15th Federal Railroad Administrator in a 68-29 Senate vote.
He was nominated by President Joe Biden on April 22, 2021, to lead the Federal Railroad Administration (FRA), succeeding Ronald L. (Ron) Batory. Batory, who was sworn in Feb. 28, 2018, stepped down in early 2021.
As Administrator, Bose will direct FRA's safety regulatory oversight of more than 800 freight and passenger railroads; national rail policy, planning and environmental activities; and financial assistance grant programs. He will also oversee FRA programs to improve and modernize the nation's freight and passenger rail network, administering a $66 billion investment in rail projects under the Bipartisan Infrastructure Law (also known as the Infrastructure Investment and Jobs Act). Those funds will be supplemented by an additional $36 billion in annual authorized appropriations over five years to support projects and programs that improve safety, reliability, efficiency, resiliency, equity and sustainability, according to the U.S. Department of Transportation (USDOT).
Currently, Bose is on his second tour of duty as Deputy FRA Administrator, returning to the post in January 2021.
He worked previously at architectural and engineering firm HNTB, and served the USDOT during the Obama-Biden Administration as FRA's Director of Governmental Affairs, Senior Advisor, Chief Counsel, and ultimately as Deputy Administrator. Bose also served in the Office of the Secretary as Associate General Counsel and Deputy Assistant Secretary for Governmental Affairs. Prior to that time, Bose worked for New Jersey Transit and the New Jersey Department of Transportation; was a transportation staffer for the U.S. Congress; and focused on land use, environmental and municipal law in private practice in Georgia.
Transportation Secretary Pete Buttigieg
Born in Laheriasarai, Bihar, India, Bose came to the United States at age 5 and grew up in DeKalb County, Ga. He earned an AB from Columbia College, a MIA from Columbia University School of International and Public Affairs, and a JD from the University of Georgia.
"From his work with New Jersey Transit to his leadership at FRA during two administrations, Amit has spent his distinguished career supporting America's railways," Transportation Secretary Pete Buttigieg said. "Amit's experience and expertise will be invaluable as we work to implement the President's historic Bipartisan Infrastructure Law (BIL), which includes the largest investment in passenger rail since the creation of Amtrak."
"It's an honor and privilege to serve Secretary Buttigieg and the Biden-Harris Administration," Bose said. "America's railroads are an indispensable part of our transportation system and national economy. This is an exciting time to lead approximately 900 FRA employees as we seek to advance America's second great rail revolution."
(For Bose's insight on automated track inspection, crew sizes, hazardous materials transportation, and port congestion, among other topics, read Railway Age's Sept. 22, 2021 story, "Federal Railroad Administrator Nominee Addresses Senate Committee," covering his Committee on Commerce, Science, and Transportation nomination hearing.)
Industry Reaction
AAR President and CEO Ian Jefferies
Association of American Railroads (AAR) President and CEO Ian Jefferies issued the following statement on Bose's confirmation:
"For the nation's railroads, there is no higher priority than safety and the industry is committed to working with Administrator Bose to ensure FRA policies are grounded in sound data and drive continuous enhancements of those shared safety goals. As Administrator Bose assumes his new role, AAR stands ready to work to advance safety, sustainability and supply chain fluidity."
ASLRRA President Chuck Baker
American Short Line and Regional Railroad Association (ASLRRA)President Chuck Baker offered these comments:
"On behalf of our country's 600 small business short line freight railroads, I congratulate Amit Bose on being confirmed by the U.S. Senate as Administrator of the Federal Railroad Administration. I'd also note that Amit is the first Indian American to be appointed to this role and that is to be celebrated.
"His confirmation comes at a critical time for our industry, right on the heels of passage of the Infrastructure Investment and Jobs Act (IIJA)—a game-changing measure that provides vast new opportunities to help rebuild and bolster our short line freight rail network through such programs as CRISI, INFRA, RAISE, RRIF, PIDP, and the new grade crossing separation program.
"We look forward to working with Administrator Bose and his top-notch team at the FRA to put these new resources to work advancing key projects that enhance safety, reduce greenhouse gas emissions, and solve our country's supply chain crisis. We are also eager to continue working collaboratively to harness the power and promise of technology to continue moving freight rail forward.
"From his prior service at FRA and his years of experience in the rail industry, Administrator Bose knows well short line freight railroads' commitment to a strong safety culture and our mission-driven approach to serving the countless customers and communities who rely on us daily. This first-hand knowledge will be enormously important as he officially begins his tenure as Administrator overseeing an agency so vital to our members and the national economy.
"In addition to his deep understanding of the mission of the freight rail industry, Amit is a leader who is in government for the right reasons. We are confident that we can find plenty of common ground and many opportunities to work together to ensure smart, sensible oversight at FRA rooted in data, avoiding efforts that impose unnecessary burdens and bottlenecks on the movement of goods."
Railway Supply Institute (RSI) President Patty Long said in a statement:
RSI President Patty Long
"Amit Bose's knowledge, leadership, and years of experience in the industry will continue to be a tremendous asset to FRA in this role. RSI and our members congratulate Administrator Bose on his confirmation and look forward to continuing to work him to increase rail infrastructure investment, promote safety, and create jobs in the railway supply industry."
American Public Transportation Administration (APTA) President and CEO Paul P. Skoutelas issued the following statement:
APTA President and CEO Paul P. Skoutelas
"Administrator Bose is a great friend to the railroad industry, a champion of passenger transportation, and a dedicated public servant. We are privileged to have Amit as the head of the Federal Railroad Administration and excited for his vision for the passenger rail industry. Throughout his career, he has been involved in some of the highest profile rail and transportation projects this country has seen. Along with an expertise in high-speed passenger rail, he also brings a private-sector perspective to his work at FRA. We appreciate President Biden's support of our industry and stand ready to work with Secretary Buttigieg and Administrator Bose to achieve the passenger rail and public transportation future the President has worked on throughout his career."
Dennis R. Pierce, National President of the Brotherhood of Locomotive Engineers and Trainmen (BLET), said in a statement:
Dennis R. Pierce, National President of the Brotherhood of Locomotive Engineers and Trainmen (BLET)
"On behalf of the BLET, I congratulate Amit Bose on his confirmation by the United States Senate and have every confidence that his leadership will benefit the men and women who work in the railroad industry. Administrator Bose recognizes the important contributions that railroad workers make each and every day to the freight and passenger/commuter rail industries, and he has displayed respect for the vital role that railroad unions play as a voice for the rights of our members and the safety of our industry. I look forward to working with Administrator Bose and the FRA on issues of critical importance to the BLET and its members."
The Railway Engineering-Maintenance Suppliers Association (REMSA) released this statement:
"REMSA congratulates Amit Bose on his bipartisan confirmation by the U.S. Senate this afternoon to be FRA Administrator. His experience with rail projects and at multiple levels of government will benefit the administration and its stakeholders. We look forward to working with him and the FRA on issues that impact rail suppliers and the maintenance-of-way industry."