Service will connect Mexico to US and Canada for intermodal freight
By Noi Mahoney for freightwaves.com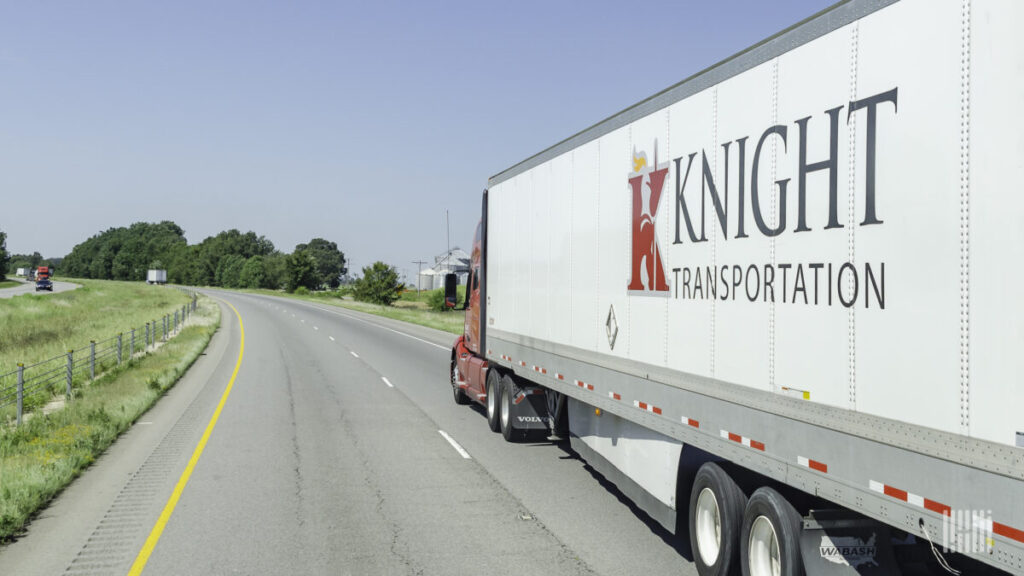 Canadian Pacific Kansas City (CPKC) railroad and Knight-Swift Transportation announced Tuesday a deal to provide truckload capacity for a Mexico-to-Chicago cross-border train that will launch in mid-May.
It's the second major multiyear agreement CPKC has signed with a megacarrier in recent days. On Friday, CPKC and Schneider National announced the formation of a similar intermodal rail service connecting major U.S. ports and regions in Mexico.
"This agreement creates compelling new transportation solutions for Knight-Swift's current and future customers looking for optionality and increased capacity in their supply chains," John Brooks, CPKC executive vice president and chief marketing officer, said in a news release. "As Knight-Swift transitions their Mexico-U.S. traffic to CPKC starting in mid-May, we will focus on growth between Chicago, Texas and Mexico markets."
Phoenix-based Knight-Swift (NYSE: KNX) is one of North America's largest carriers, providing transportation and logistics services. The company has 25,000 tractors and 93,000 trailers, including 613 tractors and 11,786 containers in its intermodal segment. Last year, the intermodal division generated $485 million, a 6.5% year-over-year increase compared to 2021.
Adam Miller, Knight-Swift Transportation CFO and president of Swift, said the agreement will provide more supply chain options for its customers.
"Our Transmex team and growing LTL offering will also benefit from the newly created railroad and will allow us to continue supporting our customers in new and different ways by providing thoughtful solutions with a solid underlying service product," Miller said in a statement.
CPKC's north-south rail corridor currently utilizes a bridge at the border in Laredo, Texas. A new $75 million rail bridge is under construction and scheduled to be completed by the end of 2024.
CPKC already processes about 26 trains a day in a 24-hour period in Laredo. The addition of a second bridge will double cross-border rail container capacity, officials said.
Aiming to compete with CPKC's expanding cross-border service, railroads Union Pacific, CN and Grupo Mexico (GMXT) announced Monday they will run a joint intermodal service called Falcon Premium from Mexico to Chicago.
Falcon Premium will connect all CN origin points in Canada and Detroit to GMXT terminals in Monterrey and Silao, Mexico. The line aims to serve intermodal customers shipping automotive parts, food, home appliances, temperature-controlled products and other goods.