By JOSH FUNK For apnews.com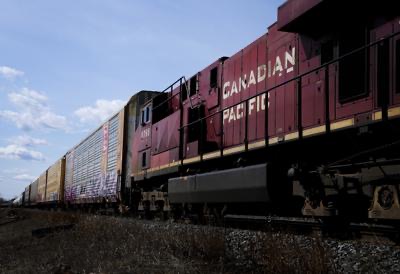 The Canadian Pacific Kansas City railroad announced its first big business win Friday — a week after completing its long-planned merger — with a multiyear agreement to handle the Schneider National trucking company's rail shipments to and from Mexico starting in mid May.
The deal provides that CPKC will become Schneider's preferred cross-border rail partner. It will move shipping containers of goods that the trucking company picks up at manufacturers and ports in Mexico to the key rail hub of Chicago, where all the major railroads exchange traffic — taking traffic away from Union Pacific and BNSF.
The companies didn't say how many of these intermodal shipments might be involved in the deal, but Schneider reported a $458 million profit last year on all the deliveries it handled across North America.
Schneider has said in previous investor presentations that some $800 million worth of all kinds of products crosses the U.S.-Mexico border at Laredo, Texas, every day. American farmers send large amounts of corn and pork south while Mexican avocados and car parts made at factories there head north. And more companies are moving manufacturing operations to Mexico to have their production closer to their customers.
Laredo is where CPKC's trains cross the border, and the railroad said it is planning to add another span to its bridge there to increase the capacity of its tracks. That new bridge should be done by the end of next year.
Edward Jones analyst Jeff Windau said "management has hit the ground running" with this deal coming shortly after the $31 billion Canadian Pacific-Kansas City Southern merger was completed.
CPKC CEO Keith Creel said he thinks his railroad's new single-network across the continent offered a compelling value. Shippers using other railroads have to hand off their cargo from a Mexican railroad to one of the other U.S. rails at the border.
"The CPKC combination creates compelling new transportation solutions for Schneider's current and future customers looking for more reliability and increased capacity in their supply chains," Creel said.
But Union Pacific spokeswoman Kristen South said her railroad offers "the best access of any North American railroad" to Mexico because it connects to Mexican railroads at all six main crossings along the border.
"Our service, particularly for intermodal and automotive freight, provides customers with unparalleled reach and service into critical markets across the U.S., Canada, and Mexico," South said.
Schneider has a separate agreement with Union Pacific for that railroad to handle its shipments across the western United States. That contract just started in January.