On-time performance of big four U.S. systems tumbles compared to before the pandemic
By By Bill Stephens for trains.com
Overall on-time performance for the big four U.S. Class I railroads has fallen from a pre-pandemic average of 85% to just 67% in the last week of May 2022, as crew shortages continue to plague rail service.
The extent of the service decline was revealed in historic on-time performance data that BNSF Railway, CSX Transportation, Norfolk Southern, and Union Pacific submitted to the Surface Transportation Board last week.
The board last month mandated increased performance data reporting after shippers aired their complaints during two days of rail service hearings in April [See "Federal regulators order railroads to provide more service data …," Trains News Wire, May 6, 2022]. The railroads began reporting the more detailed metrics in May, including providing federal regulators with on-time performance figures for the first time.
The STB defines on time as carloads and intermodal trains that arrive at their destinations within 24 hours of the original estimates provided to customers. The railroads' internal trip-plan compliance figures generally are much tighter than what they are required to report to the board, however.
The historic data trail starts in May 2019, although the railroads provided different types of on-time performance information to the board. BNSF and NS provided an all-in number, for example, while CSX broke down its performance by manifest and intermodal traffic. UP provided carload figures beginning in May 2019, but its intermodal figures start in January 2021. UP also included a snapshot of the performance of its bulk trains.
The railroads have emphasized that the data should not be used to compare the Class I lines because of the different ways they collect information and calculate on-time performance and other key metrics, from average train speed to terminal dwell.
An analysis of the on-time performance figures — comparing each railroad's May 2019-April 2020 average to its performance in the last week of May 2022 — shows wide differences between the big four systems.
UP showed a 7-point decline, with on-time arrivals dropping to 70% from 77%. That was the smallest drop among the big four systems, but UP's May 2019-April 2020 average was the lowest reported, partly because it was weighted to manifest performance due to the lack of 2019 intermodal data.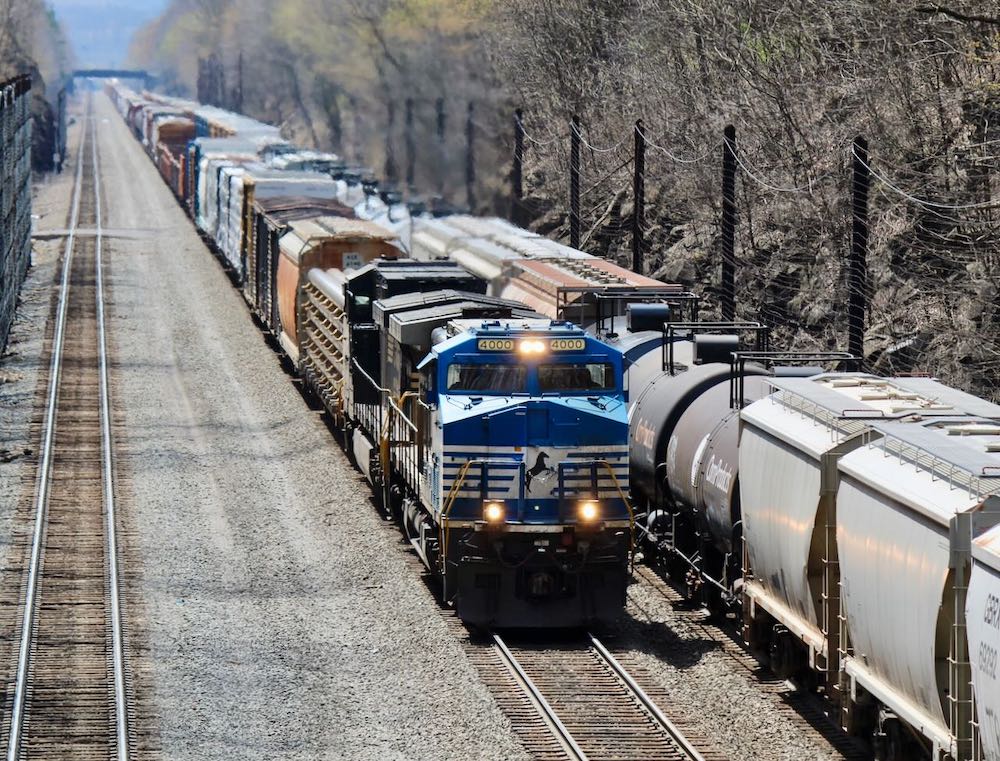 CSX's on-time performance went from 96% to 85%. Some 92% of carload traffic arrived on time in the 12 months ending in April 2020, while intermodal traffic was nearly 100% on time. Manifest traffic is currently 66% on time; intermodal is running 95% on time.
BNSF's overall on-time performance tumbled 19 points, falling to 61% from 80%.
NS, which seems to have the most widespread crew shortages at key terminals, fell the most at a 35-point decline. NS reported 87% on-time performance for the 12 months ending in April 2020. That figure currently stands at 52%.
The on-time performance figures reflect the impact of crew shortages that have slowed each railroad. As their networks slow down, it has created congestion and higher recrew rates. And that means the railroads' crew and locomotive needs only increase, which exacerbates the shortage of crews and not having power in the right places at the right times.
UP also submitted a revised service recovery plan that includes the railroad's targets for improvements in key performance metrics as well as information regarding its fuel conservation programs. The STB had requested both in its initial order to the Class I railroads last month.
UP's car velocity goal is between 205 and 210 miles per day, up from the current 188 miles.
UP has reached its goal for first and last mile service, which is 91% fulfillment of local service as scheduled.
UP's trip plan compliance goal for manifest traffic, running at 69%, is within the target range of 66% to 73%.
The intermodal trip plan compliance goal is 76% to 83%. It currently stands at 70%. Bulk trains, at 72% on time performance, also fall short of the target range of 77% to 85%.
The board also asked the railroads to report whether they have any throttle setting, locomotive power, or train velocity restrictions currently in place — and to explain why. Various restrictions on train speed, along with low horsepower-per-ton ratios and use of energy management systems, were contributing factors to congestion, rail labor leaders claimed during the STB's rail service hearings in April.
UP said it had no systemwide train velocity restrictions other than those required for safety based on track, train, or rolling stock characteristics.
"Union Pacific does maintain a restriction on locomotive throttle settings for certain trains operating more than 50 miles per hour," the railroad told the board. "This throttle restriction applies to approximately 40% of Union Pacific trains. Moreover, it only limits the amount of locomotive power and inefficient fuel burn that may be used for trains operating above 50 miles per hour. To be clear, it does not necessarily limit affected trains to 50 miles per hour."
The other three Class I railroads — Canadian National, Canadian Pacific, and Kansas City Southern — were not required to attend the STB's rail service hearings or to submit service recovery plans. They still must report the expanded service metrics to federal regulators every week. Their reports cover only their U.S. operations.