Agency cites concerns over how trains are built as a factor in several derailments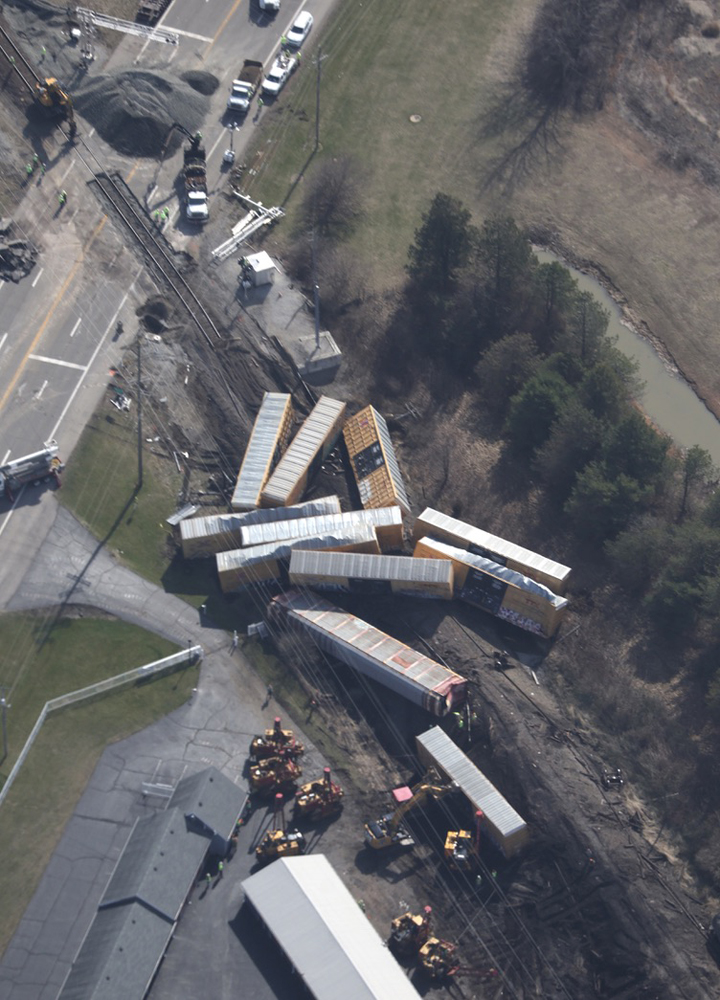 The Federal Railroad Administration on Friday issued a safety advisory calling on railroads to address potential safety risks resulting from the structure of long freight trains, saying it has "noticed a rising trend in recent incidents where train build and makeup have been identified as a potential cause of contributing factor."
Limitations on train lengths are among the FRA's recommended "best practices" to address the issue.
Advisory 2023-02, available here, cites six derailments since May 2021 — three on Union Pacific, one on Kansas City Southern, and two on Norfolk Southern. All involved trains of 125 or more cars; featured distributed power units; far exceeded 4,000 trailing tons, the maximum weight threshold established by a 1992 AAR guide; and had an empty car as the first to derail. Other characteristics were shared in half or more of the incidents.
The NS derailment in East Palestine, Ohio, was not among those cited, but the railroad's March 4 derailment in Springfield, Ohio, was [see "NS train derails in Springfield …," Trains News Wire, March 5, 2023].
"Technologies such as DPUs, energy management systems, and dynamic braking can be used in conjunction with proper train car placement and makeup," the advisory states. "While these technologies can improve train handling and fuel efficiency, they cannot replace the need for correct car placement and assembly. Railroads must prioritize proper train makeup to maintain safety, prevent accidents, and optimize train performance. Further, all operating employees must be properly trains in these technologies and the handling of complex trains to ensure safe operation and minimize human error."
While the basic concept of train makeup for mixed manifest trains is to place loaded cars at the front of the consist and empties at the rear, railroads use computer programs to assist with this process, and other factors, such as pre-blocking for destinations, complicate train building. Placement of DPUs is also crucial, as illustrated by a recent accident report from the Transportation Safety Board of Canada on a 2020 Canadian Pacific derailment. That accident led to CP changing the configuration of DPUs on some long grain trains [see "Failure of soft subgrade led to 2020 CP grain train derailment …," Trains News Wire, March 22, 2023].
Among the half-dozen "best practices" recommended by the FRA are developing and implementing strategies "to mitigate the risks associated with train build factors, such as the proper use of distributed power, train length limitations, and other operational train handling practices.
Other recommendations include insuring that current train makeup policies are up to date; that personnel involved in train makeup decisions receive appropriate training; and allowing open communication regarding train makeup, with all personnel empowered to adhere to policies, even if it delays a train.
Friday's advisory is the second issued this year by the FRA. In February, it issued recommendations regarding use of data from hotbox detectors as a result of the East Palestine derailment [see "FRA makes safety recommendations …," News Wire, Feb. 28, 2023]. It also issued a more informal safety bulletin regarding shoving moves at highway grade crossings as a result of a March 7 fatality in Ohio [see "FRA issues safety bulletin …,"News Wire, March 17, 2023].