The Federal Railroad Administration (FRA) late last week proposed a rule that would define Amtrak on-time train performance and would set a minimum performance standard of 80 percent.
The proposed performance and service quality metrics would give Amtrak, its passengers, service providers, the FRA and others a common tool to help objectively gauge intercity passenger rail travel, FRA officials said in a press release.
"Eighty percent is a minimum standard," said FRA Administrator Ronald Batory. "We expect many routes will be much more reliable. Clarity should help all parties ensure compliance."
To develop the standard, FRA and Amtrak consulted with many stakeholders, including the Class Is that host Amtrak trains, states, labor unions, an advocacy group that represents Amtrak riders, and the Surface Transportation Board.
The rule proposes additional measurements for evaluating how well Amtrak serves the public, including financial performance and customer service metrics.
For years, Amtrak officials have expressed frustration over delays in its passenger trains caused by host freight railroads.
Amtrak owns and maintains most of the tracks in the Northeast Corridor, while most of the other tracks on which Amtrak trains operate are owned by freight railroads, which make dispatching decisions about the trains that have priority on their rail lines.
"Delays to our Amtrak trains by host railroads directly affect both our revenues and our costs. The [FRA's] proposed rules will produce meaningful metrics that reflect the customer experience and a standard for measuring when Amtrak trains are not being giving the required preference by host railroads," Amtrak officials said in a prepared statement.
The proposed rule is expected to be published in the Federal Register in the "near future," FRA officials said. The agency will accept written comments for 60 days from the date of publication. The FRA also intends to hold a public hearing, which likely will be held online.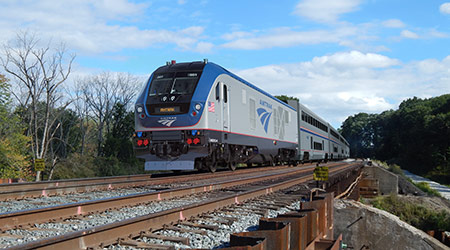 Original post found at progressiverailroading.com