Barge traffic screeches to a halt.
The impacts of this year's flooding on the U.S. Inland Waterway system on grain shipments both on and off land along multiple rivers have a long tail.
Because many locks and dams have been closed or are operating on a limited basis, river market grain elevators are threatened by storage backups, creating pressure on farmers trying to deliver grain to buyers during the recent market rallies.
The soybean futures market has put on $1.20 per bushel since hitting a May low. Meanwhile, the corn market has risen by over $1.00 per bushel in the last 100 days.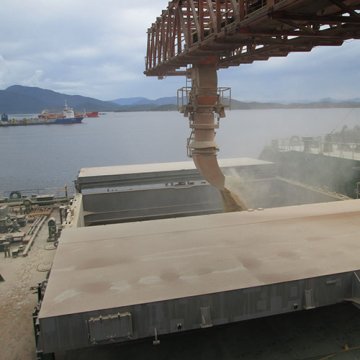 Since March, the flooding has affected in one way or another barge traffic on the Missouri, Mississippi, Illinois, Ohio, and Arkansas Rivers.
The persistent high water has closed a lot of the locks and dams.
Even the little barge traffic that has been occurring allows for only smaller barge units, restricted tow sizes, and bridge clearance issues.
In its Weekly Grain Transportation Report, the U.S. Army Corps of Engineers reported such a significant drop in barge movement vs. a year ago, it marked the 2019 figures as 'not available' as of June 8.
In 2018, at this time of the year, 9.6 million tons of corn had been shipped by barge, 4.7 million tons of soybeans, and 680,000 tons of wheat.
Meanwhile, railcar transportation of grain along the Mississippi River to the U.S. Gulf of Mexico has surged higher, due to the drop in barge traffic.
This year, so far, there have been 20,049 rail carloads of grain to the Gulf port vs. 9,892 at this same time in 2018.
River Grain Markets Soften
Mike Steenhoek, Soy Transportation Coalition, says the high water is not the only problem.
"Rural bridges that were washed out are still in repair. Some of the railroad companies, notably, Burlington Northern/Santa Fe and Union Pacific, they still have segments of their networks that are being restored," Steenhoek says.
For farmers who sell grain to river markets, all of the sudden basis prices are widening. Storage space is getting exhausted at many river market locations, Steenhoek says.
"It's really remaining to be a challenge," Steenhoek says. "For agribusinesses, it's the old phenomenon of if you can't move product out your back door, you're less willing to accept product through your front door. So, you tell farmers that we can't except any deliveries. So, we're going to drop the price that we're willing to pay for grain."
Steenhoek added, "Farmers want to open up that spigot, so to speak, and start selling more of their 2018 crop, but there is not an effective 'hose' to hook up to it. And that is what our transportation system is, a hose."
Looking Forward
The Army Corp of Engineers is scheduled to reopen some of the affected locks and dams on June 20, but there is still high water and a wet forecast for the eastern Corn Belt in the short-term, Steenhoek says.
"We could see these grain shipping supply chain issues continue for the foreseeable future," Steenhoek says.
One of the weather issues that few people are talking about is the hurricane season, as it relates to getting the rivers to return to normal navigation, Steenhoek says.
"If you have this increased volume of water on the lower bottom of the river, like at the Gulf of Mexico, if that region has a hurricane it could cause considerably more damage than a normal hurricane would. So, that could have a major impact, if that were to occur."
The hurricane season, currently underway, runs until October.

Trucking Benefits
One of the outcomes of the floods has been a decrease in rail and barge traffic, but an increase in trucking from farm to market.
Jared Flinn, Bulkloads.com operating partner, runs the online marketplace for all bulk loadings, primarily in the agricultural space.
The Missouri-based company connects farmers and commercial businesses with haulers of grain, loads of feed ingredients and ethanol, fertilizers, ag input products, and products going to river markets for export.
A few weeks ago, some of the barge markets along the Mississippi River closed due to flooding. As a result, local truck traffic hauling grain to barges along the river market shut down.
"So, that has shut down some of the truck traffic. However, with these rallies in the corn and soybean markets, in some areas not impacted by flooding, we have farmers who are selling more grain, and that is increasing trucking. Those loads are going to nonexport markets such as ethanol plants and other ports not impacted by flooding."
While the flooding impacts to the grain shipping industry have been negative for most involved, Flinn sees the current scenario of disruption in the supply chain providing opportunity for the grain trucking business.
"I'm more positive because anytime that you see a big disruption in trucking, there's usually one area of the country experiencing the need for more trucking," Flinn says.
For instance, with fewer farmers this year in the eastern Corn Belt (ECB) able to get all of their crops planted, those area end users will have to bring corn in from the western Corn Belt (WCB).
"And that is already starting to happen," Flinn says. "We are already hearing of railcars hauling grain from Council Bluffs, Iowa, to Indiana. That never happens. So, you'll see rail move that way, and then you'll see grain trucked that way too."
That is an indication of the better basis and value opportunities in Indiana, Illinois, and Ohio for marketing grain right now, Flinn says.
In a normal year, WCB grain is used for local markets, shipped south for feed markets, or railed into Mexico.
Seasonal Grain Shipping Disruption
In any given year, the month of July is one that sees grain shipping dip to a seasonal low. But this year could be different, Flinn says.
Normally, if farmers are going to do it, they have their bins swept out by July, Flinn says.
"The grain contracts that haven't been filled, due to the shipping delays caused by flooding, will be filled eventually. So, yes, depending upon the weather in the next few weeks, I do see July being much different this year," Flinn says. Plus, with the grain markets rallying, commitments that would have been pushed to new-crop will be filled with old-crop that is being carried over."