Courtesy of stltoday.com

On Jan. 22, 1972, a rail tanker exploded in the Alton and Southern Rail Yard in East St. Louis. Eventually 868 buildings were damaged in a blast that broke windows as far away as downtown St. Louis. Here is our original coverage.
An enormous explosion of a railroad tank car in East St. Louis early today injured at least 80 persons. Property damage was estimated at several million dollars.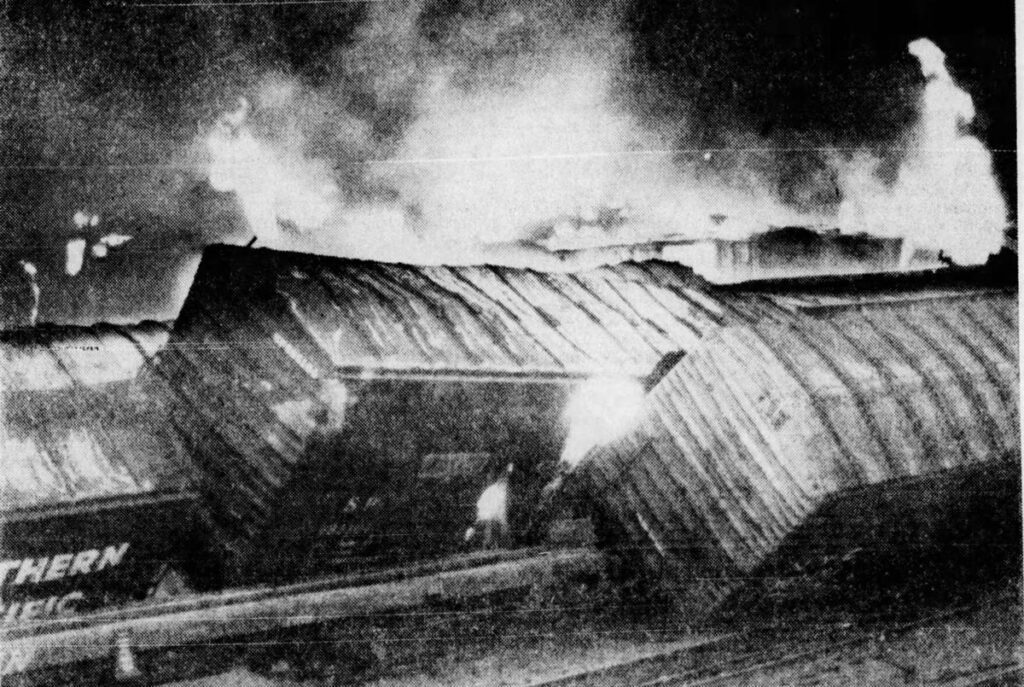 About 20 persons had been admitted to St. Mary's and Christian Welfare Hospitals in the city before noon today. Emergency rooms at both institutions continued to treat residents for cuts from flying glass.
No deaths were reported, and none of the injured was believed to be in serious condition.
Mayor James E. Williams Sr., whose home was among hundreds damaged near dawn said immediate help would be sought from the state. "This is a disaster," he said after touring the city in a police car.
Residents and business houses needing plywood to board up windows and doors were advised by the Police Department to telephone the City Garage for information on how to obtain it.
Lumber yards in the area agreed to remain open throughout the day to supply materials needed to make homes and businesses secure. Law enforcement officers from numerous East Side communities were rushed to the stricken city to assist in maintaining order.
Some streets in East St. Louis were sealed off when looting of business establishments reportedly began.
The blast occurred at the Alton & Southern Railway Co. switching yards near South Twenty-second Street and Trendly Avenue in a tank car. The car was parked on tracks about 300 yards south of the Alton & Southern Gateway Building, 1000 South Twenty-second.
Donald Huffman, vice president and general manager of the railroad, said the car contained propylene. It is a petroleum-based chemical that is highly explosive. It is used in the manufacture of plastic and some artificial fibers.
Federal inspectors, railroad executives, firemen and policemen were attempting to learn the cause of the explosion, which occurred at 6:20 a.m. It is possible that a railroad car being switched struck the tank car with too much force. The concussion- was felt as far away as Edwardsville and Troy, 20 miles north and northeast of East St. Louis respectively.
Plate glass windows were broken in some buildings in the St. Louis business district along the riverfront. East St. Louis policemen were overwhelmed by calls for assistance and issued urgent requests for help from nearby communities. Officers from the Illinois State Police, the St. Clair and Madison County sheriff's offices and nearby small towns and civil defense personal rushed to East St. Louis.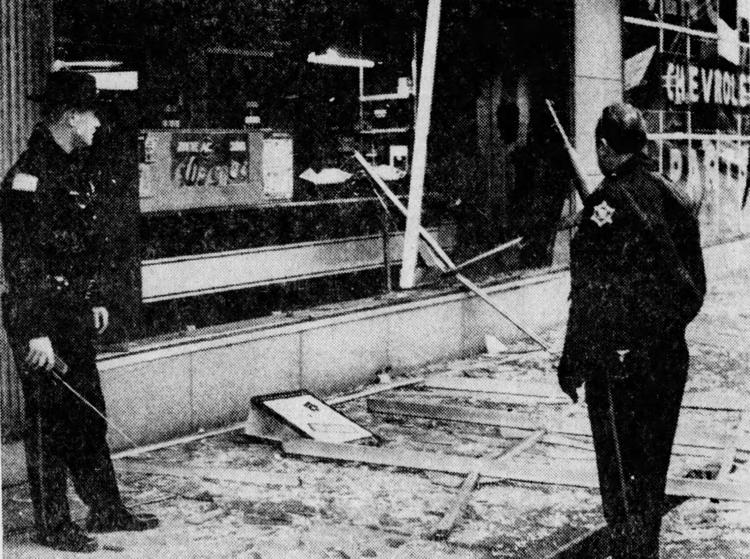 David Eisenhower, a security guard at St. Mary's Hospital in East St. Louis, was standing on the hospital parking lot when the skies turned red before the time for sunrise.
"It was like a flare," he said. "There was a massive red that lit up the whole sky like broad daylight." It was then that the concussion from the explosion staggered him. He could hear glass breaking. Eisenhower said he imagined that what had happened was like a nuclear blast.
The emergency rooms of both East St. Louis hospitals were clogged with persons waiting for treatment. Daniel Hicks, administrator of Christian Welfare Hospital, said that most of the patients came from their homes.
Service employees who are striking at Christian Welfare laid down their picket signs. They were standing and talking and watching the special hospital emergency team work with the injured.
"It looked like a sunrise at first then after 30 seconds, flames," said Ron Taylor, 6532 Alder Avenue, Berkeley. He is one of the service employees ""and was driving across the bridge at East St. Louis to take up his strike duties when the blast rolled out in flame and sound at about 6:20 a.m.