She lost her own family, so she adopted a new one, a huge one, lifting up the cause of labor while rising to become one of the most famous women in American history.
In the process, Mother Jones became perhaps the greatest labor force in the history of Illinois, a state no stranger to workers' movements. Barely over 5 feet tall, the dynamo who was Mary Harris Jones didn't start speaking and organizing until her mid-50s, a peripatetic rabble-rouser nationally from the 1890s to 1920s — yet always with a heart for Illinois.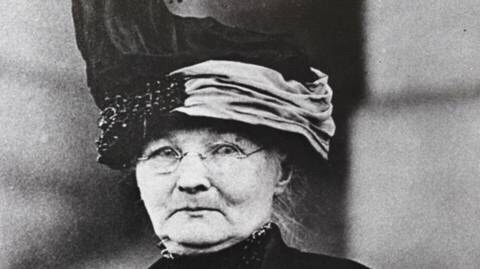 "Illinois ranks as a union birthplace, and Mother Jones was a midwife in that process," says Mike Matejka, vice president of the Illinois Labor History Society. "She formed deep friendships with Illinois workers, from miners to union leaders, and continually returned to Illinois as a home base, roaming the state to mobilize and awaken the working class."
In her heyday, no labor leader inflamed passion like Mother Jones. Muckraker Upton Sinclair, whose "The Jungle" excoriated the Chicago meatpacking industry, summed up Jones thusly: "All over the country she had roamed, and wherever she went, the flame of protest had leaped up in the hearts of men; her story was a veritable Odyssey of revolt."
Yet she assumed that mantle only because of circumstance, then guile.
Mary Harris was born in 1837 in Cork, Ireland. A decade later, the potato famine drove her family to Toronto, Canada, where her parents realized a middle-class living and Mary learned dressmaking and teaching. As a young adult, she took her first wanderings, careening around the Midwest before landing in Memphis, Tennessee. There, she met and wed George Jones, a foundry worker and union supporter. They'd had four children by 1867, when an epidemic of yellow fever claimed the entire household, save Mary. The 30-year-old widow relocated to Chicago to start anew with a dress shop, but it burned to the ground during the Chicago Fire in 1871.
She scraped to get by, sometimes sewing piecework for wealthy Chicago families. According to the Illinois Labor History Society, she later said: "Often while sewing for the lords and barons who lived in magnificent houses on the Lake Shore Drive, I would look out of the plate glass windows and see the poor, shivering wretches, jobless and hungry, walking alongside the frozen lake front … The contrast of their condition with that of the tropical comfort of the people for whom I sewed was painful to me. My employers seemed neither to notice nor to care."
She gravitated to organizing with the Knights of Labor, then the United Mine Workers. Though progressive in workers' causes, she broke from suffragettes of the day, saying that working men deserved a wage that would allow women to stay home to care for their children. But her labor-rights moxie quickly won over workers — first by the thousands, then millions — especially miners.
As Jones became more prominent and popular at rallies, she became a symbol of her own device. As Mother Jones magazine describes her transformation, "She invented Mother Jones. Or, to put it more precisely, she began to play a role that she and her followers made up as they went along. By 1900, no one called her Mary, but always Mother; she wore antique black dresses in public, and she began exaggerating her age."
Jones often squeaked by on a stipend from the United Mine Workers. But she'd travel to help wherever the call: Garment workers in Chicago, steelworkers in Pittsburgh, bottle washers in Milwaukee, railing against companies and corporation for fair wages and safe working conditions. She felt that change would come only through the mass campaign of workers as citizen-activists.
"Jones' intellectual core was the idea that labor creates all wealth, and that therefore the wealth of the nation should benefit the people who worked," says Rosemary Feurer, an associate professor of history at Northern Illinois University who maintains a Mother Jones website motherjonesmuseum.org. "This provided an intellectual foundation from which she agitated not only in Illinois but across the nation. She was the Johnny Appleseed of the country's immigrant workforce, planting seeds of rebellion from which the labor movement grew."
Jones was more direct in trying to light a fire under laborers to claim their rights and rewards. As she once put it: "I have been in jail more than once and I expect to go again. If you are too cowardly to fight, I will fight."
Despite her vagabond predilections, she often stayed in Illinois between causes. She considered Illinois the birthplace as rank-and-file unionism. And, with miners always dear to her heart and campaigns, she felt a special pull to the plight of miners in Illinois. At the close of the 19th Century, Illinois became a labor battleground — especially in downstate Virden and Mount Olive — as the Chicago Virden Coal Co. and two other anti-union owners defied a union contract sought to bring in strikebreakers, according to motherjonesmuseum.org. Miners from Mount Olive marched with others from across Illinois; in an ensuing battle, 13 people were killed, including four miners from Mount Olive.
She died in 1930 (some sources say at age 100, others say a shade less) and was laid to rest, per her wishes, among the miners laid to rest at Miners' Union Cemetery in Mount Olive. Her simple marker carries some uncharacteristically purple prose, in part extolling: "She gave her life to the world of labor, her blessed soul to heaven."
It's almost a shame she isn't remembered there from one of her most telling quotes: "I'm not a humanitarian. I'm a hell-raiser."
Phil Luciano is a columnist for the Journal Star of Peoria. He can be reached at 309-686-3155 and at pluciano@pjstar.com. Some information for this article came from http://www.motherjones.com, aflcio.org, http://www.motherjones.com/politics/2001/05/mother-jones-woman/, http://www.motherjonesmuseum.orghttp://www.illinoislaborhistory.org/ and theamericanconservative.com