By Bill Stephens for trains.com
Railroad steps up hiring efforts in tight job market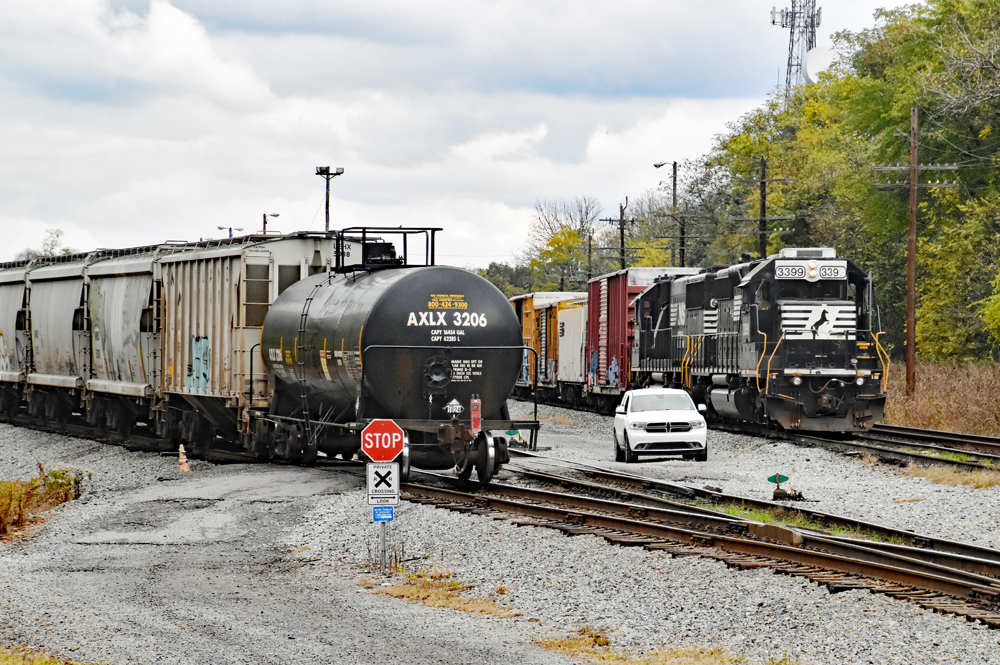 ATLANTA — Norfolk Southern's service has deteriorated over the past six weeks amid crew shortages and operational changes, according to shippers and connecting railroads.
Some expressed concern that the railroad is teetering on the brink of a meltdown as train speed falls, cars spend more time in yards, and a rising number of trains per day are held due to a lack of crews, power, and other reasons.
"Operations are suddenly in the ditch," Rick Paterson, an analyst with Loop Capital Partners, wrote in a note to clients last week.
Average train speed on NS slumped to 17.6 mph in the week ending Nov. 5, the lowest weekly velocity in the railroad's performance data since May 2018, when congestion centered on Birmingham, Ala., bogged down service in the Southeast. Since the first week of October the railroad's velocity has fallen 17%.
Other performance metrics are trending in the wrong direction, too. Since the first week of October the number of loaded cars not moving in more than 48 hours nearly doubled, to 3,903, while the average number of trains holding per day has surged 123%.
Terminal dwell is up 27%, with cars sitting more than 36 hours at five yards in the Southeast. Birmingham again is a hot spot: Dwell at Norris Yard currently stands at 46.5 hours, up from 32 in the first week of October and an average of 29.7 hours in September.
Traffic volume is not the culprit: NS volume was flat in the third quarter and was down slightly in October.
Crew Shortages
NS is experiencing higher than normal attrition among its train crews and is having trouble hiring new conductors due to the tight labor market. NS says its new conductors and conductor trainees are also leaving the railroad at higher rates.
Norfolk Southern's struggle to retain train crews and hire conductors mirrors trends in the industry and across the broader economy. In September a record 4.4 million Americans quit their jobs, according to federal data, yet job openings remained stubbornly near record high levels.
NS had 7,463 people in train and engine service in September, level with August 2021 but down 6% from a year ago, according to the latest Surface Transportation Board data available.
"The entire transportation and logistics industry is experiencing a perfect storm of challenges, and we're not immune to those," railroad spokesman Thomas Crosson says. "Challenges include staffing, heightened economic demand, port congestion, as well as historic lows in available warehouse and trucking capacity. We've managed for staffing all year, but saw a spike in the attrition rate in several critical parts of our network during late September and October, which further strained some areas of the network."
He adds: "Solving this is our top priority."
NS has stepped up its hiring efforts and increased the size of its "go teams," train crews who are willing to temporarily relocate to areas where staffing is thin.
NS currently has more conductors in training than at any point this year and has taken several steps to ease the crew shortage. Among them: Offering referral, signing, and retention bonuses; doubling the rate of hiring since July; increasing conductor training class size and the number of classes; and increasing the pace of hiring another 75% through January. "We're also reaching out to employees who have left the company to offer them opportunities to return to their roles," Crosson says.
Operationally, Crosson says NS has "realigned crew districts in impacted regions to improve productivity, and temporarily adjusted traffic flows to move through other parts of our network."
The railroad is building longer sidings to accommodate longer trains, and has completed the first of nine siding projects designed to improve fluidity. NS also has taken steps to increase capacity, including re-opening intermodal terminals in Greencastle, Pa., and Louisville, Ky.; adding chassis to its fleet; boosting parking space at intermodal terminals; and launching incentives for drayage truckers.
"People are the backbone of the railroad, and we need to make progress on these initiatives to better manage the effects of a tight labor market," Chief Operating Officer Cindy Sanborn told investors and analysts on the railroad's third-quarter earnings call on Oct. 27. "We are committed to having the right amount of resources in the right place at the right time, which will drive both cost control and service quality."
But Sanborn says there's no quick fix. The lag between hiring and putting conductors into service means crew shortages are likely to persist into early 2022.
"We're working around the clock to communicate with our customers, to provide as much visibility into operations as possible while we work to restore service levels," Crosson says.
'It's been all downhill'
Paterson, a railroader-turned analyst who closely follows railroad performance metrics, says the trends at NS are troubling. "The network was looking relatively good through the first week of September, which included the typical bump higher in speed as volume pressure eased around Labor Day," he says. "Since then, however, it's been all downhill."
Although the number of trains held for crews each day remains relatively low, the number of trains held for lack of power has doubled over the last four weeks. The number of trains held for other reasons has spiked as well, which Paterson says is an indication of congestion.
"When we add all the trains holding numbers together we get 84 delays per day, which is a worryingly high proportion of total daily train starts," Paterson says. "All of this contributes to the upturn in terminal dwell over the last three weeks."
Making matters worse is that a slower railroad needs more crews and locomotives to move its freight. Any increase would come as NS faces crew issues on two fronts: a lawsuit from two unions claiming the railroad is forcing engineers to work as conductors, contrary to its labor agreements [see "Two unions sue Norfolk Southern …," Trains News Wire, Oct. 29, 2021], and resistance over federal vaccine mandates. CEO Jim Squires warned last month that the mandate could add to crew shortages [see "Norfolk Southern warns that COVID-19 vaccine mandate poses risks …," News Wire, Oct. 27, 2021].
"The best-case scenario here is that this mini-meltdown turns out to be a couple of particularly ugly derailments, a weather event, or domino effect from an interline partner, but we haven't heard of any of those occurring," Paterson says. "The worst-case scenario is that in the third week of October we crossed a threshold where labor supply can no longer meet demand, in terms of crews and/or at some key yards and terminals, and the network is reacting to it. Our guess is more likely the latter."
Ross Corthell, who chairs the National Industrial Transportation League's railroad shipper committee, says the group's members have been experiencing problems with both NS and CSX Transportation. CSX, which began having crew shortages earlier this year, has already been the subject of an inquiry from Surface Transportation Board Chairman Martin J. Oberman.
"NITL members have been vocal about less than par service on both eastern roads, frankly," Corthell says. "In our conversations with STB, it is clear that their customer assistance desk is fielding more calls related to eastern roads' service than any others."
He adds: "Both railroads are acknowledging they are having service issues and expect them to continue into the foreseeable future."
An STB spokesman would not say if the board has received a rising number of complaints about NS service, citing confidentiality rules designed to protect shippers.