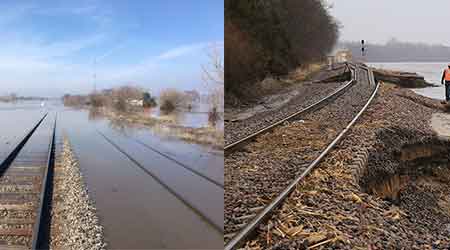 Federal Railroad Administrator Ronald Batory on Tuesday declared an emergency event for railroad operations because of extreme flooding throughout the Midwest.
The National Weather Service has documented historic flooding throughout the region, Batory said in an emergency event announcement. Rivers rose to unprecedented levels in more than 40 locations due to melting snow and ice, causing power outages, breached dams and broken levees. Numerous reports estimate the flooding could last all spring.
A multitude of local governments have declared emergencies related to the flooding, Batory noted.
The floodwaters have wreaked havoc with BNSF Railway Co.'s and Union Pacific Railroad's networks in the region, and with Amtrak's Missouri River Runner service.
Increased rail traffic caused by freight trains being diverted to UP's route between St. Louis and Kansas City prompted Amtrak to suspend Missouri River Runner train service. Chartered buses will provide substitute transportation in the corridor through Sunday.
UP's maintenance-of-way forces have been working around the clock to clear trees and other debris from tracks, and to repair track structures in several impacted areas, according to a customer announcement the Class I issued on Monday.
The railroad expects to reopen its Blair Subdivision from Fremont, Nebraska, to Missouri Valley, Iowa, today; Omaha Subdivision from Missouri Valley to Fremont tomorrow; and Columbus Subdivision from Fremont to Grand Island, Nebraska, on March 27. No reopening dates have yet been set for the Lincoln Subdivision from Valley to Lincoln, Nebraska, and Falls City Subdivision from Council Bluffs, Iowa, to Kansas City.
A series of unprecedented weather events — from heavy snows to record-low temperatures to ice storms — have significantly impeded the Class I's ability to get back to the service levels reached earlier this year, wrote UP Executive Vice President of Marketing and Sales Kenny Rocker in a service update.
"Service challenges from one region of the network may bleed over to other areas of the network where extreme weather may not have impacted local operations," he wrote. "As we hold trains due to unsafe or inoperable track conditions, this will slow down the entire network due to our resources becoming imbalanced."
Meanwhile, multiple BNSF subdivisions in Iowa, Nebraska and Missouri remain out of service due to high water and track washouts in many locations. Crews are "working aggressively" to clear affected locations and repair damaged track, BNSF officials said in a March 20 customer advisory. Normal train flows in the area likely won't resume for an extended period, they said.
"We continue to closely monitor other areas along the Missouri and Mississippi rivers that are at risk for service outages in the days ahead," BNSF officials said. "In response to any service interruptions, we will continue to utilize re-route options where possible to minimize disruption to traffic flows."
In addition, BNSF created a web page (www.bnsf.com/floodrecovery) to provide specific information about Midwest flooding and several resources, including a service outages map, a current list of embargoed destinations and links to online tools.
Norfolk Southern Railway also is experiencing service interruptions due to flooding in Missouri. At Hannibal, NS traffic between Decatur, Illinois and Kansas City is being diverted through St Louis. The Class I estimates that track will be back in service on March 29.
Story by progressiverailroading.com