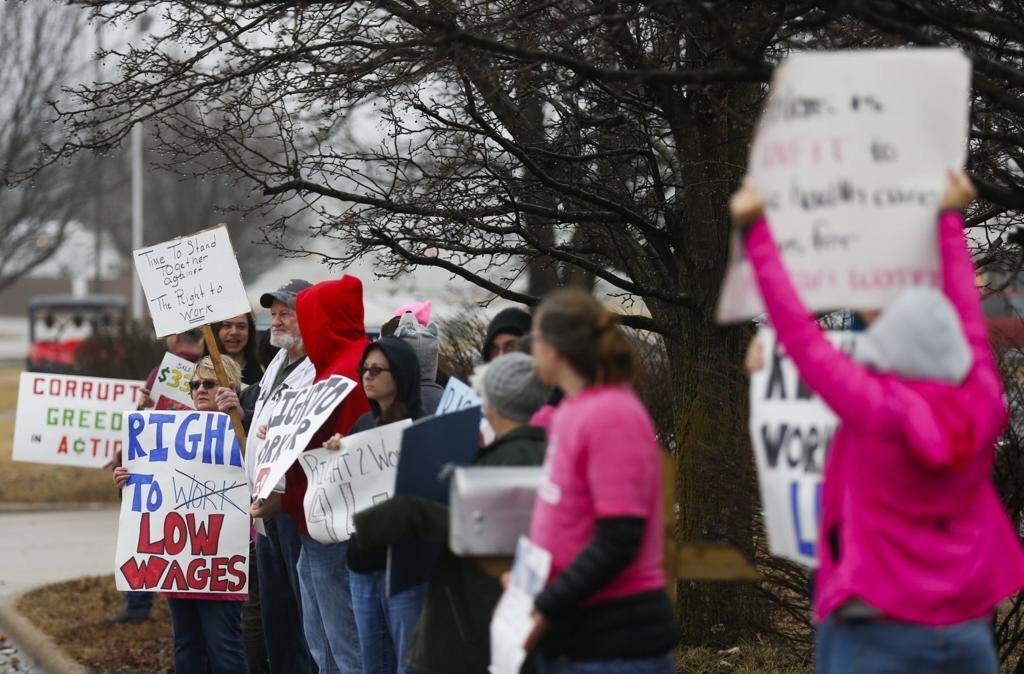 JEFFERSON CITY • Missouri voters will decide whether to make Missouri a "right-to-work" state in the August primary election, rather than in November.
In one of two anti-union measures approved Thursday, the Republican-controlled House voted 96-47 to move the date of the vote to the lower-turnout election, arguing that the issue needs to be decided sooner in order to pave the way for more businesses to open in the state.
"I'm convinced a great deal of business investment has been frozen during this fight," said Rep. Holly Rehder, R-Sikeston, who sponsored the change.
The Legislature sent the pro-business measure to Gov. Eric Greitens' desk last year. He signed it and hailed the change as a way to boost job creation in Missouri.
Under the new law, workers could not be compelled, as a condition of employment, to join or to pay dues to a labor union.
But pro-labor forces collected 310,567 signatures on a petition calling for voters to weigh in on the change.
Democrats argued that those voters thought the referendum on the measure, called Proposition A, would come during the general election, rather than the primary, when fewer people go to the polls.
House Minority Leader Gail McCann Beatty, D-Kansas City, bemoaned moving the vote to August. But, she said, "Either way, Proposition A will be defeated."
Rep. Karla May, D-St. Louis, dismissed claims that the law would create jobs and raise wages.
"There is no evidence of that," May said. "This is not good for Missouri."
Democrats have expressed concern that the move could affect the outcome of the U.S. Senate race between Democrat incumbent Claire McCaskill and the expected Republican nominee, Attorney General Josh Hawley, by tamping down union energy in the November vote.
Rep. Kevin Engler, R-Farmington, who has opposed right to work during his tenure in the House and Senate, said he believes moving it could make it easier for unions to drive members to the polls.
"I know Claire McCaskill wants it in November," Engler said.
Rep. Don Rone, R-Portageville, urged his colleagues to vote "yes," saying a steel fabrication plant seeking to open in the state's Bootheel region is among those waiting to see if Missouri becomes a right-to-work state.
There have been 26 similar votes on whether to repeal state law since 1914. This marks the first time in which a referendum was moved from the general election to the primary election.
In a separate vote, the House approved a long-sought "paycheck protection" measure that will require public sector workers in Missouri to opt in each year to have union dues taken out of their paychecks.
The legislation, endorsed on an 87-62 vote, would affect about 100,000 teachers, janitors, social service workers and other government employees. Law enforcement workers and firefighters are exempted.
Supporters say the proposal will hold union leadership accountable to their members, especially when they engage in political activities. Opponents say it's a way to degrade union power, adding a layer of bureaucracy when unions already have checks and balances.
Rep. Phil Christofanelli, R-St. Peters, said he supports the measure because taxpayer dollars are at stake when government unions negotiate contracts.
"Government unions are incredibly different than private sector unions," Christofanelli said.
Democrats did win some concessions before it moved to the House earlier this week.
For instance, the original bill mandated that all union negotiations take place in public. But Sen. Gina Walsh, D-Bellefontaine Neighbors, changed it so unions and employers could still negotiate in private but then host a public meeting before the agreement is finalized.
Democrats also extended the time period for unions to recertify from two years to three years.
By Kurt Erickson for stltoday.com