Some shippers face significant reductions in volume as UP tries to reduce congestion related to crew and locomotive shortages.
By Bill Stephens for trains.com| April 14, 2022
Union Pacific's request that shippers reduce the number of private freight cars in their pipelines – or face strict quotas starting on Monday – has been met with a mix of understanding and outrage.
Some shippers say they understand UP's need to reduce car inventory to help ease congestion that has slowed service.
But others, facing the prospect of significant reductions in the number of cars UP will accept each day, are angry and have complained to the Surface Transportation Board.
UP sent an email to customers on Saturday morning outlining the railroad's goal of removing 15,000 private cars from current inventory. UP is pulling nearly 3% of railroad-owned cars from the system.
The number of cars on the railroad has grown over the past 60 days and in the week ending April 8 topped 300,000 for the first time since 2018, when UP was in the midst of an operational funk that lasted more than a year. The railroad is short of crew and power, and says it's hiring aggressively while pulling locomotives out of storage.
When a railroad's average train speed drops and terminal dwell rises, transit times increase and service becomes more erratic. Shippers typically add cars to their fleets as rail service slows, which tends to exacerbate congestion and delays.
UP asked customers to voluntarily reduce the number of privately owned cars they order and load. If voluntary measures don't work, UP said it would have to begin using embargoes to meter traffic.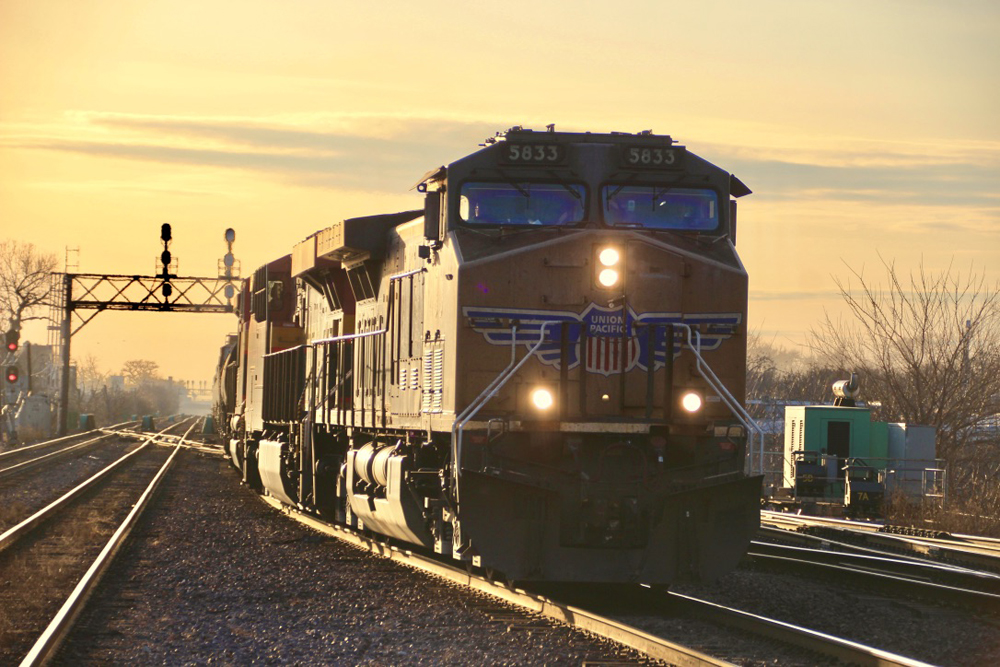 One shipper who complained to the STB says UP would only accept eight loads per day – down from 24 or so cars the company typically ships on weekdays. The shipper does not have a trucking alternative to UP. Other shippers said their allotment was being reduced to four cars per day from 10.
People familiar with the matter say this requested level of reduction is typical. UP declined to put those shippers' potential reductions into context.
"Union Pacific's request is particular to each customer and calculated to achieve the overall inventory level needed to restore fluidity across the network," spokeswoman Kristen South says. "I cannot disclose the ask of each customer; however, I want to emphasize we are also removing Union Pacific-controlled cars. We will continue to work one-on-one with our customers to reduce congestion while avoiding shutdowns or other customer risks."
Some shippers properly manage their freight-car fleets, match car orders with actual carloads, and quickly load and unload cars. Others routinely order more cars than they can possibly load, or have more loads waiting in a serving yard than their receiving facility can handle.
One industry insider says shippers are part of the problem. But another refuses to place any blame on shippers, noting they would not have to maintain larger car fleets than necessary if railroads would provide consistent and reliable service.
The big four U.S. railroads – BNSF Railway, CSX Transportation, Norfolk Southern, and UP – are experiencing service problems to various degrees, most of which are the result of shortages of crews and locomotives.
Last week, the STB ordered the four railroads' executives to appear at hearing on service issues scheduled for April 26 and 27. Board Chairman Martin J. Oberman has blamed the service problems on job cuts related to Precision Scheduled Railroading and the industry's focus on reducing operating ratios.
"Union Pacific's network speed is bouncing along its bottom and train delays due to crew shortages over the last month and cars sitting idle are now the highest we've seen since the Dry Canyon Bridge outage last summer," Rick Paterson, an analyst for Loop Capital who closely follows rail performance metrics, wrote in a note to clients last week.
The number of daily train delays due to a lack of power has risen over the last month on BNSF, NS, and UP.
"The last time the industry had a sustained power problem was 2014. In theory this shouldn't be happening because the switch to PSR by most of the industry freed up a lot of locomotives, so nobody should be short," Paterson writes. "The likely reason is just a generally high level of inefficiency, so while the industry has locomotives it's just hard to get them in the right place at the right time. If that's the case it should naturally resolve itself when crew shortages are rectified, but worth monitoring in the interim."