By Bill Stephens for trains.com
"There is a price that will get you enough workers. I don't know what that price is. But everything has a price," Martin J. Oberman says
Surface Transportation Board Chairman Martin J. Oberman says railroad service is suffering for one simple reason: The big four U.S. Class I systems aren't paying enough to retain and recruit train crews.
BNSF Railway, CSX Transportation, Norfolk Southern, and Union Pacific are experiencing ongoing crew shortages that since last year have caused widespread congestion and significant delays.
The railroads say the crew shortage is largely due to factors that are out of their control. Crews furloughed at the onset of the pandemic didn't return to the railroad at the same rates as they typically had, and attrition rose due to the Great Resignation that accompanied the pandemic and has affected all businesses. Meanwhile, the historically tight labor market has made it difficult to hire conductors, an outdoor job with an unpredictable schedule and a significant amount of time spent away from home.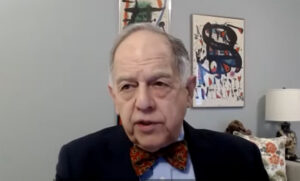 Oberman says he's told each railroad CEO that "there is a price that will get you enough workers. I don't know what that price is. But everything has a price."
The railroads and the unions that represent most of their employees have been unable to reach a new contract after three years of fruitless negotiations. The two sides remain far apart, with railroads offering a 17% raise and the unions seeking a 31% increase. The contract dispute is now before a Presidential Emergency Board, which will make recommendations for a settlement.
In an interview last week, Oberman declined to comment on the negotiations process or the Presidential Emergency Board. But he says it's clear that higher pay would help the railroads attract enough new workers to restore service to normal levels.
"If you need another 400 crews to move those trains that are sitting out there, pay whatever price you need to get them," Oberman says. "Don't come in and tell me it's hard to hire. And it's not like they can't afford it. They're paying out billions and billions every year in stock buybacks. You could use some of that to get the workforce you need."
Railroads have increased conductor training pay and are offering signing bonuses to new employees and retention bonuses to current conductors and engineers. They've also offered incentives for engineers and conductors to temporarily relocate to areas where crew shortages are the most severe.
Oberman contends that those efforts are falling short, noting that staffing levels at the big four railroads have yet to return to pre-pandemic levels. "The railroads are not offering sufficient rewards – a combination of quality of life and compensation – to keep people there. There's a price at which people will stay," he says.
The board has no authority over rail labor matters. But it does regulate service, which is tied to railroad employment levels. Oberman says it's clear the railroads don't have enough operating employees to provide adequate service.
The STB has no plans to use its mandate to oversee service as a way to indirectly regulate railroad crew levels. "I'm not a backdoor kind of guy," Oberman says.
But he questioned whether railroads, at their current staffing levels, are able to meet their common carrier obligation to provide service upon reasonable request.
If there were a more concrete way to enforce the common carrier obligation, Oberman says it's likely that railroads would do a better job of matching employment levels to freight demand. And if there were more specific definitions about what's required under common carrier obligations, perhaps shippers would file cases with the board, Oberman says.
(He spoke with Trains News Wire before a key House committee introduced legislation that would set minimum service standards for shipments moving under tariffs, and provide clearer direction to the STB regarding disputes over railroads' common carrier obligations.)
Oberman notes that no shipper has yet brought a case to the board as a result of BNSF's embargo on certain types of carload shipments moving to California, which began June 27 and remains in force. "Hundreds of shippers' stuff is not being moved — at all," Oberman says.
"To me, all of these problems stem from a lack of competition," Oberman says.
Imagine, he says, if a McDonald's fired all of its burger-flippers but one and told customers they'd have to wait an hour for their order to be ready. If there was a fully staffed Burger King across the street, McDonald's would lose customers and ultimately would have to hire more employees.
But if the next burger joint is 10 miles away, Oberman says McDonald's could get away with a lone burger flipper.
BNSF's embargoed shippers are stuck in the same way as the McDonald's customer would be. "BN doesn't really have to fear losing those customers by having cut all those workers," Oberman says. "So they're not incentivized to run the business any differently because there's no real competition for so many rail users."
UP, which is struggling with crew shortage of its own in California, has not tried to snare any of the traffic BNSF is unable to move, Oberman says.
Railroads say they've lost volume and revenue because they can't meet freight demand, and that they have every incentive to provide good service.
"I have not been shy about making my views known. I think the board shares them in general," Oberman says. "Railroads just have not employed enough human beings to get the job done."