The Colorado Railroad Museum's been waiting years to get its hands on Denver & Rio Grande Western Railroad locomotive #5401.
Tuesday, it finally happened.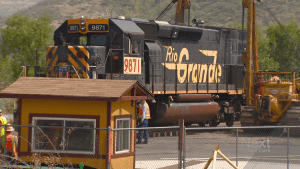 More than 50 people spent 6 and a half hours moving the 368,000-pound train through Golden. They went down the street just one mile – coming from the MillerCoors property on 44th Avenue and ending at the museum.
The Union Pacific Railroad donated #5401 about eight years ago, and museum staff knew this was a good "get." The locomotive, built in 1980, used to move freight across the country but was sidelined in the recession when there was only a need for more efficient trains.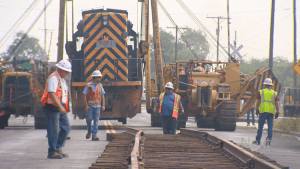 But this train – a "tunnel motor" – has a history here. The engine was designed to stay cool in long tunnels, and #5401 often made trips straight through the Rocky Mountains, not around it, the museum says.
Since the donation, MillerCoors has been storing the train until the museum had room for it and could find a way to get it there. The museum couldn't immediately take the train because it doesn't connect to a railroad system.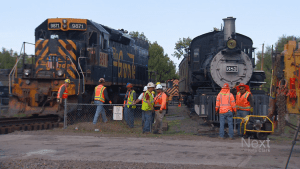 The crew finally figured out an answer. They put #5401 on four sets of tracks Tuesday, which leapfrogged down the street until the locomotive reached its final resting place.
People gathered to watch the train's final trip over asphalt. If you weren't one of them, check out the full story in the video above, shot by photojournalist Tom Cole.