By Vesna Brajkovic, Associate Editor for progressiverailroading.com
Women made up 5 percent of Union Pacific Railroad's nearly 42,000-employee workforce in 2018, according to the Class I's annual "Building America Report." Believing a diverse workplace is a better workplace, UP leaders say they're committed to boosting that percentage.
As part of that commitment, they're working to identify the barriers that prevent women from considering rail (and UP) as a career option. The railroad also is offering new training and development programs designed to better prepare women and other top talent to be next-generation leaders.
Like their counterparts at other railroads, UP hiring managers historically have found it challenging to make some of its job requisites — such as an around-the-clock work schedule or specific physical capability requirements — more appealing to candidates, especially women, says Beth Whited, UP executive vice president and chief human resources officer.
Of the UP workforce responsible for maintaining railways, locomotives and freight cars under a collective bargaining agreement, only 2 percent are women. Of the workforce that operates outside of a collective bargaining agreement — or those who serve in corporate, management and support positions — women make up 23 percent, Whited says.
To discuss current career barriers and ways to make positions more attractive, UP earlier this year created focus groups of women employees. Participants included members of UP's Lead Educate Achieve and Develop (LEAD) initiative, which aims to foster an environment that increases opportunities for women to be recruited, retained and advanced as UP leaders. The program offers professional programming, personal development, mentoring and community involvement.
"We understand that there are barriers in this type of work, and we're trying to one-by-one look at those barriers and figure out what can we do to make this job appealing to everyone," Whited says. "And frankly, the work that we're doing to make it appealing to women should also make it really appealing to men."
The focus group discussions were productive. For example, UP already has added a paternity policy. Later this year, the railroad will roll out a program that enables nursing mothers to send home breast milk while traveling for work. And UP management is discussing the possibility of 24-hour daycare options at some locations where shift work is required.
UP also offers a number of programs to help employees at all levels to develop and advance their careers.
The Emerging Leaders program, for example, is designed to prepare employees who are within the first five to 10 years of their careers to lead strategic initiatives.
"That particular course is really aimed at making sure that we have a strong pipeline of leaders for the future, and we're incredibly focused on that pipeline being very diverse from all perspectives," Whited says. "We want people of any race, culture, color, creed, gender, to feel like they have potential at Union Pacific, and that they have just as many opportunities as anybody else to develop in their career and take on high-level executive roles in the future."
Other resources, such as the operations management training (OMT) program, enable new hires to go through classroom training and get on-the-job education to begin their career at UP on a career track with significant advancement potential.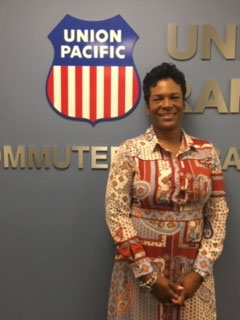 Benita Gibson, UP general superintendent of commuter operations Union Pacific
Benita Gibson started her railroading career in the OMT program in 2006 and advanced through the ranks before landing in her current position as general superintendent of commuter operations. Gibson is responsible for leading the team tasked with delivering passengers of Chicago's Metra commuter-rail system safely to their destinations on their daily commutes.
"Originally it looked a little intimidating," says Gibson, who began her new UP role in September. "But I just look at it as a challenge and that it's going to be fun. Every step of the way, when you come somewhere, regardless of where you go, you're new. And you kind of compete with yourself."
Although UP managers and employees alike have spent a lot of time identifying the challenges for women working on and for the railroad, they know there's still plenty of work to do, Whited says.
"We are firmly in the camp of believing that a diverse workforce is a better workforce, and different perspectives and different approaches and different interpersonal skills … make the workforce and the workplace better," she says. "As we move into the future and the workforce gets tighter and tighter, we need to be able to leverage all kinds of people as we fill our hiring requirements."