By Bill Stephens for trntrains.com
Major operational changes that have reduced Union Pacific's costs are helping the railroad land new merchandise traffic, CEO Lance Fritz told an investor conference this week.
Precision Scheduled Railroading is now "building into our DNA, into our culture" and will continue once outgoing Chief Operating Officer Jim Vena hands the reins to Senior Vice President-Transportation Eric Gehringer in January, Fritz says.
"We've fundamentally redesigned the network," Fritz says. "We've taken a lot of touches out of our network. There's about one-third fewer train starts for the same type of volume. There's about one quarter to one third fewer touches of a car for the same volume of manifest business."
Moving tonnage on fewer but longer trains, along with reducing switching volume, has driven down UP's costs while making service more reliable, Fritz says. And that is enabling the railroad to gain new volume that previously didn't hit UP's profit margin targets.
UP has converted truck business to rail in several merchandise segments, Fritz says, including grain, tomato paste, sweeteners, and steel pipe.
"Our pricing strategy is unchanged. Every piece of business that we bid on and look to receive has got to stand on its own two feet from a return perspective," Fritz says.
"What has changed is our cost profile. Our cost basis has fundamentally shifted and dropped because of our implementation of PSR and the Unified Plan. And that gives us more opportunity to bid on more markets, more opportunities. So that is real and we're seeing that come to fruition."
Tight trucking capacity is helping UP win more business, Fritz says, but overall industrial products traffic remains in a lull, partly because of the collapse of energy-related traffic due to the economic impact of the coronavirus pandemic.
"The opportunity for truck conversion is enormous," Fritz says. "It's effectively almost a limitless marketplace."
But UP must convince potential customers that it's easy to do business with the railroad thanks to its suite of online tools. To further improve its customer tools, UP in October hired a new chief information officer, Rahul Jalali, who spent 23 years leading various information technology programs at Walmart.
UP remains committed to its 55% operating ratio target, Fritz says, and volume growth is a critical component to reaching that long-term goal.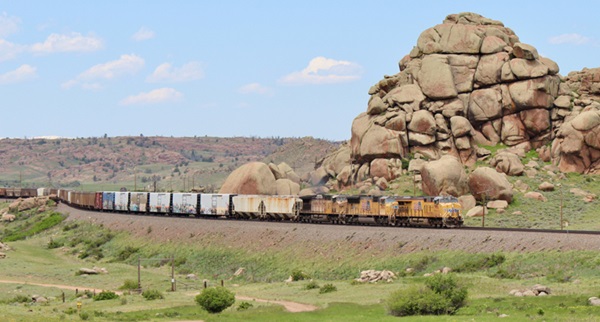 "Growth is going to have to be a more important part of our three-legged stool of growth, productivity, and price to achieve margin improvement," Fritz says. "I am very confident all of the above is going to happen over the course of the next two, three, four-plus years."
Fritz spoke with analyst Allison Landry at the Credit Suisse Eighth Annual Industrials Conference on Thursday.