Union Pacific Railroad has closed its longtime locomotive repair shop in El Paso and laid off workers as part of the company's nationwide streamlining plan.
Union Pacific on Nov. 26 laid off 191 people who do mechanical work on train locomotives nationwide, including an unspecified number in El Paso, Kristen South, a Union Pacific spokeswoman at the company's Omaha, Neb, headquarters, said in an email.
Union Pacific has cut about 825 locomotives from its active fleet since August as part of its streamlining plan, called Unified Plan 2010, according to a company statement. It now has about 6,700 locomotives in its active fleet.
None of the November layoffs occurred at Union Pacific's large intermodal freight terminal and other operations in Santa Teresa, N.M., South said.
A former El Paso Union Pacific employee, who asked not to be identified, said in an email that he'd been told about 10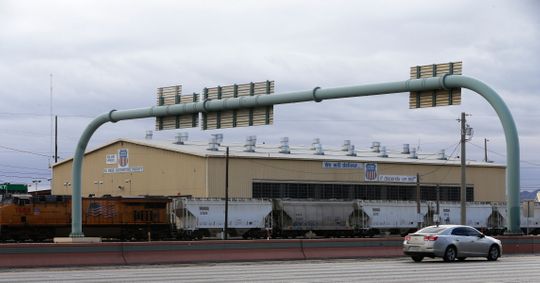 Union Pacific streamlining cuts hundreds of jobs
The most recent layoffs come on top of 475 Union Pacific employees and 200 contractors laid off in October as part of the company's streamlining plan.
While the locomotive repair shop, located in the company's rail yard on the edge of Downtown El Paso, has closed, Union Pacific will continue to have employees in El Paso for locomotive repairs on two repair tracks that will remain in place in the rail yard, South said.
The company does not divulge employment numbers for individual locations, South said
The rail yard had been a potential site for the city's proposed Downtown arena, but city officials have said they were unable to make a deal with the railroad.
More: City, Union Pacific remain at odds over rail yard site
The railroad employed several hundred people in El Paso in 2014, with most of the area train crews working from Union Pacific's Santa Teresa crew-change buildings, railroad officials said when the Santa Teresa intermodal terminal opened in 2014.
The company had about 7,300 employees in Texas and about 485 employees in New Mexico before the October and November layoffs, South said.
El Paso locomotive repair shop has long history
The El Paso locomotive repair shop can be seen by motorists driving east on Interstate 10. It's the yellow building with Santa Claus on a sleigh outlined in white lights that had been lit during the Christmas season for years.
It's also referred to as the roundhouse, which is the historical name used for locomotive repair facilities when they were round and serviced steam locomotives.
The current repair facility was built in the 1960s by Southern Pacific Railroad, which Union Pacific acquired in the late 1990s, said Prince McKenzie, executive director of the Railroad and Transportation Museum of El Paso.
"Union Pacific changed the sign on the locomotive shop, but kept the Southern Pacific Christmas lights" on the side of the building, McKenzie said in an email.
Union Pacific's streamlining comes as it records healthy profits. It reported a profit of $10.7 billion for 2017, and in the recent third quarter, it had a profit of $1.6 billion.
The strong profits didn't stop Union Pacific Chief Executive Officer Lance Fritz from lamenting that the company "did not make the service and productivity gains that we expected during the (third) quarter."
However, he added in a statement released with the third-quarter earnings report in October that "we are making progress implementing our new Unified Plan 2020 and we are well positioned to drive improvement going forward."
Story by
Vic Kolenc, elpasotimes.com

Vic Kolenc may be reached at 546-6421; vkolenc@elpasotimes.com; @vickolenc on Twitter.