Union Pacific has had a tough second quarter as coronavirus induced lockdowns impacted revenues and EPS.
However, the company continues to execute on its PSR initiatives and has upped its productivity savings target to over $500 mn this year.
I believe the stock can give low double digit annual returns over the next couple of years.
Union Pacific (UNP) recently reported its second-quarter results with revenue of $4.24 bn missing estimates by ~$100 mn and diluted EPS of $1.67 beating estimates by 9 cents.
Second-quarter was tough for Union Pacific. Its volumes declined ~20% year over year due to coronavirus induced shutdowns. Revenues were down even more at ~24% as, in addition to volume headwinds, they were also impacted by negative business mix and decreased fuel surcharges. The business mix was unfavorable as the company's premium business was down ~33% for the quarter with an approximately 64% decline in automotive end-market.
On the cost side, the company reported a second-quarter operating ratio of 61% which was worse than last year's 59.6% primarily due to lower volumes. The company is doing a good job in terms of reducing cost but there is little any company can do when volumes suddenly collapse 20% y-o-y in a quarter. A better indicator of the company's cost-saving efforts is its progress on its Precision Service Railroad [PSR] initiatives. The company is doing a good job in terms of implementing PSR. Its average train length last quarter was 8664 feet, a 13% increase compared to the second quarter of 2019. Quarterly freight car velocity was 225 daily miles per car, an 11 percent improvement compared to the second quarter of 2019. The company's locomotive productivity also increased by 12% while personal injury rate improved 5% compared to the last year.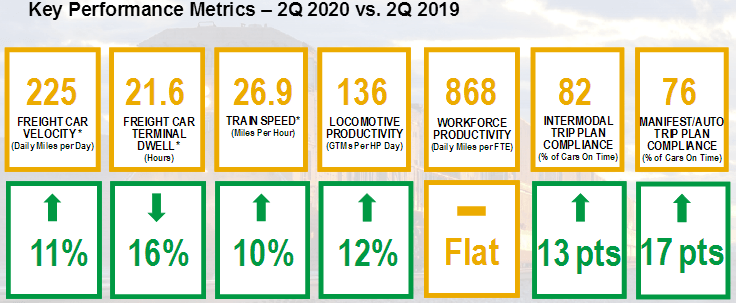 Continue to seekingalpha.com for full article