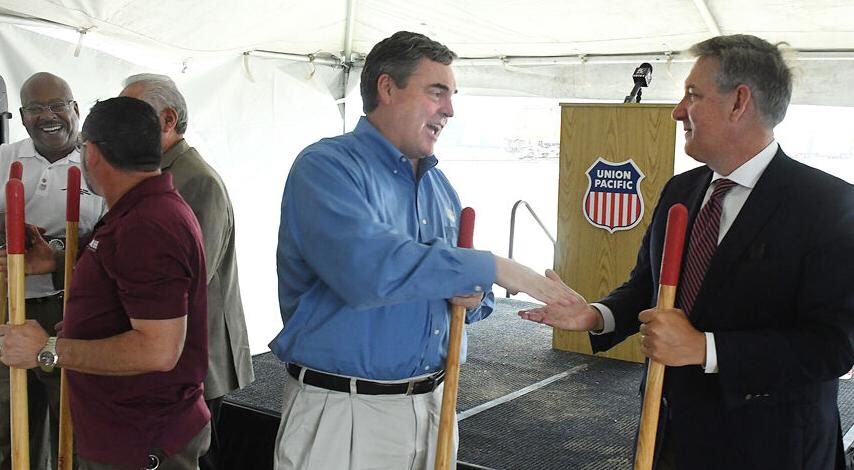 By Kenny Wiley kenny.wiley@theeagle.com
Local officials and business leaders joined national Union Pacific Railroad representatives Wednesday for a progress report and formal groundbreaking at the construction site of the 1,875-acre Brazos Yard rail facility in Robertson County.
Some of the approximately 100 people in attendance traveled from as far as Houston, San Antonio and Omaha, Nebraska, for the event highlighting the progress on the company's first newly built yard in more than two decades. At $550 million, it's the largest capital investment in a single facility in the company's 156-year history.
The facility will be a classification yard, receiving trains carrying mixed cargo. The rail cars will be separated and sorted before new trains are put together. It will, according to Jeff DeGraff, director of corporate relations and media for Union Pacific, have the capacity to switch up to 1,300 rail cars per day, making it one of the highest-capacity yards in the railroad's 23-state network.
The Brazos Yard construction site is just west of F.M. 50, to the northwest of Mumford and due south of downtown Hearne.
The event, held mostly under a large tent due to increasingly heavy rain and wind, included a bus tour and remarks from Texas Gov. Greg Abbott's office, two Union Pacific officials, Robertson County Judge Charles Ellison and Texas A&M Transportation Institute Director Greg Winfree.
Scott Moore, Union Pacific's chief administrative officer, said, "The need to handle our growth in Texas and in our southern region is why we're building this facility."
Once the yard is complete, Moore said, 350 Union Pacific employees will be reporting to work in Robertson County, "stimulating the economy around here." He added the company anticipated 1,200 more jobs to come to the region indirectly due to the presence of the railyard. Officials expect the project to be completed in 2020.
Diane Jones, manager of terminal design for Union Pacific, led a bus tour of the construction site before the tented groundbreaking ceremony. The railyard will have seven crossings, or subdivisions, with railways heading to Fort Worth, Austin, Bryan and other large Texas cities, according to Jones. She said some newly constructed tracks were already in use by service trains with the purpose of bringing in materials.
Numerous Union Pacific officials cited Texas' population and economic growth as a reason for the company's investment of money and resources.
DeGraff said the economic impacts would reach beyond the state.
"A facility like this makes sense. This part of central Texas is where a lot of growth is happening," he said.
Winfree, director of the Texas A&M Transportation Institute, said he believes the Brazos Yard will lead to further freight rail industry. The TTI, he said, devotes $3 million of its research dollars per year to the rail industry and connected projects, and it looks forward to "potential collaborations and opportunities" that may come from the project.
Winfree said "a confluence of several factors" makes the rail facility so vital. Asked what he would most want those unfamiliar with freight rail transportation and industry to know, he said, "The amount of cargo coming to and through the state is increasing, and the seven rail lines would assist with the flow of goods to and through Texas."
Winfree credited the large number of Texas A&M alums involved with the project for their "power in numbers" and for being an "engineering powerhouse" committed to local and regional growth.
John Naron, the city manager of Hearne, said that the city and surrounding areas already are seeing some economic impact, including increased hotel bookings and more patrons at area restaurants. He and numerous other officials connected to the project anticipate an annual economic impact of up to $250 million for Robertson County and surrounding areas.
"We should be excited, and we should be grateful. We look forward to the economic growth," Naron said.
The event concluded with a dozen leaders connected to the project holding gold-plated shovels and posing for photographs.
"We'll see y'all in 2020," Moore said as attendees applauded.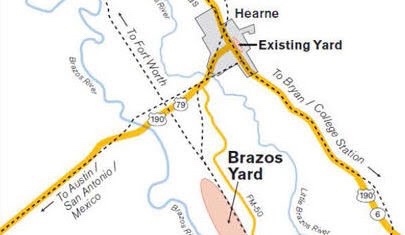 Published at the eagle.com