This 80-year-old banner proclaiming the world premiere of the movie "Union Pacific" in Omaha in 1939 is displayed by Kalona residents Monica Miller and her husband Merlin. Monica's prized family artifact will be featured on the popular "Antiques Roadshow" on Iowa Public Television April 30.
Dick Hakes/Special to the Press-Citizen
By Dick Hakes
Monica Miller of Kalona tells me she gets goosebumps when a Union Pacific train passes by.
She has good reason to.
Her family is steeped four generations deep in that world-famous railroad's heritage.
"It's in our blood," she says.
And now Monica will get a little national limelight herself later this month on the PBS "Antiques Roadshow" when she reveals the family's treasured, one-of-a-kind Union Pacific artifact and the tale behind it.
The story is a pretty good one.
It begins at Ellis Island in the early 1900s when her great-grandfather, Angelo Aita, emigrated from Italy. He became a lifelong employee of the Union Pacific and started a 100-plus-year family tradition.
Her grandfather, Frank, put in 40 years with UP, as did her father, Harold.  A great uncle worked there, plus two more uncles and her brother. She grew up traveling the country on a free rail pass.
But this part of the story begins in 1939.  Her father was just 18, living in Kansas City, Missouri, and had recently joined the railroad company as a steam engine mechanic.  Ironically, that was the year the big Cecil B. DeMille movie "Union Pacific" held its world premiere in Omaha, where the company was and still is headquartered.
It was also the 70th anniversary of the completion of the historic transcontinental railway to California. Some 250,000 people were drawn to Omaha that April for a four-day Golden Spike Days Celebration highlighted by the movie premiere.
"Of course, my dad had to be there, so he went to Omaha and noticed these big canvas banners hanging on light poles promoting the movie," Monica says.
When a celebration staff member told him the banners would be "pitched" after the event, Harold was determined to salvage one.
"Daddy wanted one as a souvenir," says his daughter. "So, after the premiere, he shimmied up the lamppost, dropped it to a friend and took it with him."
The banner was tucked away, and Monica does not remember it being displayed again until her father's retirement party from the railroad in 1980.  Since his death about 20 years ago, she has been the banner's caretaker as one of his five children especially enthralled with the UP connection.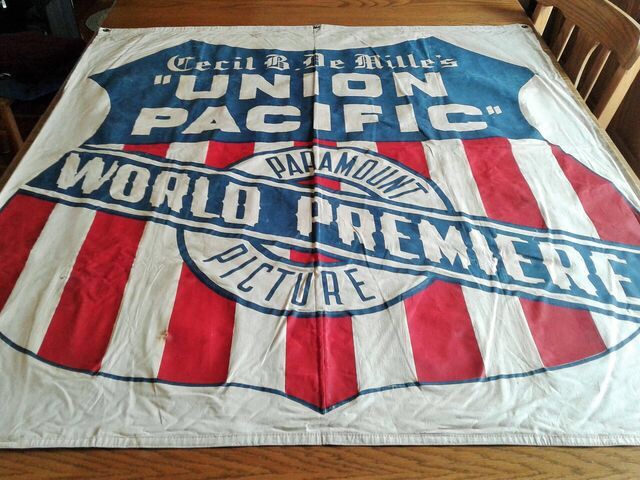 This colorful, well-preserved, two-sided banner measuring roughly four-feet-square was one of many displayed on light poles for a huge celebration in Omaha in 1939 which included the premiere of Cecil B. DeMille's epic "Union Pacific" movie. It is thought to be the only one which survived.
Dick Hakes/Special to the Press-Citizen
"We talked about donating it to the Union Pacific Museum in Council Bluffs," she says, "but I was always just curious as to what it was worth.  We think it is the only one of its kind left."
That eventually led her to apply for an appraisal through the popular "Antiques Roadshow," which she says turned into an amazing experience. Tickets are tough to get.
But she got them, and last June, she and husband Merlin traveled to Green Bay, Wisconsin, to stand in line with about 6,000 other people with interesting antiques in hand.  For each episode, the show screens up to 12,000 items in a single day — a very fast-moving and organized process.
"It was in a huge auditorium and a carnival atmosphere with all of these people," Monica reports.  "They were hauling old dairy farm signs, guitars, Packer's stuff since we were in Wisconsin, old clocks.  One woman had this very unique Japanese incense burner and her appraiser told her it was the sixth one he had seen that day."
The Kalona woman finally met with her appraiser, a movie memorabilia expert from California who was a volunteer like the many other appraisers for the show.  Monica was curious when the expert did not give her a value, asked her to wait and left to talk to the producers.
"We want to put you on TV," they told her about an hour later.  To make her reaction real, she would not be told the appraised value until the taping.
Monica says she was in a bit of shock to be admitted to the "green room" with access to a huge array of gourmet snacks and meals, then sign all the release forms and be prepped for TV by the makeup crew.
"I was numb," she says. "Here we were among those thousands of people, then all of a sudden we are pulled out and treated like royalty. The odds of getting on the show are very low. I think they only accept about 20 or 25 items for each episode."
She admits that when she finally got to the place where the appraisal would be taped and saw the family's Union Pacific banner hung for display, her eyes filled with tears.
"It happened to be Father's Day weekend and my dad had died on Father's Day," she says.  "I thought 'Daddy's legacy is here,' and I was just overcome by the whole emotional experience."
Want to know the final appraised value of the banner? The Millers would rather not spoil the surprise, so watch the show at 7 p.m. April 30 on Iowa Public Television to find out.
"It was valued at much more than what both Merlin and I thought," says Monica.  "And the appraiser told me after the taping that after talking to other experts, she feared she might have been too low."
"It doesn't matter," she adds.  "We'll never sell it.  We might donate it to the museum someday, but honestly, I am just not sure I can part with it."
Monica is an adjunct faculty member for Kirkwood Community College, and Merlin is a retired nurse.  They've lived in Kalona for 30 years and have five children.
'UNION PACIFIC' FILM GOT RESPECT IN 2002
The year "Union Pacific" debuted, 1939, was considered by some to be a landmark year for Oscar-caliber films, with "Gone with the Wind" and "The Wizard of Oz" leading the pack.
The first Cannes Film Festival in France was also planned for that year, but was cancelled due to World War II.  However, in 2002, the festival organizers presented part of the original 1939 selection to a professional jury and "Union Pacific" was selected in retrospect as the top film of that year.
This epic Cecil B. DeMille movie starred Barbara Stanwyck and Joel McCrea and depicted the building of the transcontinental railway across the American West.
For the premier in Omaha in late April in 1939, the director and lead actors took a three-day train trip from Hollywood, making promotional stops along the way.  President Franklin Roosevelt pressed a telegraph key in the White House to open the civic auditorium and inaugurate the overall celebration, said to be the biggest in motion picture history.  An antique train continued a 15-day coast-to-coast promotional tour, stopping at 30 cities across the country.
Founded in 1862, the Union Pacific Railroad is one of the world's largest transportation companies. It remains the second largest railroad in the U.S. today with 8,500 locomotives rolling on 32,000 miles of track in 23 states covering the western two-thirds of the country.
Dick Hakes is a semiretired newspaper editor who lives in North Liberty. press-citizen.com