By Bill Stephens for trains.com December 6, 2021
Biofuel, renewable diesel key to hitting 2030 emissions reduction goal
OMAHA, Neb. — Union Pacific aims to reach net-zero greenhouse gas emissions by 2050 and is more than halfway toward its goal of reducing emissions 26% by 2030 compared to 2018 levels, the railroad said today while unveiling its climate action plan.
UP reduced emissions by 20% from 2018 to 2020 thanks to a combination of more efficient operations, the use of longer trains with fewer locomotives, and the reduction in traffic related to the pandemic.
To reduce emissions an additional 11.5% to reach its 2030 goal, UP plans to boost use of biofuels and renewable diesel, and invest in battery-electric yard locomotives. UP also will continue to modernize older locomotives and more extensively deploy fuel-saving technology, including locomotive-based energy management and rail cleaning systems.
"With an outdoor factory spanning 32,000 miles across 23 states, Union Pacific knows firsthand about the effects of climate change," CEO Lance Fritz told an investor webcast on Monday morning. "As weather events grow more frequent and severe, we directly experience the service disruptions they cause that impact our customers, employees, and supply chains."
UP's 2030 emissions target aligns with what climate scientists say is needed to meet the Paris Agreement, limiting global warming to well below 2 degrees celsius above pre-industrial levels.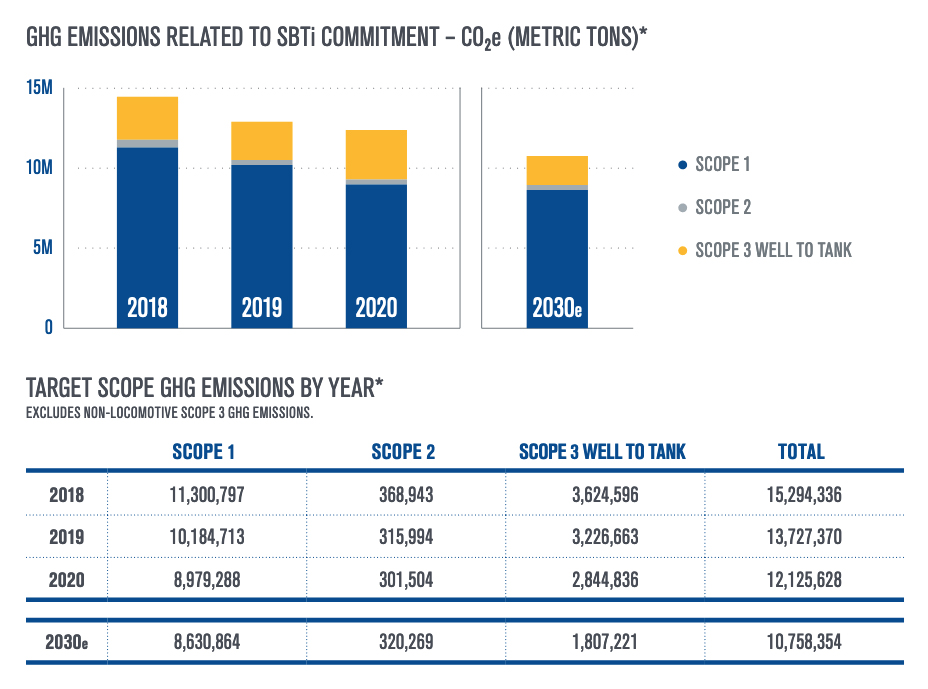 UP did not spell out precisely how it would achieve net-zero carbon emissions, but executives said the 2030 goal must be met first. "Obviously we have to walk before we run," Fritz says.
Increasing the use of biofuel and renewable diesel is key to the 2030 goal, UP said. The railroad aims to increase use of low-carbon fuels to 10% of consumption by 2025 and 20% by 2030.
Progress Rail in August approved the use of 20% biofuel blends in most EMD locomotives, up from 5%. But General Electric locomotives make up 60% of UP's fleet, so the railroad is working with Wabtec to gain approval for 20% biofuel blends.
UP says it's working to secure adequate supplies of biodiesel and renewable diesel fuels as well as to encourage government support that would help close the cost gap between biofuels and diesel.
The railroad will continue to rebuild older locomotives, which reduces emissions by 53% and improves fuel efficiency by 5%. UP expects to complete 100 modernizations this year and 120 in 2022, a pace that should continue in coming years.
UP will equip all of its road fleet with energy management systems by 2025, up from two-thirds today. This will help reduce greenhouse gas emissions 4% annually by 2025.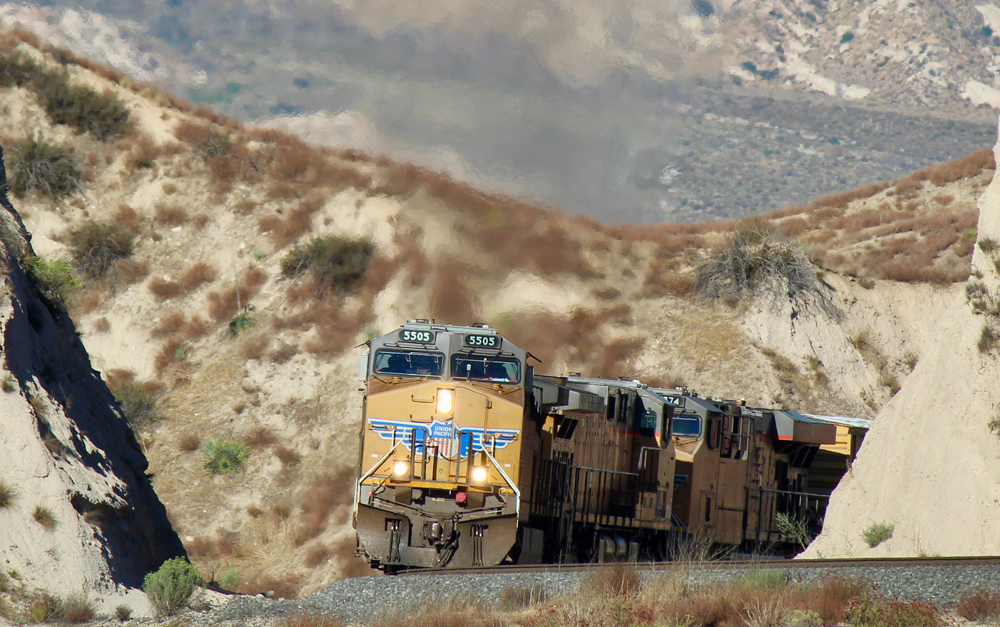 UP is working with locomotive manufacturers to develop battery-electric yard locomotives. "Right now we can't buy these off the shelf, or they would be being deployed as we speak," Fritz says. Beginning pilot programs in two yards is probably one to three years away, he adds.
"With respect to over-the-road operations, battery-electric locomotive technology currently is not sufficient to be practical for our network," UP's plan states. "We believe that investment by us and others in the rail industry is required to develop this technology. We are exploring collaborative efforts with others in our industry to advance this promising technology."
Wabtec says production versions of its FLXdrive battery-electric locomotive will reduce fuel consumption by up to 30% on favorable routes with grades that permit battery recharging by capturing energy released in dynamic braking.
UP believes battery-electric road locomotives must have more battery capacity to make them practical, Fritz says.
The railroad is watching developments surrounding alternative fuels like hydrogen, officials said, but battery-electric and hydrogen fuel-cell locomotives are not in its near-term plans.