By Ari Ashe, Senior Editor for joc.com
Union Pacific Railroad will issue a $500 surcharge on all excess contract cargo in Seattle beginning Sept. 6, the latest attempt by the western US railroad to shift as much available 53-foot intermodal equipment to Southern California as possible amid an ongoing cargo surge there.
UP's intermodal volume across its entire network has grown an unprecedented 29 percent since July from the low point of the COVID-19 pandemic this spring.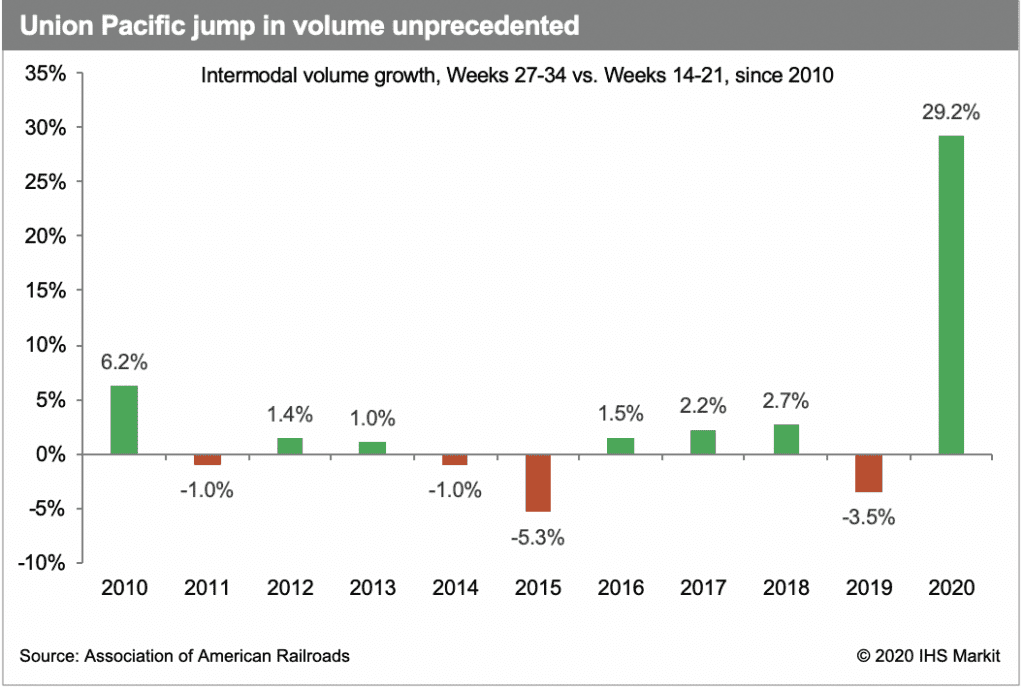 Neither Seattle nor Lathrop-Stockton, California, where a $500 surcharge already exists, are overwhelmed with domestic intermodal volume. But in instituting the fee, UP is aiming to discourage cargo owners from sending additional volume through the Pacific Northwest, according to intermodal marketing company (IMC) executives.
While total 53-foot volumes originating in the Pacific Northwest — Oregon and Washington — rose nearly 17 percent sequentially in June, they rose only 2.5 percent in July, according to data from the Intermodal Association of North America (IANA). Domestic volume in the Southwest — Arizona, California, and Nevada — surged 20 percent month over month in both May and June, and 4.8 percent in July.
The Pacific Northwest is a relatively small region for intermodal, accounting for approximately 4 percent of 53-foot intermodal flows in the US, whereas the Southwest accounts for nearly 25 percent, according to IANA data.
UP pivots to handle core volumes amid rapid surge
Executives from two IMCs informed JOC.com of the Seattle surcharge. Asked for comment, a UP spokesperson referred JOC.com to its statement of last week, when it announced a $3,500 surcharge on aggregate rates for small shippers in Los Angeles.
"Union Pacific is taking steps to provide rail container capacity for baseload commitments before using containers for surge and transactional shipments," the railroad said in the prior statement to JOC.com.
Three IMC executives, who spoke on the condition of anonymity, explained that UP has struggled to provide enough equipment to shippers to handle the weekly volume agreed upon in annual contracts known as the mutual commitment program.
UP's surcharge will apply to all volumes above a "peak allotment," which is calculated by averaging a shipper's weekly loads and applying an additional surge amount between 10 percent and 25 percent, depending on the customer. For example, a customer who ships 40 containers per week would be allocated somewhere between 44 and 50 loads prior to paying the surcharge.
UP has dealt with a rapid jump in container and trailer volume never before seen in its history.
Volume has risen 29 percent since July 1 compared with an eight-week period between April 1 and the week before Memorial Day (Weeks 27-34 vs. Weeks 14-21), according to the Association of American Railroads. The period from April to late May was the low point in UP's volume this year when pandemic-related shutdowns of US businesses caused freight movement to slow significantly and railroads to park equipment and furlough workers. Weekly volume in the period fell to levels unseen since the Great Recession of 2008-09.
UP's previous record of intermodal volume growth comparing July-August with April-May was 6.2 percent in 2010.