WRITTEN BY Andrew Brunton for marketrealist.com





US railroad stocks fell sharply on May 31 on concerns of business disruptions due to the US President Donald Trump's threat of imposing a new tariff on imported goods from Mexico. On May 30, the US President tweeted that all goods imported from Mexico will be slapped with a 5% duty effective June 10.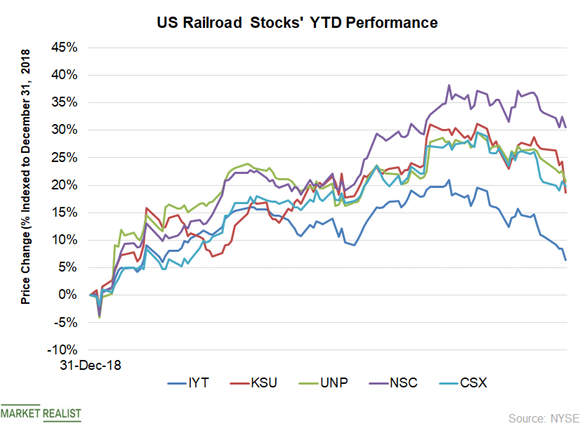 He further stated that the tariff rate would go up to 25% on October 1 if Mexico doesn't stop the illegal flow of immigrants to the United States. Trump specifically said that the tariff imposition is about stopping illegal immigration and the drug mafia.
In his May 31 tweet, Trump revealed that 90% of drugs are smuggled into the US through Mexico. Last year, about 80,000 people died to drug addiction, while over a million people's lives have been severely impacted.
Meanwhile, Mexican President Andres Manuel Lopez Obrador sent a letter to Trump requesting to resolve the matter through bilateral talks. In a press conference, the Mexican President on May 31 said, "These measures aren't beneficial for Mexicans or Americans," Bloomberg reported.
US railroad stocks take a hit
The imposition of tariff on goods imported from Mexico will hammer almost every economic sector, including automobile, power infrastructure, and railroads. The US trade deficit with Mexico currently stands at over $100 billion.
Therefore, tariff imposition would result in fewer import from Mexico, thereby disrupting the supply chain and rail network, which will ultimately negatively impact rail traffic volumes. Thus, following Trump's tweet, shares of the majority of US railroad stocks tumbled on May 31.
Kansas City Southern (KSU), Union Pacific (UNP), Norfolk Southern (NSC), and CSX (CSX) fell 4.5%, 1.6%, 1.5%, and 0.7%, respectively, on May 31. The iShares Transportation Average ETF (IYT), which invests in US transportation stocks listed on the Dow Jones, lost 1.9% of its market value last Friday.