Written by Lance Fritz, Chairman, President and CEO, Union Pacific via railwayage.com
On the Union Pacific website, Chairman, President and CEO Lance Fritz shared his thoughts on embracing diversity—an important story that Railway Age believes should be shared with a broader audience.
Late last week there was a mass killing in Atlanta, where the perpetrator targeted people of color, in this case Asians and specifically, Asian women. That incident moved me deeply.
It resurrected something a Union Pacific colleague shared with me after the 2019 mass shooting in El Paso [Texas]. As a Latina, she realized she could no longer isolate herself from the senseless killing and violence. It was no longer random. It targeted people that looked like her. Black Americans have been targeted for generations, and continue to experience that grim reality. While we work to recognize and stop racism and inequity at Union Pacific and in our communities, it crushes my spirit to see racial hate manifested like it was in Atlanta and El Paso.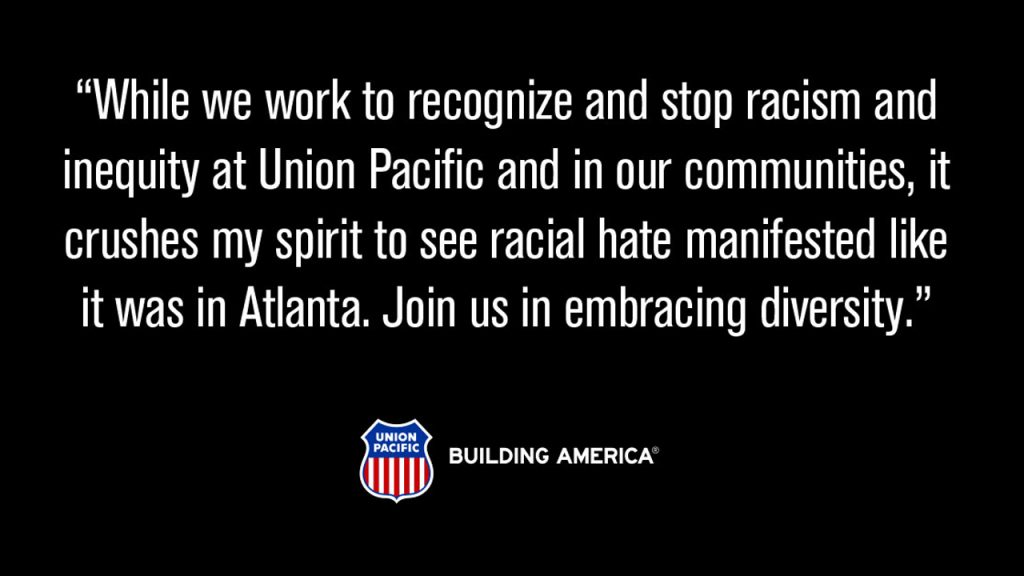 Every day, I am made stronger by people who look and are different than I. This morning [March 23], it was Rahul Jalali, Chief Information Officer, sharing his vision to lead his team with an ecosystem and product perspective. Yesterday [March 24], it was Adrienne Jensen, Senior Project Engineer-Information Technologies, (who is featured in the employee collage outside my office) developing technology to streamline the ingate/outgate process on our intermodal ramps for truck drivers. Last week, it was Jamie Peters, General Director-Strategic Sourcing, and Darrin Craner, Senior Director-Strategic Planning, helping me outline and communicate our growth strategy. Last month, it was Clarissa Beyah, Chief Communications Officer, connecting us all to the work of "Serving, Growing and Winning Together" through our Leadership Week efforts. Last year, it was the women and men of Union Pacific rolling up their sleeves to keep the economy moving even when their lives were being turned upside down. In every instance, someone very different from me helped accomplish what I couldn't alone. That is what Union Pacific, and America, are all about. We can, we will, and we must help our communities gain strength from their diversity. Serve, Grow, Win—Together. We are One!