Published by Trefis Team Contributor for forbes.com
The stock price of railroad company Union Pacifichas seen a rise of 7% over the last month. The company reported its Q3 results late last month with revenue of $5.6 billion, up 13% y-o-y, slightly above our forecast of $5.3 billion, while its earnings of $2.57 on a per share basis was comfortably above our estimate of $2.46. While the results were better than our estimates, the overall growth was adversely impacted by supply chain constraints and disruptions in the automotive industry owing to the chip shortages. In fact, automotive freight was down 13% in Q3, and it was the only item that Union Pacific carries to see a negative growth.
Coal freight was expected to see strong growth and it saw a large 37% y-o-y rise in revenues. The company also managed to lower its operating ratio to 56.3% from 58.7% in the prior-year quarter. However, owing to the automotive disruptions, the company lowered its full-year 2021 outlook with revenue now expected to grow by 5%, compared to 7% as per prior guidance. Now, there are different views on when the chip shortage will end, but it appears that the issue will impact the overall automotive production in 2022 as well [1]. However, with strong economic growth, Union Pacific is likely to see increased demand for transportation of industrial products, coal, as well as its intermodal business. Our dashboard on Union Pacific's Revenues offers more details on the company's segments.
But now that UNP stock has seen a 7% rise in a month, outperforming its peers with CSX stock up 3% and NSC stock down <1%, will it continue its upward trajectory, or is a fall imminent? Going by historical performance, there is nearly an equal chance of a rise or a fall in UNP stock over the next month. Out of 354 instances in the last ten years that UNP stock saw a twenty-one day rise of 7% or more, 174 of them resulted in UNP stock rising over the subsequent one-month period (twenty-one trading days). This historical pattern reflects 174 out of 354, or about a 49% chance of a rise in UNP stock over the coming month. See our analysis on Union Pacific Stock Chances of Rise for more details. Even if we were to look at our Union Pacific's Valuation,with an EPS estimate of around $10.00 and a P/E multiple of around 26x in 2021, this translates into a price of $262, which is only 8% above the current market price of around $241, implying that there isn't much room for growth in UNP stock, and we believe that investors willing to buy this stock may be better off waiting for a dip to enter.
While UNP stock may see lower levels going forward, it is helpful to see how its peers stack up. Check out Union Pacific Stock Comparison With Peers to see how UNP stock compares against peers on metrics that matter. You can find more such useful comparisons on Peer Comparisons.
Calculation of 'Event Probability' and 'Chance of Rise' using last ten years data
After moving 0.8% or more over a five-day period, the stock rose in the next five days on 54% of the occasions.
After moving 0.8% or more over a ten-day period, the stock rose in the next ten days on 56% of the occasions
After moving 7.2% or more over a twenty-one-day period, the stock rose in the next twenty-one days on 49% of the occasions.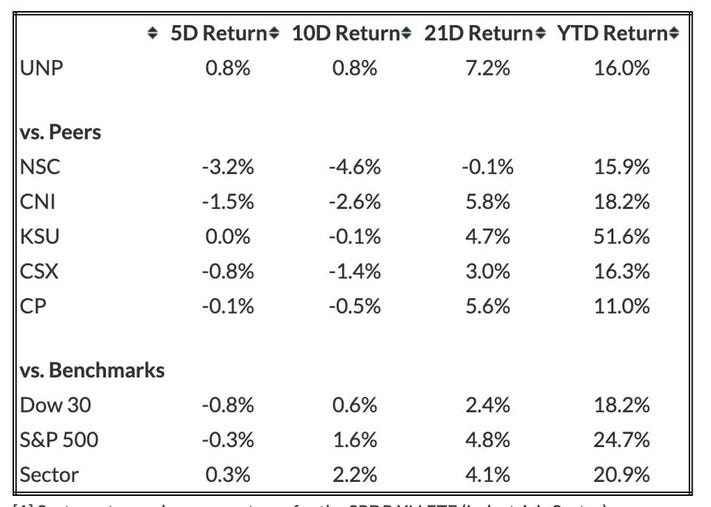 Union Pacific Stock Return (Recent) Comparison With Peers
Five-Day Return: UNP highest at 0.8%; NSC lowest at -3.2%
Ten-Day Return: UNP highest at 0.8%; NSC lowest at -4.6%
Twenty-One Days Return: UNP highest at 7.2%; NSC lowest at -0.1%