Railroad workers point to corporate greed as the root cause of the recent influx of dangerous train derailments
by Alexandra Martinez for prismreports.org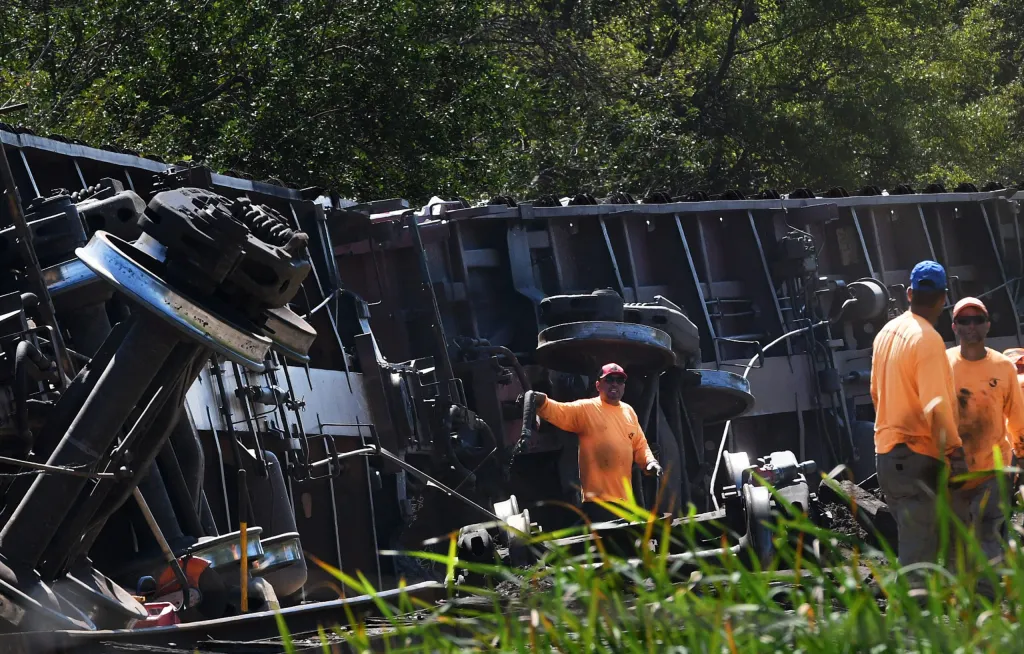 Over a dozen trains have derailed across the U.S. in fewer than three months. On Feb. 3, a Norfolk Southern train derailed in East Palestine, Ohio, causing multiple explosions, toxic chemical leaks, and controlled burns that left an ecological disaster in its wake. Most recently, a train derailed in Sarasota, Florida, on Feb. 28, tipping over six railcars—one of which contained 30,000 gallons of liquid propane gas. Just this weekend, on March 4, yet another Norfolk Southern train derailed in Springfield, Ohio, sending 28 cars sliding across the tracks. While neither the Sarasota nor the second Norfolk Southern derailments caused the same level of destruction as the one in East Palestine, railroad workers warn that derailments will continue to occur if the industry continues to prioritize profit over safer labor conditions for workers.
The National Transportation Safety Board (NTSB) released a preliminary report on Feb. 23 revealing a wheel bearing on the first railcar that derailed had been in the "final stage of overheat failure moments before the derailment." In a press conference announcing the report, NTSB Chairwoman Jennifer Homendy said the East Palestine derailment was "100% preventable … There is no accident. Every single event that we investigate is preventable." Since the incident, the Environmental Protection Agency (EPA) has ordered Norfolk Southern to remedy the situation and clean up the damage.
In a press release, Railroad Workers United(RWU)—an inter-union, cross-craft solidarity "caucus" of railroad workers and their supporters from all crafts, carriers, and unions across North America—said that Class One freight rail carriers, including Norfolk Southern, have prioritized profits over safety, cutting maintenance, equipment inspections, and personnel in all crafts while increasing the average train size to three miles or more.
"Every day we go to work, we have serious concerns about preventing accidents like the one that occurred in Ohio," said RWU General Secretary Jason Doering in the press release. "As locomotive engineers, conductors, signal maintainers, car inspectors, track workers, dispatchers, machinists, and electricians, we experience the reality that our jobs are becoming increasingly dangerous due to insufficient staffing, inadequate maintenance, and a lack of oversight and inspection. We recognize that limits on train lengths and weights are necessary to prevent catastrophic derailments."
According to the Federal Railroad Administration's Office of Safety Analysis, there are over 1,000 train derailments every year. Railroad workers say the corporate greed that plagues their industry has led to fewer safety measures and reduced staffing, resulting in derailments and other catastrophes.
"Railroad workers experience firsthand every day the dangers inherent in this style of railroading," said RWU co-chair Gabe Christenson in the press release. "It has impacted their safety and health, state of mind, and lives on and off the job."
Christenson says "precision scheduled railroading" (PSR) is also at the root of the problem. This system organizes freight scheduling based on individual cars rather than considering the balance of the train as a whole. Under the guise of streamlining operations, PSR seeks to cut costs and boost profits by running bigger trains with smaller crews.
"Because of the PSR business model, they want to have as few employees here and have them do as much work as they possibly can," said Christenson. "I'm sick right now, but I'm at work."
For years, railroad union workers have been fighting for paid sick leave and better comprehensive benefits, with little success. Last year, workers threatened to go on strike, but the strike was averted after Congress intervened, imposing a contract that gave workers a substantial raise but still no paid sick days.
After the East Palestine disaster, one of the largest freight railroads, CSX Transportation, announced they will provide workers with four days of annual paid sick leave, plus the option of converting three personal days into additional paid sick time. However, this deal only applies to two unions, and workers say it's time to nationalize the railroad and maximize worker power.
Marilee Taylor, who worked 34 years as a locomotive engineer and was a Brotherhood of Locomotive Engineers and Trainmen union member, says nationalization will ensure workers have the power to advocate for their needs, including paid time off.
"We need to take [the power] out of the hands of these people who have run it into the ground," said Taylor. "They come in, and they try to make a push for profit at all costs."
Taylor said workers have been hamstrung for years because the industry is broken up into separate unions.
"They have done well with keeping us divided for many years," said Taylor. "The railroads try to instill a perverted kind of pride, not in our collective work of getting a train where it's supposed to go, but in [the individual]."