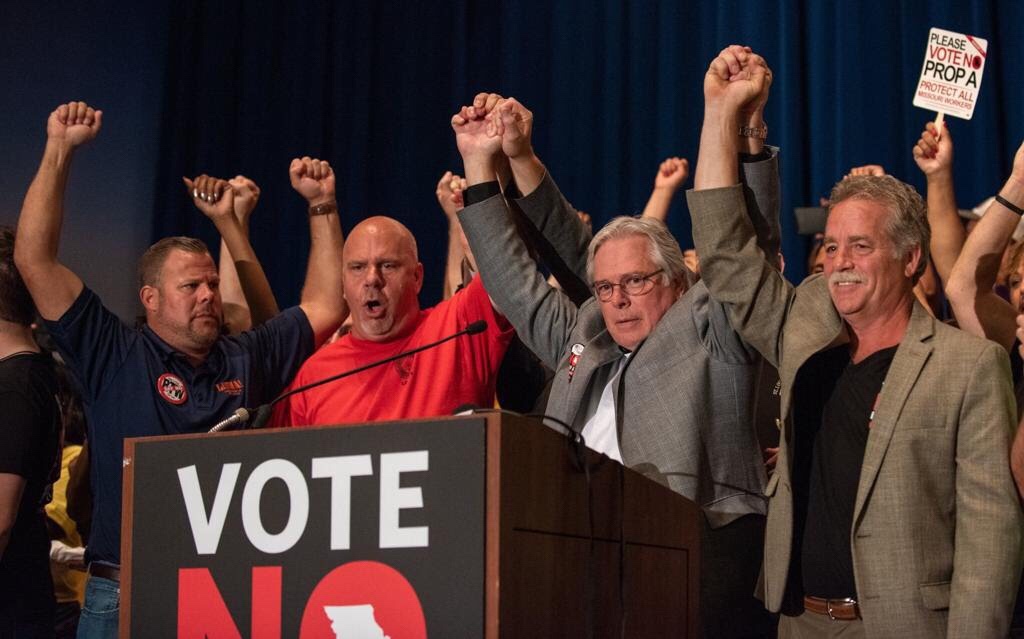 By Kurt Erickson and Jack Suntrup St. Louis Post-Dispatch
ST. LOUIS • Fueled by more than $15 million in campaign spending and laser-sharp attention from national labor unions, voters solidly rejected an attempt to make Missouri a "right to work" state.
With 95 percent of precincts reporting Tuesday night, unofficial results showed the ballot question asking whether the Show-Me State wanted to join 27 others in allowing private-sector workers to not pay dues to a labor organization had flamed out about 2 to 1.
"We are hopeful that the outcome of today's election will put an end to attacks on Missouri's working families and give our state a fresh start at working together to help and support all Missourians," noted a statement from the We Are Missouri coalition, comprising labor unions and affiliated organizations. "In every corner of the state, voters rebuked the efforts of powerful, out-of-state corporate interests and dark money to control the future of Missouri's economy."
Dan Mehan, executive director of the Missouri Chamber of Commerce and Industry, said the push by Republicans and business groups who supported the law was not a mistake.
"No miscalculation. It was a deluge of money coming in from out of state that helped them get to $20 million to buy the election," Mehan said. "We just got blown out."
From the start, pro-business groups supporting the law failed to keep pace with the millions of dollars that the unions pumped into the referendum. Yard signs, television ads and a radio ad by actor John Goodman — a Missouri native — dominated the campaign.
While supporters of Proposition A said states with similar laws had seen positive job growth, opponents said myriad other factors had played into boosting the business climate in those states. Opponents also said wages in right-to-work states were lower.
"I've seen the facts of states that have laws like right to work," said United Auto Workers union member Michelle Whitley of Wright City. "It's just not a good thing for our state."
Whitley told the Post-Dispatch that she and other union members would continue to play defense against similar efforts by lawmakers.
"I don't think we'll ever stop fighting," said Whitley, who works on the pickup and van assembly line at General Motors in Wentzville.
Missouri Democratic Party Chairman Stephen Webber called the push for right to work a "shameless attack on the middle class."
"Tonight, Missouri voters rejected a top Republican priority and sent a resounding message that we will not leave working people behind," Webber said.
U.S. Sen. Bernie Sanders, I-Vt., also got in on the celebration.
"I'm glad to hear Prop A was defeated tonight in Missouri," he said on Twitter. "Right-to-work legislation must be defeated nationwide. We must stand together, beat back union busters, and continue to build and grow the trade union movement in this country."
In 1978, the last time right to work was on a statewide ballot, 60 percent of Missouri voters turned it down.
Despite steep declines in the union workforce, Tuesday's measure was defeated in both urban and rural areas. Unofficial returns showed just 14 of Missouri's 114 counties supporting the law.
The proposal was closely watched across the nation after the U.S. Supreme Court ruled in late June that public sector workers cannot be compelled to pay fees to unions.
The Missouri vote would have extended that to private companies that have union bargaining agreements.
From the International Brotherhood of Teamsters to the International Brotherhood of Electrical Workers, unions spent big on fighting what had been then-Gov. Eric Greitens' signature achievement in his 17-month tenure.
For years, business-friendly Republican lawmakers have tried to move Missouri into the right-to-work column. Greitens' arrival in January 2017 put the wheels in motion for Tuesday's vote.
Moving swiftly in Greitens' fledgling administration, lawmakers approved the right-to-work law and he  signed it a month into his term.
But the quick turnaround gave labor unions a window to collect more than 310,000 signatures to put the law before voters.
In the waning days of the 2018 legislative session, Republicans countered by moving the referendum from the November ballot to Tuesday's primary. Though they said the maneuver was aimed at resolving the debate more quickly, Democrats said the GOP was trying to manipulate the outcome with a typically lower primary voter turnout.
Three campaign funds that supported the referendum — Freedom to Work, Missourians for Freedom to Work and Missourians for Worker Freedom — raised more than $5.6 million.
Greitens, who left office June 1 under the cloud of a scandal, was involved too. His dark money nonprofit, A New Missouri Inc., which was the subject of a recent Missouri Ethics Commission complaint, contributed $2.3 million to the cause.
Despite the vote, Republicans who control the House and Senate could return for their 2019 session and vote again to make Missouri right to work, potentially triggering a repeat of the referendum process.
One right-to-work supporter, Sen. Dave Schatz, R-Sullivan, said it was premature to discuss such a move. In his home county, Franklin, voters opposed the referendum 3 to 1.
"I think what we'll do is evaluate the outcome of the vote to see what appropriate action will be taken," Schatz said.
Mehan also said he was unsure if there would be an appetite to make another run at the law next year: "It's an unfortunate result. We're getting through tonight and seeing where the political will is."
Published at stltoday.com