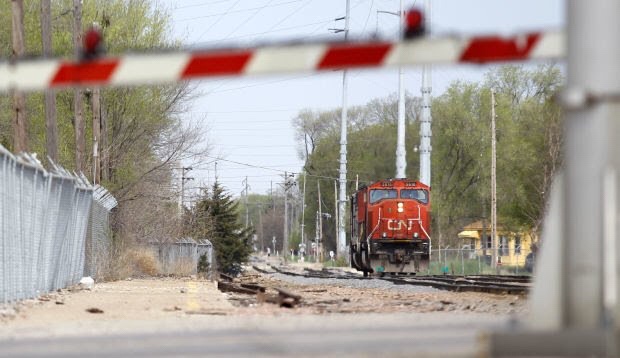 The Associated Press and Courier Staff
WATERLOO, IOWA— Two Waterloo women who lost limbs when they were struck while trying to climb through trains that were blocking the road sued the railroad Thursday for allegedly ignoring a safety hazard that's left a trail of horrific injuries.
The lawsuits filed in Black Hawk County District Court on behalf of Jovida Owens and Oneida Cosby allege that trains operated by the Canadian National Railway and its subsidiaries routinely block street crossings in Waterloo, sometimes for hours.
They say this leaves pedestrians trapped and facing bad options on a daily basis: wait for the trains to move, walk to an unblocked crossing that can be more than a mile away, or risk crossing between stopped cars that can start moving without warning.
"This problem exists in cities throughout the United States, but Waterloo is the poster child," said attorney Bob Pottroff, whose Kansas-based law firm is representing the women and known for advocating on behalf of train accident victims nationwide. "We consider this a matter of great public safety concern."
He said the lawsuits allege that Canadian National essentially uses part of Waterloo as its switching station, a facility that is usually located outside of population centers and includes fencing and other security measures.
The lawsuits claim that since 1991, at least five people have lost hands, arms or legs while trying to climb through a stopped freight train that started moving unexpectedly.
Owens, 37, lost her left leg and nearly all of the skin on the back side of her body when she was struck and dragged by a train in April 2017 near the East Fourth Street crossing. Cosby, 67, lost both of her legs when a train rolled over them last September at the rail crossing at Logan Avenue and Center Street.
A third lawsuit is pending in Chicago in the case of a former Waterloo resident who lost three limbs in a similar collision in 2011.
Each happened on streets near the rail yard in the low-income, heavily African-American east side of Waterloo. Residents say the company's mile-long trains stretch far beyond the yard and can block several crossings, sometimes for hours multiple times per day, while they undergo maintenance and safety checks and load and unload cars. Those routinely affected include students at East High School.
Iowa law and a Waterloo ordinance state that trains cannot block crossings for longer than 10 minutes with some exceptions, for instance if the stop is needed to comply with safety regulations. The company's operating rules also state that they shouldn't block crossings for longer than that unless it can't be avoided.
Canadian National spokesman Patrick Waldron shifted the focus to the actions of the injured women, saying that trespassing on railways tracks and property "is illegal and very dangerous."
"These events are tragic examples of the dangers of climbing on trains or railway cars," he said. "There are no circumstances where climbing on a train — moving or stopped — is worth the risk of serious or fatal injury."
The railroad has previously said it's aware of concerns about blockages in Waterloo but that "operational necessities" cause them. They have long been a source of frustration for residents.
In their lawsuits, the women say they waited an unspecified "reasonable amount of time" before they tried to climb through long-stopped trains, which didn't sound any audible warnings before starting to move. They argue the railroad has taken no other steps to protect the public at the site, such as building a footbridge over the rails or separating the trains at crossings when they are stopped. They're seeking unspecified damages for their pain and suffering as well as punitive damages against the railroad, saying it acted with an "intentional disregard for public safety."
Article by wcfcourier.com