By Artemis Moshtaghian, Linh Tran, Yon Pomrenze and Chris Isidore, amp.cnn.com
East Palestine, Ohio(CNN)Norfolk Southern CEO Alan Shaw defended his company's actions since the disaster caused by the derailment of one of its trains in East Palestine, Ohio, and promised the railroad will pay for the cleanup.
"Norfolk Southern is committed to the community and citizens of East Palestine," Shaw told CNN Tuesday. "We're going to be here today, we're going to be here tomorrow, we're going to be here a year from now and we're going to be here five years from now."
Shaw's defense of his company came as Pennsylvania Gov. Josh Shapiro charged that Norfolk Southern's "corporate greed, incompetence and lack of care for our residents is absolutely unacceptable to me." He announced that his state has made a criminal referral to investigate the railroad's handling of the derailment, which occurred near the Ohio-Pennsylvania state line.
Shaw said the company has already paid out $6.5 million to citizens living near the site of the derailment 19 days ago that ignited a days-long inferno, shot plumes of black smoke into the air and led to the intentional release of vinyl chloride to help avert a more catastrophic blast.
Shaw said the railroad has been in agreement with the actions of the Environmental Protection Agency (EPA) and local efforts on the ground in East Palestine since the train derailment.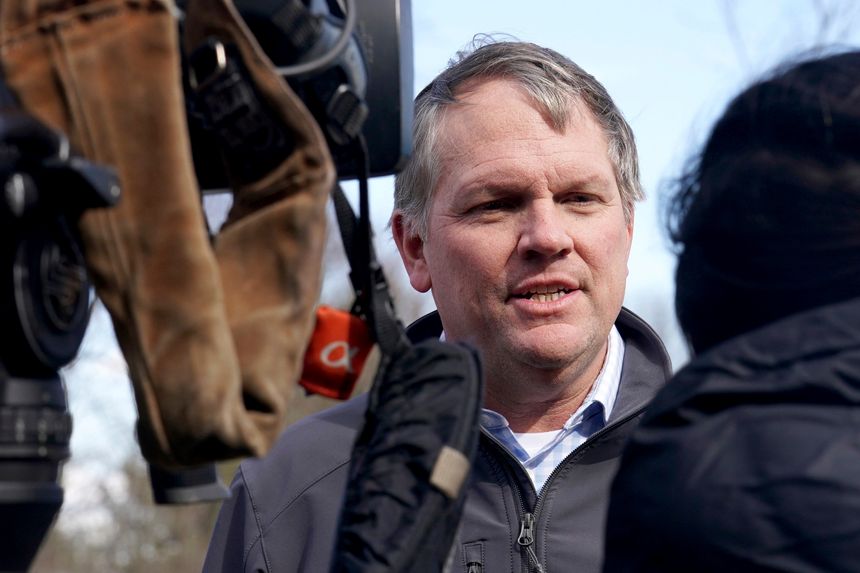 "From day one I've made the commitment that Norfolk Southern is going to remediate the site," Shaw said. "We're going to do it through continuous long-term air and water monitoring. We're going to help the residents of this community recover and we're going to invest in the long-term health of this community and we're going to make Norfolk Southern a safer railroad."
In response to a question about a criminal referral being sent to the Pennsylvania attorney general and criticism from the governor of Pennsylvania that Norfolk Southern provided officials with inaccurate information, conflicting models of data and refused to explore alternative courses of action with the derailment in the early days, Shaw said he did not see the press conference where these statements were made and could not respond.
He went on to describe coordination during the controlled burn and release after the derailment.
"I was at unified command, and I can tell you that the governors of Ohio and Pennsylvania, Mayor Conaway, Fire Chief Drabick, the National Guard and Norfolk Southern were aligned," Shaw said in an interview with CNN Tuesday. "The controlled burn — controlled release was the safest course of action for the citizens of East Palestine."
Shaw said Norfolk Southern has been coordinating with the Ohio EPA and local officials and, so far, has been very present in the community since the February 3 accident. He said he first came to East Palestine in the immediate aftermath of the accident and visited a family assistance center that the company put in place, where he checked in on residents, making sure that they had everything that they needed.
"We're also very focused on reimbursing the residents in this community for what they've been through so far," he said.
There are no estimates from the railroad or public officials as yet as to the costs of the accident, either from clean-up or compensation to the communities and residents.
Norfolk Southern "started as soon as the derailment occurred," he said. "Within an hour we had air testing in place and about an hour after that we had water testing in place."
Shaw said his company continues to monitor air and water quality and has conducted hundreds of tests with thousands of data points, "all of which have come back clean."
In an interview on CNBC, Shaw said if East Palestine was his home, he would be OK having his own children return to the town, saying that Tuesday was the third day he has been on the site since the derailment.
"I know they're hurt. I know they're scared. I know they're confused," he said of local residents. "They're looking for information about who to trust. I encourage them to ask questions. They're going to see that all the testing, whether it's done by the EPA or local health officials or our independent contractors, show that it's safe to return to this community."
"This has been a traumatic experience. All toxicity reports, all the testing shows that we're clean. However if folks are experiencing symptoms with which they're not accustomed, I would strongly encourage them to go see a trusted medical professional," he said.
He said that while testing of water and air have come back safe so far, "if folks in this community want additional air testing in their homes, they'll get it. If folks in this community want additional water testing, they'll get it. If folks in this community want bottled water, they're going to get it."