Norfolk Southern Railway is surveying its customers to learn how state and local governments' executive orders related to the coronavirus pandemic are affecting customers' businesses and transportation requirements.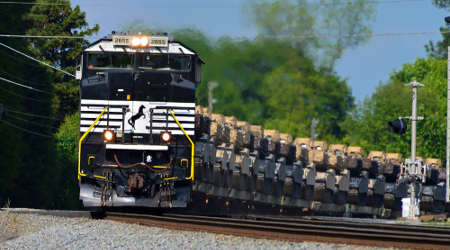 Last week, the Class I posted the survey on its website. NS officials are integrating responses into its transportation plans, said Alan Shaw, executive vice president and chief marketing officer, in a March 23 letter to customers.
"We understand that COVID-19 mitigation efforts are dynamic and the effect on our customers' business needs may evolve," Shaw wrote.
Other Class Is also are taking steps to assist customers affected by local and state executive orders. Union Pacific Railroad, for example, has implemented a "pandemic team" to gain access to communities where "shelter-in-place" orders have been imposed. Additionally, UP set up a COVID-19 resource webpage to report rail network updates.
UP also notified customers that the U.S., Canada and Mexico governments' recent border closures to nonessential travel do not apply to freight shipments related to international trade.
"We do not expect any impacts to shipments crossing the border at this time," UP officials stated.
Kansas City Southern also notified customers that the U.S./Mexico border remains open to freight movements.
"Railroads are considered critical infrastructure, and as such we have the support of federal authorities in both countries," KCS officials stated in a web post.
Original post on progressiverailroading.com