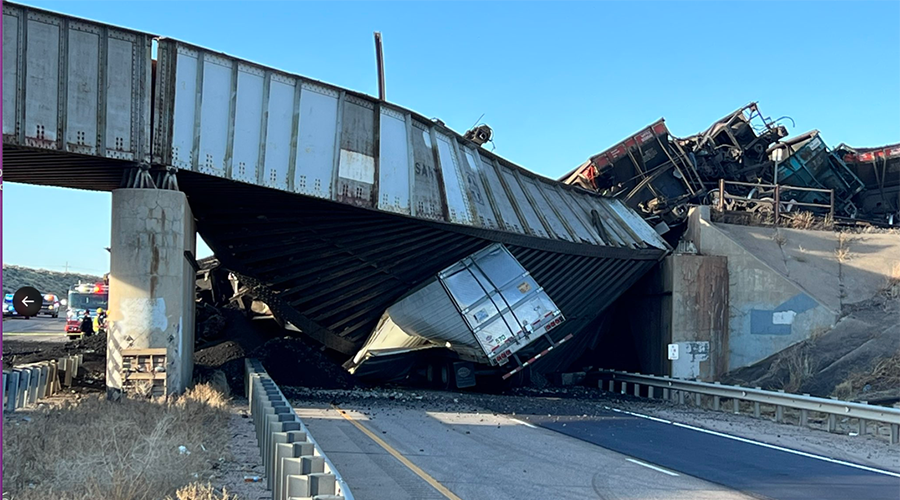 The National Transportation Safety Board is investigating the Oct. 15 BNSF Railway Co. coal-train derailment off a bridge over Interstate 25 near Pueblo, Colorado.
A truck driver was killed in the accident. Photos taken by the Colorado State Patrol show a partially collapsed bridge with the semi-truck caught underneath. The photos also show rail cars and coal scattered on the road.Thirty-nine rail cars of the 124 being hauled derailed, according to the NTSB.
It was not known whether the truck was caught beneath the collapsing bridge or if it somehow caused the collapse, according to a report by Colorado Public Radio, which cited the Pueblo County Sheriff's Office.
The interstate is closed indefinitely, authorities said yesterday.
Meanwhile, the NTSB opened the public docket for its ongoing investigation of a March 30 derailment of a BNSF train in Raymond, Minnesota. In that case, the train included 14 hazardous-materials tank cars, 10 of which derailed. The derailed tank cars contained denatured ethanol, some of which was released and contributed to a fire.
According to BNSF officials, the fire was extinguished on the morning of March 31, 2023. There were no reported fatalities or injuries. BNSF estimated damages to equipment and track infrastructure to be about $1.9 million.
While on scene, NTSB investigators examined railroad equipment and track conditions, reviewed the lead locomotive's event recorder and forward-facing image recorders, and completed interviews.
On April 1, BNSF shipped a section of fractured rail to the BNSF rail lab in Topeka, Kansas, for further analysis. Based on NTSB's on-scene examinations, hazardous material was released from five derailed tank cars. Two tank cars sustained punctured shells.
article courtesy of progressiverailroading.com