Transportation Communications Union/IAM and the members it represents hosted a rally in four major U.S. cities on Sept. 30th – to urge members of Congress to provide Amtrak emergency funding and protest looming job cuts. More than 800 TCU members are targeted by Amtrak's cuts, scheduled to take effect Oct. 1st.
Members represented by five labor unions came together in solidarity for demonstrations in Washington D.C., New York City, Chicago and Los Angeles.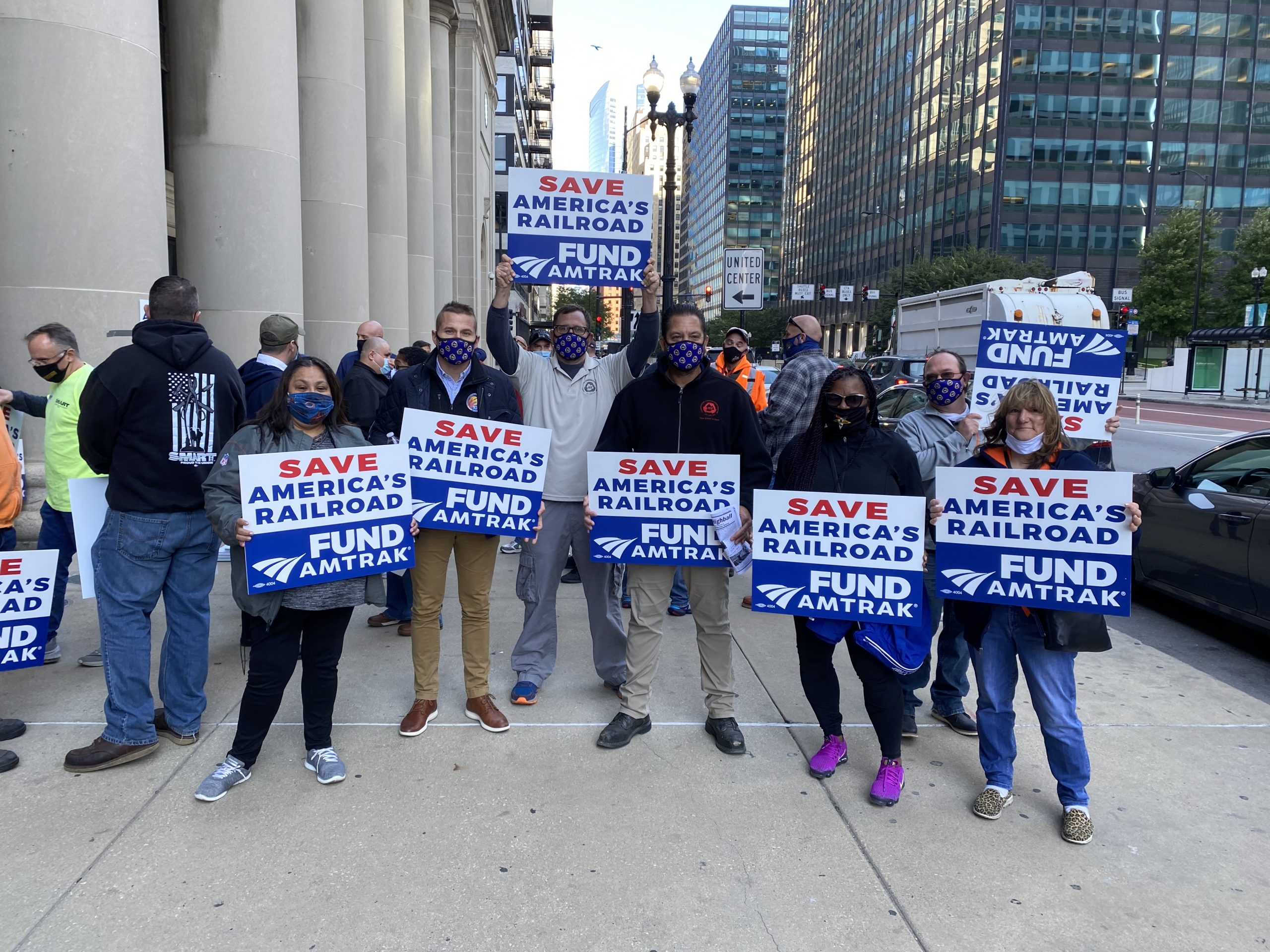 TCU Members rally in Chicago
TCU Vice-President and National Legislative Director William DeCarlo spoke in Washington DC, TCU National Represenative Charles Jackson Spoke in New York, TCU National Represenattive Brian Shanahan spoke in Chicago and TCU Vice President Jack Dinsdale spoke in Los Angles, each one demanding that Congress and the White House take action to save the jobs on Amtrak:
All of us here demand a comprehensive transportation aid bill that protects not only Amtrak but the entire transportation industry.
Together we can speak as one powerful voice… and use that voice if nothing is done…by voting on November 3rd …to get that message across … Thank you to everyone across the country who is protesting with us today to demand action now, not in two weeks but NOW!
Transportation Trades Department (TTD) of the AFL/CIO president Larry Willis addressed the rally' "We know how important Amtrak is to not only you and your colleagues and co-workers, but to the nation and passengers you so gallantly serve
.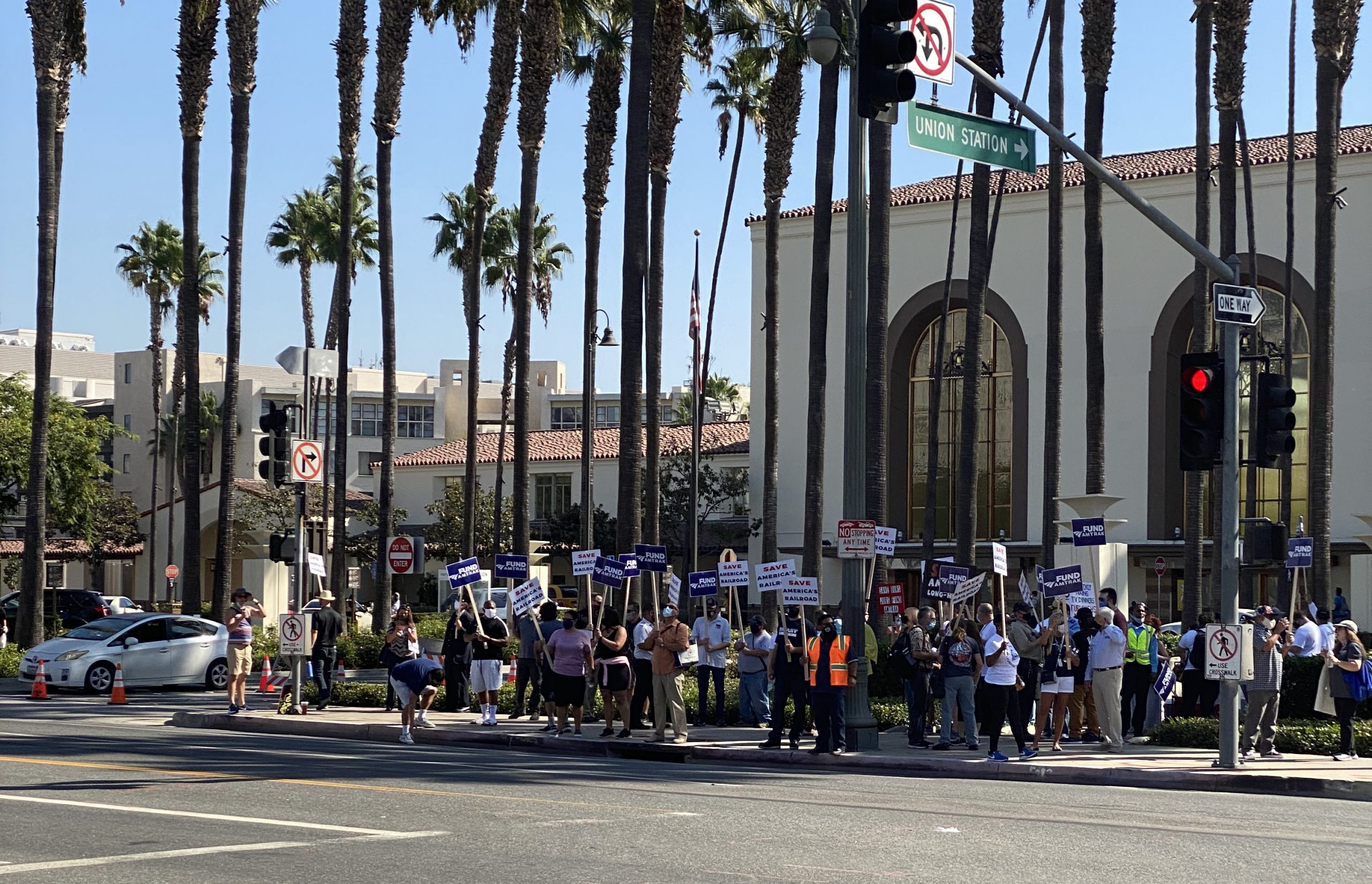 TCU Members rally in Los Angeles
Amtrak exists because of all of you politically you are the force that pushes back…your jobs at Amtrak are too important to leave on the cutting room floor.
We will stand with you until the fight is over.
Congressmen from both sides of the isle attended the rallies and stood in support of the hard-working Amtrak workforce. Congressman Fitzpatrick (R-PA), Boyle (D-PA), Ryan (D-OH), Norcross (D-NJ) and Lynch (D-MA) all spoke and supported the Amtrak workers in attendance.
Congressman Fitzpatrick (R-PA) said' "We have your back in a by-partisan process, I will work with everyone to protect your jobs…I want to thank all of you for keeping everyone safe and taking care of us."
Congressman Boyle (D-PA) said' "Without fail the Amtrak Employees across the country could not be nicer or more helpful…they make the train system work, frankly the way they are being treated is a disgrace…I am here to let you know I am fighting with you, we need to protect the men and women that are the backbone of our transportation system.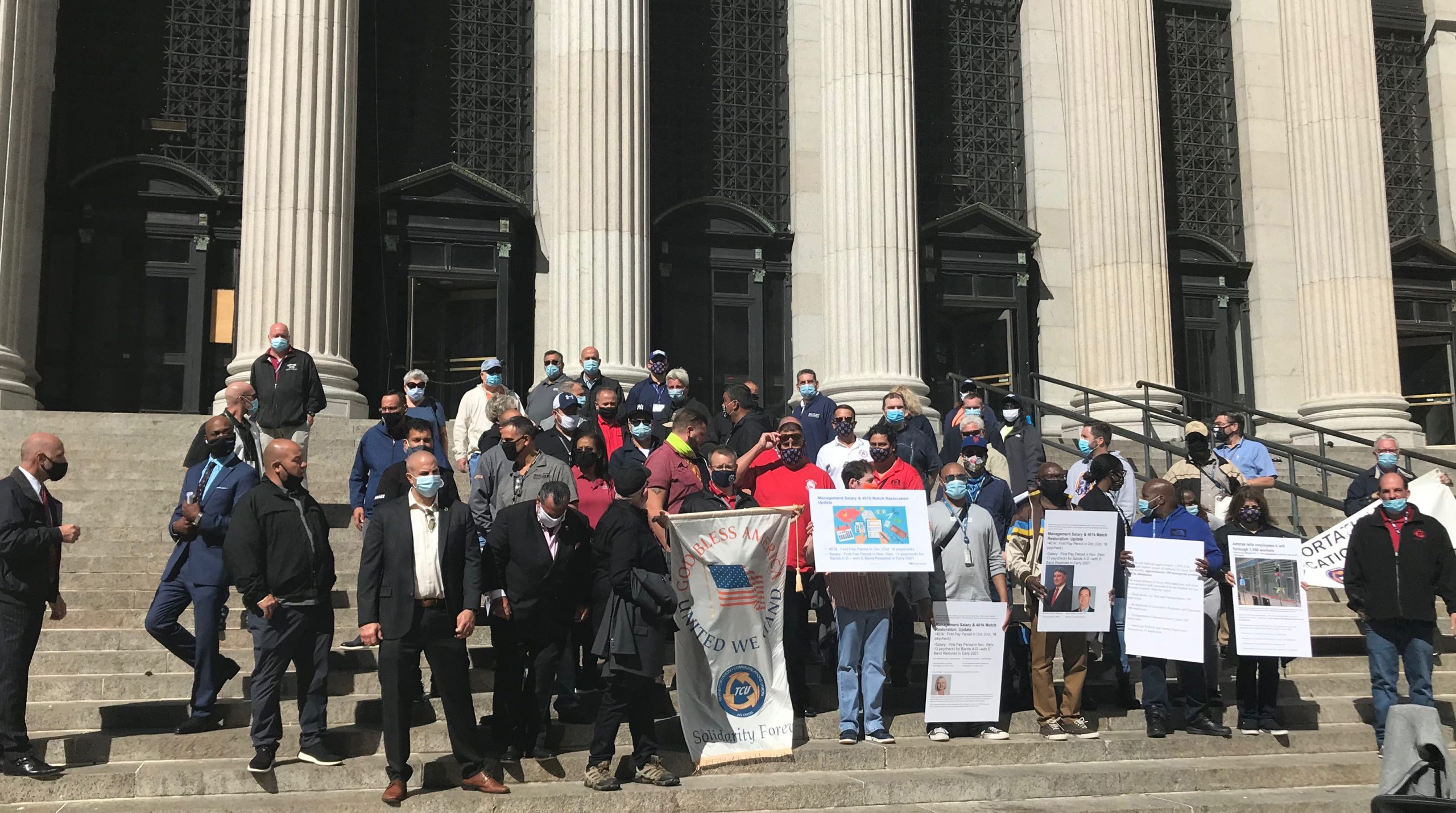 TCU Members Rally in New York
TCU has sent a letter to Amtrak CEO Flynn, asking him to halt furloughs temporarily to allow Congress/Administration to reach a deal.
Click here to read the letter to Amtrak CEO Flynn
Call and write your Member of Congress and Senators! Post on social media! Get friends and family to write Congress and ask them to support funding for Amtrak that saves jobs and preserves long-distance service! TCU has an online action tool to make it easy: https://iam4.me/FundAmtrakNow