BROOKE CRUM | BCRUM@NEWS-LEADER.COM
4:08 pm CDT April 30, 2018
A Seymour man won more than $5 million last week in a case against BNSF Railway Co. after suffering injuries on two separate occasions in the company's Springfield rail yard.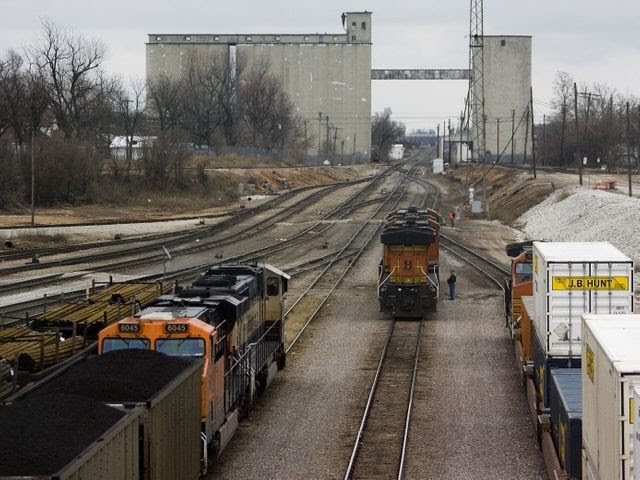 The BNSF rail yard just to the east of Kansas Expressway.
NEWS-LEADER FILE PHOTO
A Greene County jury awarded former conductor James T. Mitchell the sum after a weeklong trial in the Greene County Circuit Court.
BNSF plans to appeal the decision, said Andy Williams, director of public affairs at the railroad company.
"While we respect the work of the jurors, we are disappointed with the result," he said in an email Monday.
The jury determined that BNSF was responsible for the handrail on a rail car ladder that broke while Mitchell was trying to climb down, causing the conductor to fall to the ground and land on his back on Aug. 27, 2015. A derailment on a neighboring track had damaged the handrail earlier that day.
According to the lawsuit, Mitchell required surgery on his lower back and shoulder throughout the next 16 months. He returned to work in 2017.
The lawsuit goes on to state that on Feb. 23, 2017, Mitchell suffered further injury while operating a defective pin-lifting lever to separate rail cars in a train in the Springfield rail yard. Mitchell received multiple spine injections but had ongoing pain. He is unable to return to work due to his injuries, according to the lawsuit.
BNSF denied liability in the case, which was brought under the Federal Employers' Liability Act. The act provides a remedy for railroad workers injured on the job.
"Jamie Mitchell was a loyal railroad worker. But when he was injured due to unsafe working conditions, BNSF denied any responsibility and blamed him," said Mitchell's attorney, Nelson G. Wolff of Schlichter, Bogard & Denton in St. Louis. "This verdict restores his reputation as a good worker and provides him with money needed to pay for significant medical needs and to take care of his family."
An orthopedic surgeon, Dr. Paul Olive, testified that Mitchell will require several spine infusions in the future and that he is no longer able to perform railroad work, Wolff said.