All brothers and sisters from Lodge 6078 would like to send one of our own, Brother Steven Siedl, our deepest condolences on the passing of his lovely wife Pauline.
Obituary courtesy of dietrichfuneralhome.com
•Memorial Service: Saturday, February 8, 2020 at 2:00 PM from the Dietrich-Mothershead Chapel.
•Memorial Gathering: Saturday, February 8, 2020 from Noon until 2:00 PM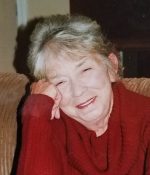 Pauline Ann "Polly" Seidl was born in De Soto on July 20, 1944 a daughter to Gertrude G. (nee Harris) and Virgil G. Sanders, Sr. She died at her De Soto home on February 1, 2020 at the age of 75. She is survived by her husband Stephon Seidl, De Soto; her children: Brian (Amanda) Wall, De Soto, Cameron Seidl, De Soto, Joshua Seidl, De Soto, and Kodie Seidl, St. Peter's; three grandchildren: Jeffrey Wall, Aaron Seidl, and Destiny Berardi; one sister Jane Ellen Schoultz, De Soto; and three brothers: Larry M. Sanders, Sr., De Soto, Terry J. Sanders, Sr., Bloomsdale, and Richard A. Sanders, De Soto. She is preceded in death by her parents; two daughters: Jane Ellen Wall and Julie Ann Wall; two sisters: Mary Alice Sanders and Judy Ann Sanders, and two brothers: Thomas M. Sanders and Virgil G. Sanders, Jr. Polly retired from Bank of America after working for 32 years in banking.