Dive Brief:
After one month of testing precision scheduled railroading, Union Pacific expects the new model could bring at least $500 million in productivity gains in 2019, executives said during an earnings call.
Since the beginning of August, the railroad has cut 625 locomotives from active fleets, reduced operating inventory by 6,000 cars, consolidated operating regions from three to two, reduced service units from 17 to 12, changed roughly 125 of 150 transportation plans, and announced a new set of KPIs to track.
"Although we have made dozens of these types of changes in a short period of time, we are just getting started," saidr Tom Lischer executive vice president of operations at Union Pacific. "There is more to come."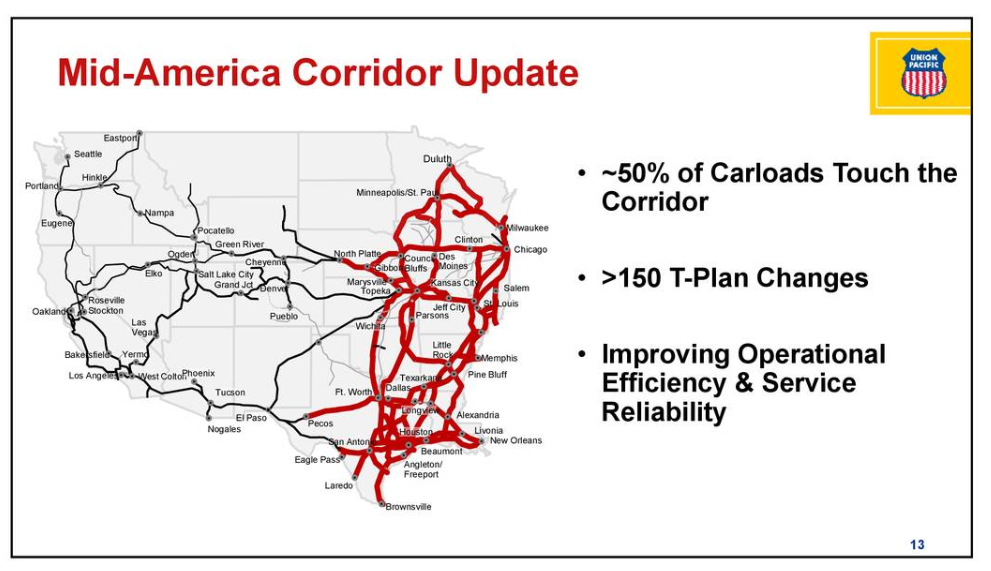 Credit: Union Pacific
Dive Insight:
Union Pacific's transition to precision scheduled railroading is starting to look familiar, analysts noted.
"You're doing some terminal rationalization plans, you're closing out locomotive repair shops. So it's starting to look more like, I think, some of what investors expect from precision railroading," said Jason Seidl, an analyst for Cowen Securities during the call.
Indeed, new KPIs, fewer locomotives, longer trains and consolidated management units all harken back to CSX's tumultuous transition last year.
It's a playbook that, at this point, half of North American railroads have followed — and a reality check for industry stakeholders who wondered whether Union Pacific's "phase-in" approach meant it would follow a different strategy from the one trademarked by the late railroad magnate Hunter Harrison.
"Following the announcement of Unified Plan 2020 last month, I have had some — there has been some speculation of what we're doing is a light version of PSR, or that UP is not fully committed to making the changes necessary to achieve PSR benefits," Lischer said according to a Seeking Alpha transcript of the call. "I can assure you that is not the case."
However, executives said they are being careful to maintain clear communication and educate their customers on why the shifts are necessary for better service and build "win-win" solutions.
On the call, Lischer explained how the shifts were directly affecting customers and their results.
"For one customer on our Little Rock service unit, we changed where we build blocks of cars and how we move those blocks to the destination. As a result, we have significantly reduced the freight car dwell and their cars are now arriving at destination up to three days sooner," Lischer said.
He also told a story of a customer on the North Platte service unit, which agreed to pre-block cars at their facility and thereby eliminated 24 to 36 hours of dwell time. Or, of other instances where Union Pacific adjusted its train schedule frequency to better balance assets with customer demand.
All in all, executives on the call spoke with high hopes about the results of the one-month of transition to precision scheduled railroading. At the end of the day, the railroad expects the model can help improve customer service and operating margins, at once. The previous model, Fritz said, had become too complex to operate reliably.
"That's why we're making this switch to Unified Plan 2020," Fritz said. "It will generate consistent, reliable service as we focus on car movement and focus more of our attention on moving in the manifest network versus boutique unit train networks."
Article by Edwin Lopez for supplychaindive.com